Problem solve
Get help with specific problems with your technologies, process and projects.
Preparing for Windows workstation security breaches
Remember that your users' Windows workstations are just as vulnerable to security breaches as the rest of your system. Here's how to prepare for the worst.
When Windows and IT managers think about security incident response, they generally think of Web applications, database servers and mobile devices.
Sure, security breaches usually target specific systems, but threats don't discriminate, and any computer is fair game. Therefore, it is imperative to include Windows workstations in your security incident response plan.
Whether internal or external, a number of security incidents can occur at the workstation level. Figure 1 details some common workstation-centric security vulnerabilities I've come across on workstations. They all have the potential to wreak havoc on your business.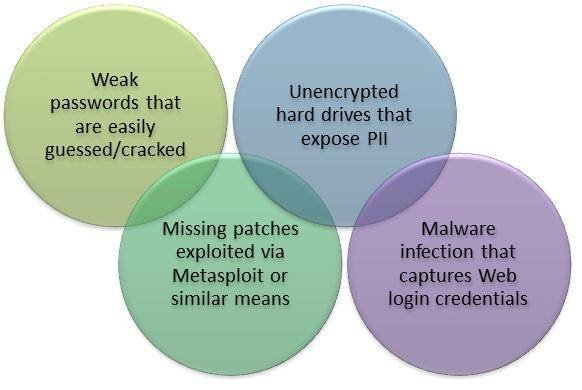 Figure 1. Several opportunities for security breaches exist on Windows-based workstations.
Avoiding security breaches starts with a properly researched security incident response plan that explains how to handle a breach. An effective plan will include the following:
An overview of scope, goals, roles and responsibilities;
specific problems that constitute a breach, such as the items in Figure 1;
detection procedures;
containment and investigation procedures;
cleanup and eradication procedures; and
long-term recovery procedures.
As you devise your plan, remember that it's important to consider the following basics of workstation-level incidents:
Workstation-level incidents are not usually time-sensitive. Therefore, you can probably assign the user a new computer and take the affected computer offline and perform analysis and recovery at your own pace.
Odds are that a minimal amount of sensitive information was exposed. That said, incidents must be handled quickly and effectively when discovered. It only takes a few minutes for hackers or malware to have their way with your system and your network. Once that happens, all bets are off. Either way, a workstation security breach probably won't have the same effect as a database or Web application breach.
You will also need access to additional security-related software during and after a breach. Whole-disk encryption, user account management, audit logging and endpoint security software are all important. If you already have these tools, determine how to best use them.
Even if you don't have time to flesh out a detailed set of incident response procedures for your Windows workstations, be continually vigilant about the threats your company faces. Also, have basic documentation information ready to reference when necessary. Once you get rolling, you'll have a full-fledged plan that encompasses everything you need to protect your organization.
About the author:
Kevin Beaver is an information security consultant, expert witness, author and speaker at Atlanta-based Principle Logic LLC. With over 21 years of experience in the industry, Beaver specializes in performing independent security assessments revolving around compliance and minimizing information risks. He has authored/co-authored eight books on information security including the Hacking For Dummies, 3rd edition. In addition, he's the creator of the Security On Wheels information security audio books and blog providing security learning for IT professionals on the go. Kevin can be reached at his website www.principlelogic.com and you can follow him on Twitter at www.twitter.com/kevinbeaver.