lucadp - Fotolia
Prerequisites for an Office 365 tenant migration
To better understand tenant-to-tenant migrations after a company merger or acquisition, dig deeper into prerequisites and native tools.
After a company merger or acquisition, the buying company will often want to combine infrastructures to decrease...
Continue Reading This Article
Enjoy this article as well as all of our content, including E-Guides, news, tips and more.
duplication and move to a single vendor. And, with the growing number of organizations moving to Office 365, Exchange admins have their work cut out for them in this situation. But consolidation is possible if you have a plan of action.
We've already discussed some typical reasons for migrating mailboxes from one Office 365 tenant to another, as well as some reasons why it isn't as simple as you might think. We've also detailed the high-level process to perform tenant-to-tenant migrations using built-in tools and a third-party tool.
Now, let's walk through the technical steps for setup and demonstrate how to perform a tenant-to-tenant migration using native tools.
Configure mail flow
Both migration methods -- moving via the hybrid Exchange Server or using a third-party tool called MigrationWiz -- share a common technique for a smooth transition of domains between tenants. A domain can only be in one Office 365 tenant at a time, so we'll need to move the mail flow so the Mail Exchange (MX) records point at a non-Office 365 mail server. Hybrid Exchange Server is a great candidate for this.
Before we can move the MX record, we need to ensure the hybrid server knows where to deliver the mail if it reaches Office 365. We'll create a new Send Connector within Mail Flow > Send Connectors for our lisajanedesigns.co.uk domain using the current MX record -- lisajanedesigns-co-uk.mail.protection.outlook.com -- as the smart host (Figure 1).

After creating the send connector, we'll navigate to Mail Flow > Accepted Domains and create a new Accepted Domain for lisajanedesigns.co.uk. We'll choose the domain type Internal Relay; this will forward mail to Office 365 if there is no matching user with a @lisajanedesigns.co.uk email address.
After creating the newly accepted domain, we should be fine (firewall rules permitting) to change the MX record for lisajanedesigns.co.uk. We'll change it to point at our on-premises hybrid Exchange Server, with the expectation that it won't impact mail flow.
One tip for changing MX records is to lower the time to live (TTL) value, which defines how long clients and caching DNS servers store the MX record until it asks the DNS server hosting lisajanedesigns.co.uk for the MX record again. To ensure a quick switch, it's common to drop the TTL to a low value, e.g. five minutes, a few days before the change. This ensures the switch propagates quickly and is easy to switch back should something unexpected happen.
Create Active Directory users
In our example scenario, our target organization Goodman Industries is running as a hybrid organization, so both migration strategies will likely use on-premises Active Directory (AD) accounts that are synchronized via DirSync. We'll start both approaches by creating AD accounts that match the Office 365 equivalents. These will need to be synchronized with the Lisa Jane Designs tenant, but should match so the Global Address List isn't missing any information.
For both approaches, we'll create initial users in a separate organizational unit that isn't synchronized via DirSync. This enables us to gradually move users into the Goodman Industries Office 365 tenant (Figure 2).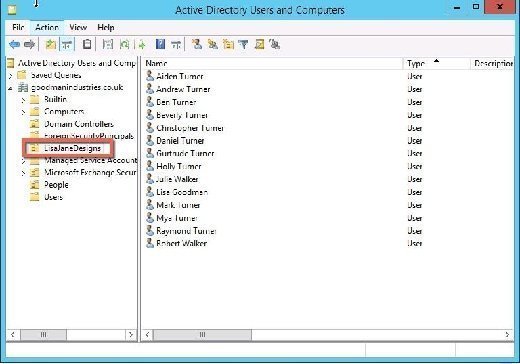 About the author:
Steve Goodman is an Exchange MVP and works as a technical architect for one of the U.K.'s leading Microsoft Gold partners. Goodman has worked extensively with Microsoft Exchange since version 5.5 and with Office 365 since its origins in Exchange Labs and [email protected]
Next Steps
This is part two in a series about some of the tasks Exchange admins may have to take on during mergers or acquisitions.
Part one covered the two approaches to combining Office 365 tenants.
Stay tuned for part three, which covers Office 365 migrations via a hybrid Exchange Server.
Dig Deeper on Office 365 and Microsoft SaaS setup and management