Problem solve
Get help with specific problems with your technologies, process and projects.
Public folder changes in Exchange 2003 SP2
Learn about the new and enhanced public folder management features available in Exchange Server 2003 SP2.
Please let others know how useful this tip is via the rating scale at the end of it. Do you have a useful Exchange or Outlook tip, timesaver or workaround to share? Submit it to our tip contest and you could win a prize.
---
What are public folders?
Exchange public folders are an easy and effective way to collect, organize and share information with other people. They can be created, viewed and modified by administrators, or by any employee given the proper permissions. It is also possible to mail-enable public folders so content can be sent directly to a distribution list.
There are two types of public folders in Exchange Server 2003:
Public folders

Public folders are visible public folders that allow users to organize and publish information. You can create as many public folders you want.

Exchange distinguishes between the following public folder trees:

One public folder tree type called "MAPI clients"
Many public folder tree types called "General purpose" public folders

System folders

System folders are hidden folders for internal Microsoft Exchange system management. Exchange needs these system folders for organizational forms, offline address book generation, and free/busy information.

Exchange generates the following system folders:

E-forms registry
Events root
Offline Address Book
Schedule + free busy
Store events
NNTP control folder
System configuration

To view System Folders, start Exchange System Manager, navigate to Public Folders and right click "View System Folders."
New Offline Address Book
There is a new public folder in Exchange Server 2003 SP2 called Offline Address Book (OAB) 4.0, which offers the following advantages over older versions:
Improved logging
Differential OAB updates
Reduced OAB file size (up to 30%)
Outlook 2003 clients must have Outlook 2003 SP2 installed to use these improvements.
Propagate Settings becomes Manage Settings
One of the biggest changes in public folder management in Exchange Server 2003 SP2 is the removal of the Propagate Settings option (Figure 1) from the public folder context menu.
Figure 1: New Manage Settings option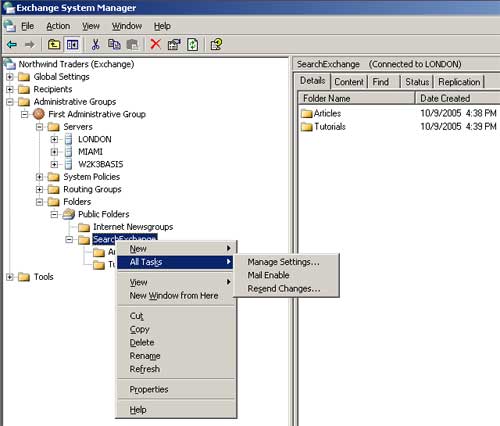 Exchange Server 2003 SP2 replaces this context menu item with a new Manage Settings option (Figure 2). This Manage Settings option starts a wizard that lets an administrator propagate particular properties of selected public folders to subfolders underneath it.
Figure 2: Manage Public Folder Settings Wizard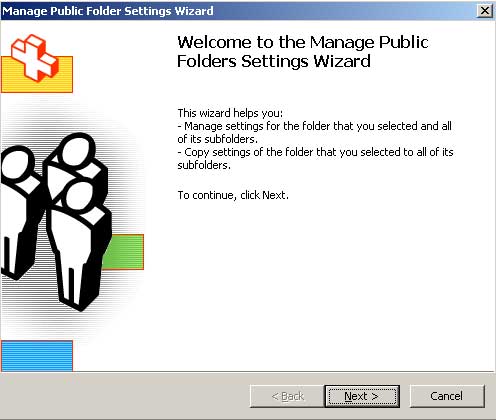 You can specify an Action you want to take (Figure 3).
Figure 3: Select the action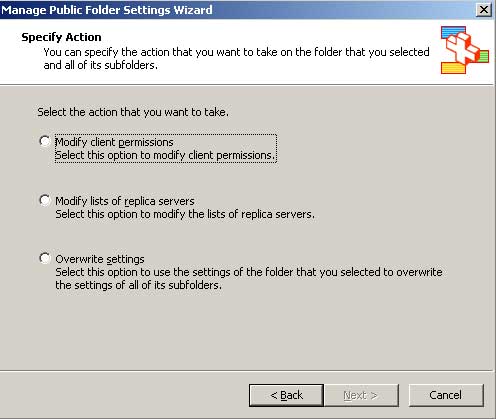 You can add, remove and modify users for the specified public folder structure.
Figure 4: Select the action to modify/add/remove users from public folders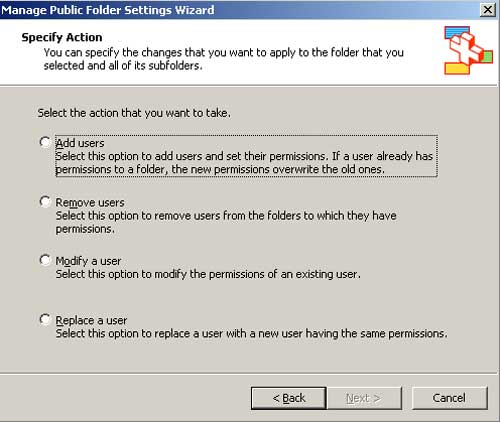 If you choose Add Users, you must specify the user and assign the required permissions (Figure 5).
Figure 5: Add users with required permissions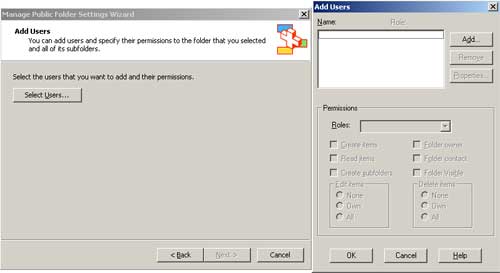 Deleting a public folder store
In Exchange Server 2003 SP2, it is no longer possible to delete a public folder store that contains data not replicated to another server. You must first move all existing public folder replicas to another server, or delete the public folder if you don't need it.
If you select Move All Replicas (Figure 6) from the context menu, you will see the following dialog box (Figure 7).
Figure 6: Move All Replicas dialog box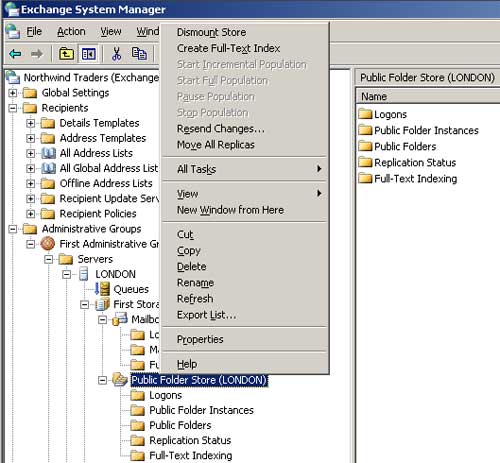 Now you can select the server to which you want to move all the public folder replicas in this public folder store.
Figure 7: Select the server to which you want to move all public folder replicas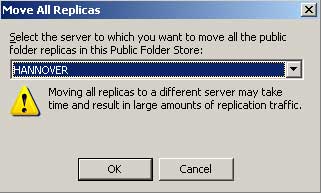 Logging and replication control
Finally, Exchange Server 2003 SP2 offers logging of public folder deletions and the option of stopping and resuming public folder content replication (Figure 8).
Figure 8: Stop Public Folder Content Replication option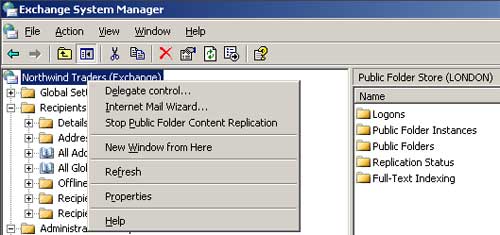 Related links
---
Do you have comments on this tip? Let us know.
---
Related information from SearchExchange.com:
Article: Exchange 2003 SP2 hits the street
FAQ: Exchange public folders
Learning Center: A primer on Exchange public folders
---