Repairing three problems that annoy Outlook 2010 users
Outlook 2010 isn't perfect. These three common Outlook 2010 pains may be plaguing your users.
As more organizations migrate to Exchange 2010 and Outlook 2010, many of you are asking my opinion on various support issues. In some cases, these questions come from readers who aren't familiar with Outlook 2010. Other questions are a result of an Outlook upgrade. This tip answers three of your most common Outlook 2010 support questions.
1. All incoming email is from Microsoft Exchange Server
A common post-Outlook 2010 upgrade issue is that all incoming mail appears to be from Microsoft Exchange Server, not from actual senders. This problem pops up when a user's profile contains multiple email addresses.
To fix this, you'll need to change the display name for the user's account. Open the Windows Control Panel and navigate to the Mail option, which is most often grouped in the User Accounts tab.
Open the Mail applet and click on Show Profiles. Select the user profile you need to fix and click Properties and then E-mail Accounts. Select the problematic account and click Change, then click More Settings. The next screen allows you to modify the display name for the account (Figure 1). After changing the name, click on OK.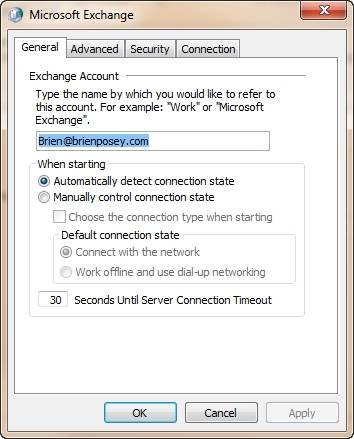 Figure 1. Change the Outlook 2010 user account's display name to correctly display email senders' names.
2. Users are having difficulty searching Outlook 2010
Exchange users rely on Outlook 2010's built-in search capabilities to manage and locate messages and contacts. But that search functionality can break down and fail to return results. Searching for contacts and using the Outlook Social Connector seem to be common triggers. Outlook 2010's search feature is based on a Windows component known as Windows Search. So that feature must be enabled to perform a search.
To enable Windows Search in Windows 7, open the Control Panel and click on Programs and Features. Next, click Turn Windows Features On or Off.
Windows will display a list of operating system features. Select the box that corresponds with Windows Search and click OK (Figure 2).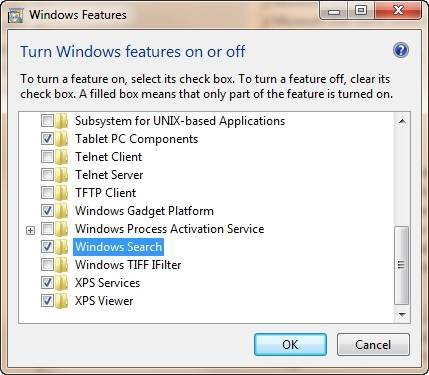 Figure 2. Select Windows Search to enable Outlook 2010 searches.
It could take some time for the indexing process to complete after enabling Windows Search. You will also need to restart Outlook.
An Outlook 2010 search can also fail when a user has an elevated set of permissions, though this is a less common cause. This could occur if a user is running Outlook with Administrator-level permissions, but regular users shouldn't have this permission level.
3. Upgrading to Outlook 2010 wipes Windows Mobile devices
Upgrading to the 64-bit version of Outlook 2010 often breaks the partnership on Windows Mobile devices that are synched with desktops. This break wipes mail, contact and calendar items from the device.
Microsoft doesn't have plans to fix this issue, though it is starting to view desktop synchronizations as a potential security threat. Microsoft is currently working on allowing solely cellular and Wi-Fi synchronizations for Exchange mailbox data.
If an Outlook 2010 update wiped your Windows Mobile phone, uninstalling the 64-bit version of Outlook 2010 and installing the 32-bit version will recover data. I also recommend switching to ActiveSync to synchronize Windows Mobile devices with Exchange mailboxes. It's very unlikely that Microsoft will support desktop synchronization with Windows Mobile in the next version of Outlook.
ABOUT THE AUTHOR:
Brien Posey is a seven-time Microsoft MVP with two decades of IT experience. Before becoming a freelance technical writer, Brien worked as a CIO for a national chain of hospitals and healthcare facilities. He has also served as a network administrator for some of the nation's largest insurance companies and for the Department of Defense at Fort Knox.