Problem solve
Get help with specific problems with your technologies, process and projects.
Save time typing Outlook 2007 messages with Quick Parts
Quick Parts is a new feature in the Microsoft Office 2007 suite that can save you some time. Discover how you can leverage it when composing Microsoft Outlook 2007 email messages in this tip.
Quick Parts is a feature that works with all Microsoft Office 2007 products. In Outlook 2007, Quick Parts can be used to add repetitive text to email messages without having to retype it. To add frequently used text to Outlook as a Quick Part, click the New button to begin composing a new email message. Next, type the block of text that you want to turn into a Quick Part, making sure that the text is free from errors.
When you're satisfied with your text, open the Insert menu, and click the Quick Parts button. Next, select the Save Selection to Quick Part Gallery option, as shown in Figure 1.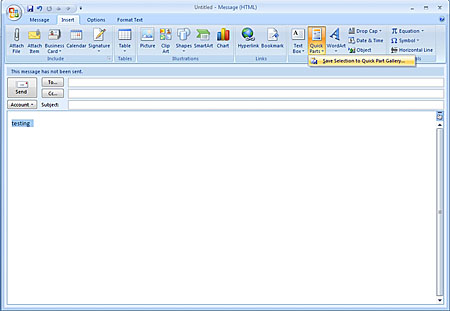 Figure 1. Save your selected text to the Quick Parts gallery.
Outlook 2007 will open the Create New Building Block dialog box (Figure 2). The first step is to enter a name for the Quick Part that you're creating. Although it's optional, I recommend entering a description of each new Quick Part you create.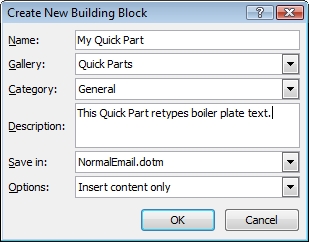 Figure 2. Use the Create New Building Block option to build a new Quick Part.
By default, new Quick Parts are saved to the Quick Part gallery, which allows you to categorize your Quick Parts. This works well if you only have a few Quick Parts, but not if you have several Quick Parts on file. For example, if you commonly use a particular block of text as a header, you can save that text to a Headers gallery.
If you decide that you need to further categorize your Quick Parts, you can use the Category option. By default there is only one category -- General -- but you can create any additional categories that you think you may need.
The Save In option allows you to select which document template will store the Quick Parts. Generally, you won't have to change the document template.
The Options drop-down list allows you to control how content is inserted. The selected content is simply inserted into an email message by default. You can also insert the content into its own separate paragraph or its own page. However, I think this option is more useful in Microsoft Word than in Outlook.
Using Quick Parts
If you think it was easy to create a Quick Part, you'll be happy to know that using this function is even easier. To do so, open a new message, go to the Insert menu and click Quick Parts. When you do, you'll see a preview of any Quick Part that you've defined. The preview text is small, but you can hover your mouse over the text to see the description text that you entered when you created the new Quick Part (Figure 3).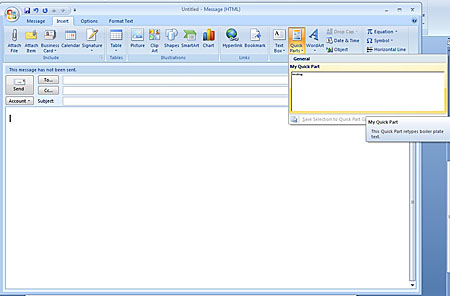 Figure 3. Clicking on the Quick Parts button will display any Quick Parts that you've defined.
Once you find the Quick Part that you want to use, click on it and the associated text will automatically be inserted into your email message.
Troubleshooting Quick Parts
Once users begin using Quick Parts, some experience instances in which blocks of text disappear. It's fairly common for users to create several Quick Parts only to discover that they're gone the next day.
Outlook 2007 saves Quick Parts as a part of the NormalEmail.dotx template. If a user doesn't have permission to modify the template, the Quick Parts they created won't save when they close Outlook.
Most of the time, however, users do have the necessary permissions. If Quick Parts are not being retained, the problem is caused by Outlook add-ins that didn't shut down when Outlook was closed. This may lock the template and prevent updates from being saved. Some examples of add-ins that may cause this problem include antivirus software or third-party toolbars.
To find out if this is happening, close Outlook and open the Windows Task Manager. If Outlook is still running, then an Outlook add-in has a portion of Outlook locked. To fix this, you should be able to manually close the add-in and then save the changes to the template file.
About the author: Brien M. Posey, MCSE, is a five-time recipient of Microsoft's Most Valuable Professional (MVP) award for his work with Exchange Server, Windows Server, Internet Information Services (IIS), and File Systems and Storage. Brien has served as CIO for a nationwide chain of hospitals and was once responsible for the Department of Information Management at Fort Knox. As a freelance technical writer, Brien has written for Microsoft, TechTarget, CNET, ZDNet, MSD2D, Relevant Technologies and other technology companies. You can visit Brien's personal website at www.brienposey.com.
Do you have comments on this tip? Let us know.
Please let others know how useful this tip was via the rating scale below. Do you know a helpful Exchange Server, Microsoft Outlook or SharePoint tip, timesaver or workaround? Email the editors to talk about writing for SearchExchange.com.