JumalaSika ltd - Fotolia
Shared mailboxes give productivity a lift
With a number of possibilities for use, groups can be creative in how they choose to incorporate Office 365 shared mailboxes in their work.
In Office 365, shared mailboxes make it easier for a group of employees to keep track of and send email from a common or generic address, such as [email protected] or [email protected] When an end user sends a reply from a shared mailbox, it appears to have been sent from the shared mailbox and not the individual end user.
Shared mailboxes are an easy way to monitor customer queries (such as [email protected]) as a number of employees can access and respond to the messages. One thing to note is that a shared mailbox doesn't have a username and password to log into. Administrators should give end users rights to open the mailbox and to send from the shared mailbox. Once permission is granted, the end user can access the shared mailbox using Outlook or Outlook Web App (OWA).
Shared mailboxes in Office 365 begin with a 50-GB quota for small business and enterprise plans. What makes these mailboxes more appealing is that they don't need a license; organizations get a 50-GB mailbox a number of end users can access without paying a penny. Organizations can also have as many shared mailboxes as they want in Office 365, but the end users who have access to these mailboxes should have a valid Office 365 license. One important point to note is that an end user who has an Exchange Online Kiosk license can't access a shared mailbox.
Admins can use shared mailboxes within their teams. They can also convert regular mailboxes to shared mailboxes for people who leave so the data is kept for compliance and access purposes. End users who go on maternity leave or other long leave can have their mailboxes converted to shared ones to release the license for a few months to a year. Organizations can do a lot with shared mailboxes. The possibilities are many -- it's all about being a bit creative.
Create shared mailboxes in Office 365
To create a shared mailbox in Office 365, log in to the admin portal and navigate to Exchange Online. Click on the Shared tab in the Recipients node (Figure 1).

Click the + button to type in the details of the shared mailbox; a display name and an email address is required. Admins can also add the end users who should have access to the mailbox; this can be done after creating the mailbox as well. Click Save to create the shared mailbox (Figure 2).

Double clicking on the mailbox in the Exchange Admin Center will open up its properties. The Mailbox Delegation tab is where an administrator can add end users to give them access rights to the mailbox. The Full Access gives the end user enough rights to map, view and manage the mailbox in Outlook or OWA. To send as the shared mailbox, the user should be given a "Send As" right. The same rights can be assigned to a distribution group, and all the group members will inherit the permissions (Figure 3).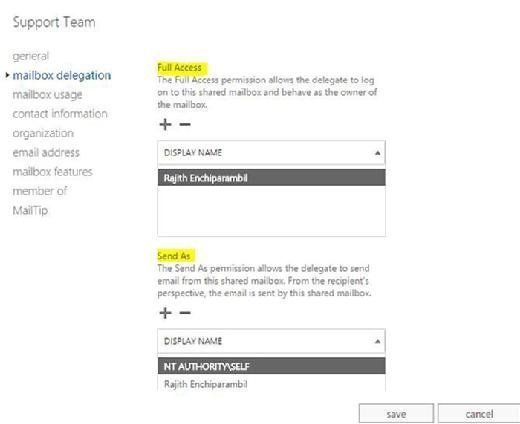 Once an end user is granted rights to a shared mailbox, it will be automatically mapped in his Outlook profile the next time Autodiscover service runs (once every 60 minutes) or the next time Outlook is launched.
To open a shared mailbox using OWA, use the Open another mailbox option in the top left hand corner (Figure 4).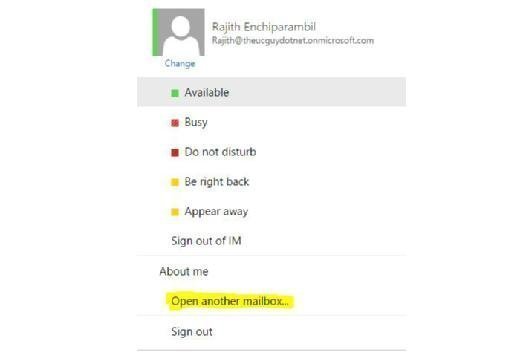 Type in the name of the shared mailbox; it will open in a new tab. To map it as an additional mailbox in OWA, right click on the name on the left hand pane and select Add shared folder. Type in the name of the shared mailbox; it will be mapped along with the main mailbox in OWA (Figure 5).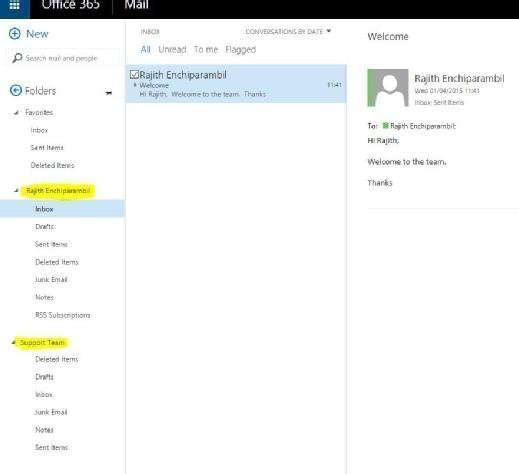 Admins can enable litigation hold and archive for a shared mailbox using the "mailbox features" tab in the mailbox properties. Protocols such as POP and IMAP can be turned on or off from the same page.
Admins can also convert a regular mailbox that has a license to a shared one and vice versa. This is especially useful if admins want to keep an end user's mailbox for someone leaving the company without any added expense. All the admin needs to do in this instance is convert the regular end user mailbox to a shared one and give the new staff (or anyone else) access to the newly converted shared mailbox (Figures 6 and 7).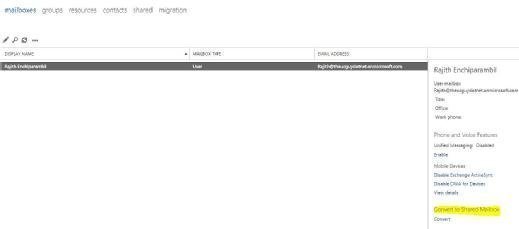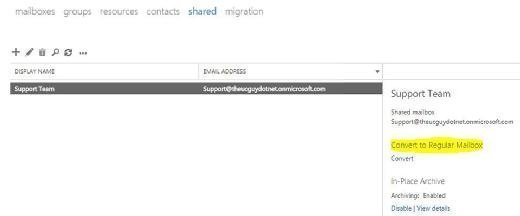 About the author:
Rajith Enchiparambil is a UC Architect who works on large Exchange and Office 365 projects for clients in the U.K. He specializes in Exchange, Office 365, Active Directory and a bit of Lync. He has been working in the IT industry for the last 13 years and has worked extensively with Microsoft Exchange since version 5.5. He has worked for consultant services such as HP, Siemens, AtoS, CapGemini and Computacenter. He regularly writes about Office 365 and Exchange in his personal blog.
Dig Deeper on Office 365 and Microsoft SaaS setup and management