Manage
Learn to apply best practices and optimize your operations.
Tailor Exchange Deployment Assistant for a successful server install
The Exchange Deployment Assistant in Exchange 2013 won't leave you helpless. It adapts to your needs and walks you through a successful install.
There's nothing overly complicated about the Exchange Server 2013 Setup Wizard, but experienced Exchange admins know all too well that there's more to deploying Exchange than just running the Setup Wizard.
Properly deploying Exchange involves a lot of planning. And if you have an existing Exchange Server deployment, there also are usually a number of pre- and post-installation tasks to complete. Microsoft's free Exchange Deployment Assistant tool walks admins through the deployment process.
What makes the Exchange Server 2013 Deployment Assistant unique
The latest Exchange Deployment Assistant version can provide you with a set of detailed deployment instructions that address your needs. All you have to do is to provide the tool with the information it needs. You can access the Exchange 2013 Deployment Assistant here.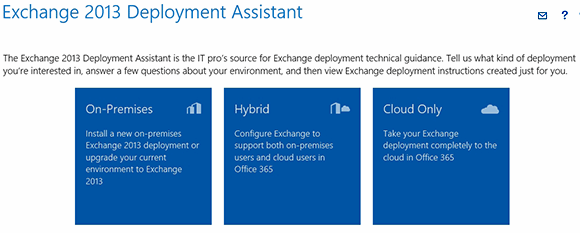 Figure 1. You can choose to perform an on-premises, hybrid or cloud-only deployment.
The Deployment Assistant makes you choose whether you want to perform an on-premises, cloud-only or hybrid deployment (Figure 1). Every other question the tool asks is a direct result of the choice you make on this screen.
The cloud-only option applies only to Office 365 deployments; it's technically possible to deploy Exchange Server 2013 onto an Infrastructure as a Service (IaaS) cloud such as Windows Azure, but doing so is not yet officially supported. If you decide to roll the dice and deploy Exchange to an IaaS cloud, you'll need to choose the Deployment Assistant's on-premises option and pretend the cloud-based virtual machines actually exist on-premises.
How the Exchange Server 2013 Deployment Assistant works
The Exchange Deployment Assistant asks you a number of questions about your Exchange installment. The line of questioning is completely dynamic; whether you're asked a particular question depends on how you answered previous questions.

Figure 2. You can choose from a number of deployment scenarios.
The Deployment Assistant starts by asking general questions about your deployment plans and then gradually begins to ask more specific questions as it learns about what you want to accomplish. For example, the first question asks whether you want to deploy Exchange on-premises or in the cloud, or create a hybrid deployment. If you chose the option to deploy Exchange on-premises, the next question asks you to select your deployment scenario. You have the option to perform a new Exchange 2013 installation or upgrade from Exchange 2010 or Exchange 2007 (Figure 2).
Even though the Exchange Deployment Assistant walks you through the deployment process, it doesn't produce step-by-step instructions containing specific values for your own organization. Instead, the tool compiles a series of deployment documents from TechNet; the documents are compiled and arranged based on your answers.
This isn't to say the Deployment Assistant provides completely generic instructions. One of the deployment steps you will likely encounter involves the collection of required information. You can see this particular step describes exactly what information needs to be collected and provides an example of what the value should look like. It has a place where you can write in the values for your own organization (Figure 3).
When you reach the end of the checklist (at least in an on-premises deployment) the Deployment Assistant tells you how to confirm a successful deployment. It also provides a link to the Remote Connectivity Analyzer, which can be used to detect and help you correct connectivity problems.
The Exchange Server 2013 Deployment Assistant is also available for Exchange 2010. You can access both the Exchange 2010 and the Exchange 2013 versions here.
About the author
Brien Posey is an eight-time Microsoft MVP for his work with Windows Server, IIS, Exchange Server and file system storage technologies. Brien has served as CIO for a nationwide chain of hospitals and health care facilities, and was once responsible for IT operations at Fort Knox. He has also served as a network administrator for some of the nation's largest insurance companies.
Dig Deeper on Exchange Server setup and troubleshooting