Testing top Microsoft support tools for Windows 2008 compatibility
For years Microsoft has worked to expand its slate of troubleshooting tools for admins. But with no Support Tools to download for the latest OS, do the same utilities still apply?
Ever since Windows 2000 was introduced over a decade ago, Microsoft has provided two valuable sources for diagnostic and troubleshooting: the Windows Support Tools and the Windows Resource Kit Tools.
Over the years these tools have morphed considerably. Windows Support Tools were included in the Windows 2000 and 2003 media via the \Support directory, while the Resource Kit Tools were a download from the Microsoft website. Most of the commonly used tools were in Support Tools, while the Resource Kit Tools were a little more specialized. Over time these tools changed considerably. For instance a new release of Windows Support Tools was offered for Windows Server 2003 Service Pack 2 with additional options for Repadmin.exe.
Over time, some of these tools were added straight to the Windows operating system. For example, Gpresult.exe -- an invaluable tool for exposing Group Policy settings applied to any client or server -- was added beginning with Windows Server 2003. In Windows 2000, Gpresult had to be taken from Support Tools and copied to the client, which was very inconvenient.
MPS Reports raises the bar
Microsoft upped the ante by releasing Microsoft Product Support (MPS) Reports many years ago -- a set of scripts that executes a series of support tools and other commands for specific diagnostics. For instance, there was a set for Active Directory that would collect event logs and run tools like Dcdiag, Netdiag , Gpresult, Repadmin and Gpotool. Other versions included Networking, Exchange and SQL Server. This tool has morphed into a single download that, when run, offers a set of choices:
to run the tool on the current computer or another one
which version of the tools to run (Figure 1)
Figure 1. MPS Reports

It then gathers diagnostics and presents a set of reports. The menu shown in Figure 1 also has a "Link to more info" option that will list all the diagnostics to be run. Note that the Active Directory stuff is in the Server Components option. These reports are outputs that could be gathered by running the various support tools individually. The advantages here are many:
It creates a single tool for gathering data rather instead of having to run 10 or 12 programs. This is very nice for AD environments when you have to run things on a number of domain controllers.
All the data is saved to a single CAB file.
Event logs are saved to .evtx, .txt and .csv formats. I mostly use the .txt and .csv formats. Some things to keep in mind here:

The .txt version saves the actual application event description. Therefore, if you are looking at an Exchange event, you don't need to load it on or connect to an Exchange server as you would with .evtx. It's great for applications that you may not have handy.
The .csv version can be opened in Excel, though it sometimes exceeds Excel's capacity, so upgrade to Excel 2010 if that happens. This allows you to do searches and filters. For instance using the advanced filter, as shown in Figure 2 below, it's easy to get a list of event IDs that are in the log without fumbling through Event Viewer filters. In Figure 2, a list of all event IDs for the file are shown, making it easy to see if the one you are looking at is there. In this example, to find instances of ID 2041 you simply need to clear the top Select All box and check the 1311 box.
I usually use both formats. For some reason the event descriptions are often not included in the .csv version so I go to the .txt version for those.
The .txt and .csv versions show the local time for the computer that MPS Reports ran on. The .evtx version shows local time for the machine you are running it on, so time has to be converted if the reports were taken on a machine in a different time zone. This gets pretty annoying if you hit a time near midnight and the server is in Australia and you are in the United States.
Figure 2. Event ID listings in Excel (click to enlarge)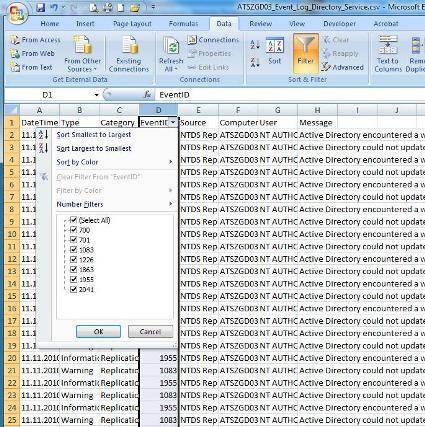 MPS Reports can be downloaded for either x64 or x86 systems. As good as it is, however, I still have a few complaints:
MPS Reports requires several prerequisites to be installed. This is a pain, but I successfully ran it on my Windows Vista SP2 laptop without doing any installs:

Microsoft .NET Framework 2.0
PowerShell 1.0
Windows Installer 3.1
Microsoft Core XML Services (MSXML) 6.0

Being more of a do-it-yourselfer, I don't like the menu driven choices (where by the way there is no Active Directory component specifically). I like the old method -- download the specific .exe and run it.
I also prefer the old format of opening one CAB file and having a bunch of reports in .txt files. Now it takes you lots of clicks to get to the stuff you need.
Performance is bad, in my opinion. I downloaded the .exe and ran it, selected the current computer and chose the general server option. It took nearly 45 minutes on my Vista laptop with 4GB RAM, 2 processors and lots of disk space.
Build your own reporting tool
It is possible to author your own version of MPS Reports. I have a colleague named Joe Turton who authored an internal company tool called HPS Reports that is light years beyond MPS Reports in functionality and speed, and doesn't have any prerequisites other than normal stuff like Windows Management Instrumentation (WMI). In addition, every time I find some bit of information I want to add, I just send Joe an email and he implements it. I'm not trying to sell HPS Reports (it isn't for sale), I'm just pointing out that a talented developer can do what Microsoft did and create his or her own version of MPS Reports to be customized for their needs.
What about Windows Server 2008?
The release of Windows Server 2008 included more support tools in the OS, but there is no Windows 2008 or R2 version of Support Tools or Resource Kit Tools. As a result, internet forums are full of questions like "How can I get the 2008 version of Kerbtray?" We know that Repadmin, Dcdiag and other support tools work fine on Windows Server 2008 and R2, so it begs investigation into which tools will still work, even though there isn't an official Windows 2008 version.
I personally conducted a series of tests to see which tools work in Windows (without Support Tools or Resource Kit Tools), which ones work with the domain tools available in Windows 2008 and R2, and which of the utilities in the Windows 2003 SP2 Support Tools work. Surprisingly, all the tools I tested (my favorites) work in Windows Server 2008. In fact, just downloading the install kit (Rktools.exe) works just fine on both Windows 2008 and R2.
The table below shows the distribution of these tools in Windows Server 2003. The Windows column indicates the tool is available natively in the OS. The Support Tools column signifies the 2003 Support Tools on the server CD, and ResKit Tools are the Resource Kit Tools that were available separately in Windows 2000 and 2003. They have now all morphed into a single download.
Table 1: Windows Server 2003
Tool
Windows
Reskit
Support tools
dsa.msc
x (DCs)
dssite.msc
x (DCs)
domain.msc
x (DCs)
DNSmgmt.msc***
x (DNS svrs)
netdom
x
nltest
x
gpresult
x
dcdiag
x
repadmin
x
replmon
x
adsiedit
x
Browstat
x
depends
x
dfsutil
x
dskprobe
x
dnscmd
x
dnslint
x
dsacls
x
getsid
x
ktpass
x
ldp
x
setspn
x
netdiag
x
portqry
x
windiff
x
xcacls
x
cacls
x
eventcombmt.exe
x
gpotool
x
kerbtray
x
klist
x
x
GPMC
separate download
Table 2 shows the availability of these tools in Windows Server 2008, whether it be natively in Windows, by installing the domain tools (part of the Remote Administration Tools feature installation) on a non-DC, or on a DC. Note that installing the tools on a non-DC has all the command line options, but they don't show up in the Server Manager GUI. For instance, to get the Active Directory Users and Computers (ADUC) snap-in you can still run dsa.msc from a command line.
Table 2: Windows Server 2008
Tool
Windows
W/o domain services tools
Not a DC/Domain tools are installed
DC + domain tools
DC + domain tools + support tools
dsa.mc
x (DCs)
x
dssite.msc
x (DCs)
x
domain.msc
x (DCs)
x
x
x
DNSmgmt.msc
x (DNS svrs)
x
x
x
netdom
x
x
x
nltest
x
x
x
gpresult
x
x
x
x
dcdiag
x
x
repadmin
x
x
replmon
x
adsiedit
x
x
Browstat
x
depends
x
dfsutil
If DFS is installed
x
dskprobe
x
dnscmd
If DFS installed
x
dnslint
x
dsacls
x
x
x
getsid
x
ktpass
x
x
x
x
ldp
x
x
x
setspn
x *
x
x
x
netdiag
x
portqry
x
windiff
x
xcacls
x
cacls
x
x
x
x
eventcombmt.exe
x
gpotool
x
x
x
kerbtray
x
x
klist
x
x
x
GPMC
Feature Install
Windows Server 2008 R2 has the same availability as Windows 2008 except there is no version of Netdiag that works. Admittedly, I did not test all of the tools, so there may be some others that will fail in R2. All the tools I did test worked just fine though.
Note that the Dsa.msc (ADUC snap-in), Adsiedit.msc, Dssite.msc (sites and services snap-in), Dnscmd.exe, Dnsmgmt.msc (DNS snap in), Dfsutil and Ntfrsutil commands all work on every version of Windows. While Dnscmd and Dnsmgmt are installed with DNS and dfsutil is installed with DFS, they can also be run from the Support Tools installation without the need to install DNS or DFS.
Overall I was pleased with the availability of the key Support Tools for Windows Server 2008 and R2 even if there isn't an official Windows 2008 version of them. Still, I am disappointed to lose Netdom, Nltest and Netdiag in R2.
You can follow SearchWindowsServer.com on Twitter @WindowsTT.
ABOUT THE AUTHOR
Gary Olsen is a systems software engineer for Hewlett-Packard in Global Solutions Engineering. He authored Windows 2000: Active Directory Design and Deployment and co-authored Windows Server 2003 on HP ProLiant Servers. Gary is a Microsoft MVP for Directory Services and formerly for Windows File Systems.