Evaluate
Weigh the pros and cons of technologies, products and projects you are considering.
Time to investigate collaboration and document management tools
Lots of tools tackle collaboration and document management, but SharePoint offers a complete suite.
One of the challenges of an IT manager is to provide collaboration and document management services for employees.
Many years ago, Lotus Notes had an impressive package for document management, email and other services. However, today's advanced databases, Web applications, faster server hardware and affordable mass storage have created an even more powerful infrastructure for storing data and documents as well as information about people and other resources.
If you haven't considered document management or collaboration services for your organization lately, it's worth the time to investigate them. There is a good selection of collaboration, document management and enterprise search tools out there. Google has some products and there are open source products as well.
A simple Internet search on keywords like "collaboration software" or "document management software" yields links to a lot of other products that might meet your needs, but you might not find a suite of products as complete as Microsoft's SharePoint suite of products.
With SharePoint, Microsoft is positioning itself to provide services to other applications, such as Microsoft Exchange 2007, where SharePoint is attempting to replace Public Folders. The company has made other connections to SharePoint across its product line. Its System Center Data Protection Manager 2007 is an enterprise-class backup and recovery product that is intelligent enough to back up SharePoint databases.
Although people often think of SharePoint as a single product, it actually consists of two products: Windows SharePoint Services 3.0 and Microsoft Office SharePoint Server 2007. The latter is commonly known as MOSS or SharePoint Server 2007.
SharePoint has a variety of functions for collaboration and document control via a series of Web interfaces. Figure 1 shows a simple SharePoint page offering various documents for download.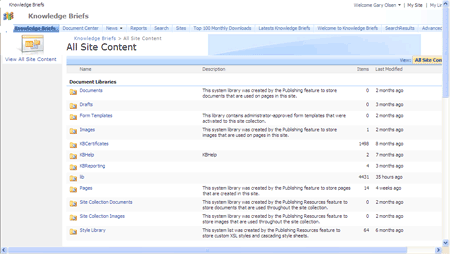 Figure 1: A simple SharePoint page offers various documents for download. (Click on image for enlarged view.)
Here are some SharePoint features that might have some value in your enterprise:
My Site gives users a personal site for storing information – it's kind of like having your own personal website and storage location for documents, favorite links, calendar items and things like that as well as a public profile. It can be configured for various groups to permit collaboration by others in your organization looking for people with specific skills or interests. There are templates that help build these sites.

Community sites allow users to build sites for communities of interest, departments or other commonalities among users. They also offer document storage, links and other collaboration tools.

Collaboration features such as real-time presence, blogs, calendars, surveys and document collaboration allow document checkout, review and approval. Many of the collaboration features are improved or are new to SharePoint Server 2007, and some are not available for SharePoint Services 3.0.

Enterprise Search is not available for SharePoint Services 3.0. In SharePoint 2007, it can search and display information from a wide variety of sources, such as relational databases, Microsoft Exchange Public Folders, websites, SharePoint sites and even line-of-business applications, as well as people search capabilities.

Enterprise Content Management includes document management, Web content management and records management. In addition to organizing and managing documents for easier retrieval, IT managers can protect sensitive information and maintain process flow requirements for document creation by multiple people or groups.

Office SharePoint Server 2007 and SharePoint Services 3.0 integrate with Microsoft Office 2007 components, including Outlook, Access, Excel, PowerPoint and Word, as well as mobile devices.
Setting up a basic site is fairly straightforward, but keep in mind that you'll need to use a SQL database. There are a lot of good templates as well as a SharePoint Designer 2007 package that allows advanced customization.
If you think SharePoint is worth looking at, get yourself an evaluation copy. Here are some places to find it:
SharePoint Services are available as a Windows Component in Windows Server 2003 R2. Simply look at an R2 server in Control Panel-Add/Remove Programs – Windows Components. Just select the SharePoint Services option and install it.

Rather than using the R2 freebie, I recommend downloading SharePoint Services 3.0 because there are links for service packs and language packs, among other things. It has all the basic functionality of SharePoint but does not include the advanced search options and other enterprise features that you might want to deploy.

You can download Office SharePoint Server 2007 for evaluation at Microsoft's SharePoint home page.
In terms of licensing, SharePoint services can be installed on Windows Server 2003 Web Edition to function as front-end Web services, and the data storage component cannot be installed on Web Edition.
Gary Olsen is a systems software engineer for Hewlett-Packard in Global Solutions Engineering. He wrote Windows 2000: Active Directory Design and Deployment and co-authored Windows Server 2003 on HP ProLiant Servers. Olsen is a Microsoft MVP for Windows Server-File Systems.

Dig Deeper on SharePoint administration and troubleshooting