Troubleshooting Exchange 2010 public folder replication issues
Public folders are here to stay. Therefore, you need to know how to fix them if anything -- like replication -- goes wrong.
Public folders tend to cause problems for even the most experienced administrators. One of the most common Exchange...
Continue Reading This Article
Enjoy this article as well as all of our content, including E-Guides, news, tips and more.
2010 public folder problems is replication. If public folders fail to replicate properly, users might be left with an inconsistent view of public folder data. Furthermore, if the server that hosts a public folder database goes down, data may become unavailable until the problem is fixed.
Exchange 2010 public folder replication issues: Where to check first
If you notice a public folder replication problem, the first thing you should do is test mail flow between the two servers. public folders are replicated through hidden email messages. Therefore, if mail flow between the servers isn't working properly, public folder replication won't work correctly either.
If mail flow is working properly, look at the Application and System logs. A log entry will often point to the source of the problem without requiring you to manually troubleshoot it. While you're at it, run the Exchange Best Practices Analyzer; it can help you locate configuration issues that may be preventing public folder replication.
You can also try to narrow down the problem by temporarily mail-enabling a public folder. You can then send an email to the public folder to see if it updates properly.
If public folder replication is not functioning, you'll get the following non-delivery report in response to that email:
554 5.6.0 STOREDRV.Deliver.Exception:ObjectNotFoundException; Failed to process message due to a permanent exception with message The Active Directory user wasn't found.
This error message is a bit misleading. In most cases, the error doesn't occur because an Active Directory user wasn't found as the message indicates. That said, the message is correct in that the problem is almost always related to Active Directory.
Exchange 2010 public folder replication issues: The diagnosis
In my experience, public folder replication tends to break if the Exchange organization has been repeatedly upgraded from one version of Exchange to the next. Some legacy versions -- like Exchange Server 2003 -- leave remnants in Active Directory even if they no longer exist within the Exchange organization.
Before fixing public folder replication…
The following solution assumes that your organization contains only Exchange 2007 and/or Exchange 2010 servers. Do not attempt this method if you have Exchange 2003 servers.
Exchange 2010 public folder replication problem: The fix
You must use ADSIEdit to fix Active Directory-related problems. Because ADSIEdit makes direct modifications to the Active Directory database and bypasses the usual safeguards in the process, it is imperative that you first back up Active Directory. Making a mistake here can have catastrophic repercussions.
To launch ADSIEdit, enter the ADSIEdit.msc command at your server's Run prompt. If you're running an older version of Windows Server, ADSIEdit is located in the server's Support -> Tools folder.
When ADSIEdit opens, right-click on Default Naming Context and choose Settings. When the Connection Settings dialog box appears, click the Configuration option from the Select a Well Known Naming Context drop-down list (Figure 1).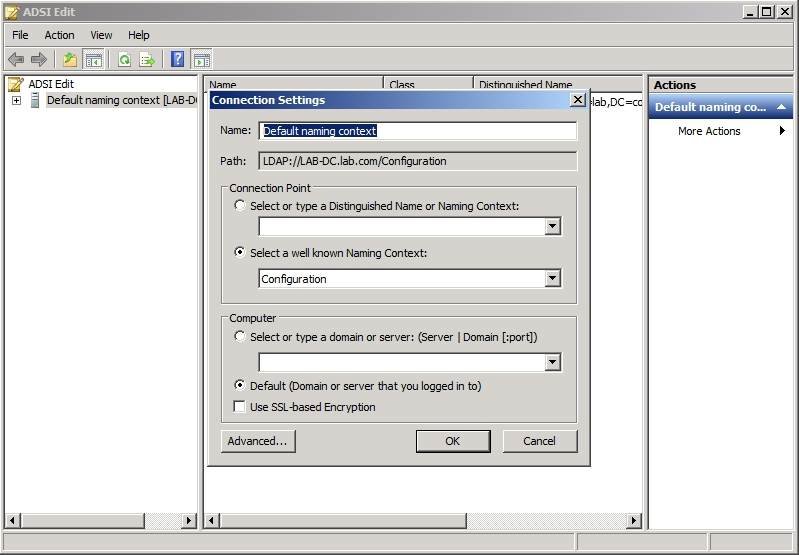 Figure 1. Select the Configuration context with ADSIEdit.
Click OK and navigate to Services -> Microsoft Exchange -> <your Exchange organization> -> Administrative Groups (Figure 2).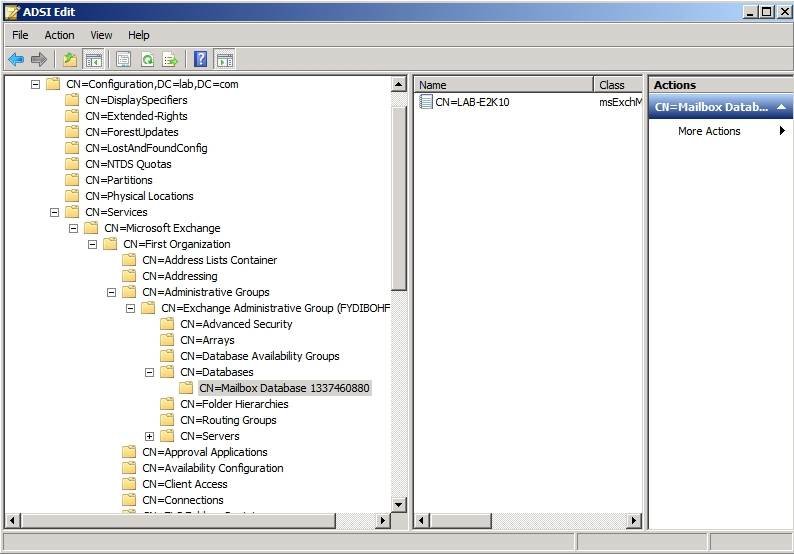 Figure 2. Navigate to the Administrative Group container with ADSIEdit.
In Figure 2, you'll notice that an administrative group named Exchange Administrative Group (FYDIBOHF23SPDLT) exists under the Administrative Groups container. This group should be left alone; Exchange 2007/Exchange 2010 creates it for backward-compatibility purposes.
You should actually look for other administrative groups. Exchange 2003 often leaves behind an object named "First Administrative Group."
If you select this container object, it will likely be empty. Delete this empty container -- as well as any other empty administrative group containers -- to correct the public folder replication problem.
If this technique does not fix your problem, try temporarily disabling any third-party software, especially firewalls and antivirus programs. These types of software are known to affect public folder replication.
ABOUT THE AUTHOR:
Brien Posey is an eight-time Microsoft MVP with two decades of IT experience. Before becoming a freelance technical writer, Brien worked as a CIO at a national chain of hospitals and health care facilities. He has also served as a network administrator for some of the nation's largest insurance companies and for the Department of Defense at Fort Knox.
Dig Deeper on Exchange Server setup and troubleshooting