Manage
Learn to apply best practices and optimize your operations.
Understanding System Center Service Manager 2010 and virtualization
What Service Manager settings should you have set when virtualizing an environment?
This excerpt from System Center Service Manager 2010 Unleashed by Kerrie Meyler Alexandre Verkinderen, Anders Bengtsson, Patrik Sundqvist, and David Pultorak (published by Sams, August 2011) discusses Service Manager 2010 configurations along with considerations to keep in mind when virtualizing your environment.
Hardware virtualization enables running multiple operating systems at the same time on a single physical computer. Because virtualization can save significant amounts of money and time, more and more organizations are virtualizing their server workloads, particularly as cloud computing becomes more prevalent.
An often-asked question is whether one can virtualize the various Service Manager components. As with many things in Information Technology (IT), the answer is it depends.
Before looking at whether you can virtualize your Service Manager components, let's look at the benefits of virtualization:
Using a single hardware server to run multiple operating systems reduces IT costs. You can run more servers per square foot/meter and thus reduce the cost of space, power, and cooling.
Because a virtual machine is not tied to a particular type of hardware, virtualization enables you to move virtual machines between physical machines easily.
Leveraging high-availability features of the host, such as Microsoft Hyper-V failover clustering, helps increase uptime of the virtual machines, particularly those without redundant Service Manager components such as the first installed Service Manager server that runs the workflows.
Virtualization enables you to dynamically respond to changing business needs; you can easily increase or decrease your management group capacity using the features available from virtualizing your environment (such as cloning, storing, and deploying management servers as virtual machines).
From a Service Manager support perspective, Microsoft officially supports virtualization of the following components:
Service Manager server
Service Manager database
Service Manager console
Data Warehouse server
Data Warehouse databases
Self-Service portal
This support presumes the component is running on a Microsoft hypervisor such as Windows Server 2008 or later, using Hyper-V or Microsoft Hyper-V Server 2008 or later or any other hardware virtualization software that is part of the Server Virtualization Program (SVP) such as VMware.
Small and test environments are perfect candidates for complete virtualization. The smaller test environments will most likely never reach the performance limits of virtualized operating systems, and performance in lab and demo environments is not as critical as in a production environment.
Based on the authors' experiences, the suggestion is to not virtualize any of the database components (Service Manager database and data warehouse databases) because these are disk and memory intensive:
Service Manager database performance is impacted primarily by the number of concurrent console connections that are retrieving or writing data, and the data inserted by the connectors.
Performance of the Service Manager data warehouse database server is directly impacted by the frequency of the Extract, Transform, and Load (ETL) workflows, data retention period, number of Service Manager servers sending data, rate of data change, and such.
A good document on SQL Server 2008 virtualization is available from Microsoft.
Here are the Service Manager components recommended as candidates for virtualization:
Data Warehouse management server: The Service Manager Data Warehouse server is more stateless than the other Service Manager servers without as many input/output (I/O) operations. However, the number of Service Manager servers registered with this server has a direct impact on its performance. The more Service Manager servers registered to the Data Warehouse MS, the more RAM that is necessary.
Self-Service portal server: The Self-Service portal is a perfect candidate for virtualization because it does not have not many I/O operations. Should you encounter any latency when running a virtual SSP, you should increase the amount of RAM available or install a second SSP and load balance the Self-Service portal.
Additional Service Manager servers: Because the additional Service Manager servers are not running any workflows but are just used to load balance the console connections or used as standby servers, these are excellent candidates for virtualization.
Table 1 provides an overview of the different Service Manager components and their suitability for virtualization.
Figure 1 shows an example of a virtualized Service Manager environment. In this example, the Self-Service portal, an additional Service Manager server, and the Data Warehouse MS are running as virtual machines. For optimal performance, the first Service Manager server and the SQL Server are kept on physical servers because of the workload.
Table 1: Service Manager Virtualization Suitability


Figure 1: Server Manager Virtualization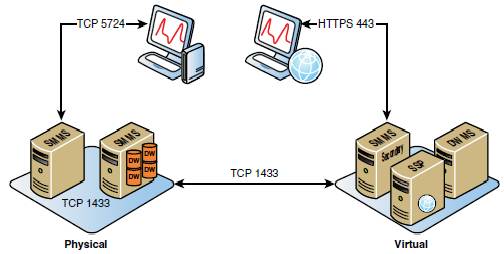 Here are some recommendations for virtualizing:
Use pass-through disks or fixed virtual hard drives (VHDs). Dynamic VHDs are not recommended (due to performance reasons). Pass-through disks and fixed VHDs give you the best results for SQL Server workloads, such as your Service Manager databases.
Allocate at least two virtual CPUs for the instance of your SQL Server. In general, when considering virtualization, you should strongly consider using System Center Virtual Machine Manager (VMM) combined with System Center Operations Manager (OpsMgr) to monitor and manage your virtual workload. See System Center Operations Manager 2007 R2 Unleashed (Sams, 2010) for additional information on monitoring virtual environments using Operations Manager.
Printed with permission from Sams Publishing. Copyright 2011. System Center Service Manager 2010 Unleashed by Kerrie Meyler, Alexandre Verkinderen, Anders Bengtsson, Patrik Sundqvist, David Pultorak. For more information about this title and other similar books, please visit www.informit.com.