Problem solve
Get help with specific problems with your technologies, process and projects.
Voicemail improvements in Exchange Server 2010 unified messaging
One of many unified messaging improvements in Exchange Server 2010 is the ability to protect voicemail messages. Get a rundown of available options and supported codecs for storing messages.
Voicemail transcription and call answering rules are just two new features included in Exchange Server 2010 unified messaging. This expert tip gives some insight on a few UM improvements that help to protect voicemail messages.
---
There are some new options in the UM mailbox policies that allow you to either enable or disable voicemail previews (Figure 1). You can also select the option to prevent users from configuring call answering rules.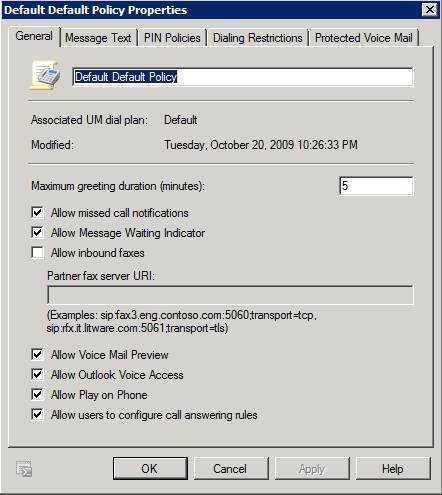 Figure 1.Available options in a UM mailbox policy.
Protected voicemail
One of the big problems with voice messages being stored in an email system is that, much like email messages, voicemail messages can be forwarded. Callers had no way to ensure that the voice messages they left wouldn't be forwarded other users.
In Exchange Server 2010, you can apply Information Rights Management to voice messages. If you look at Figure 2, you can see that the properties sheet for UM mailbox policies has a Protected Voice Mail tab. A protected voice message means that it cannot be forwarded.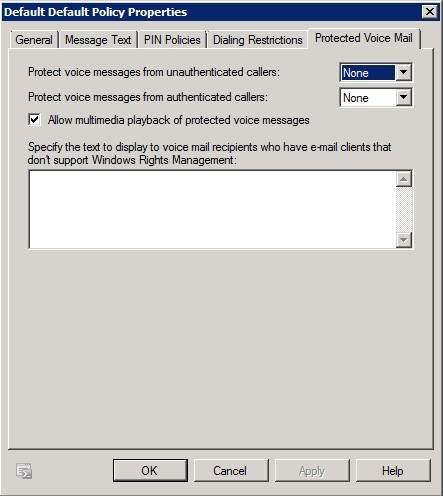 Figure 2. Exchange Server 2010 allows you to protect voice messages from being forwarded to other users.
This tab lets you separate control and protect voice messages from authenticated and unauthenticated users. Within these settings you have three options: None, Private and All.
The default setting of None leaves voice mail messages unprotected. Setting the protection level to Private gives callers the option to make the message private after leaving a message. The third option is All, which makes all voice messages private.
If you look just beneath the two Protect Voice Messages options, there is a check box to Allow Multimedia Playback of Protected Voice Messages. This option controls whether or not users will be able to use the Play on Phone option for protected voice messages.
The last option on this tab contains a box in which you can provide instructions for how to deal with protected voice messages that are sent to users whose email clients do not support Windows Rights Management.
New audio codec support
Another improvement Microsoft has made to unified messaging in Exchange Server 2010 is also one of the new features that has received the least attention. If you look at Figure 3, you'll notice that the audio codec field is set to MP3.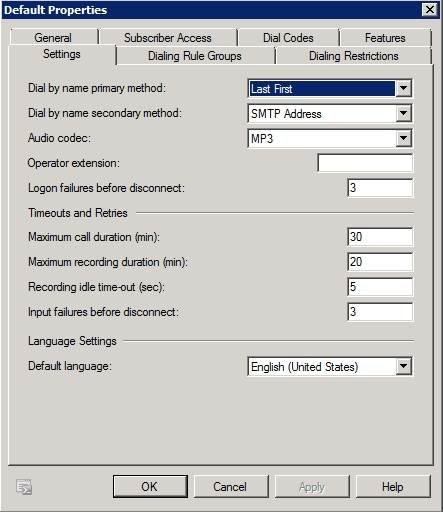 Figure 3. Exchange Server 2010 uses .mp3 as the default audio codec.
Exchange Server 2007 stored voice messages in .wma format, which is a Windows format. Non-Windows client computers -- such as Linux and Macintosh -- often lack the ability to play .wma files. This made life difficult for users checking messages through OWA on a non-Windows device. By default, Exchange Server 2010 unified messaging uses.mp3 format, which is supported on virtually all platforms. You can also set it to the .wma codec, if needed.
Exchange 2010 UM also supports the G711 and GSM codecs. You can change your codec for your dial plan through the Settings tab on the properties sheet.
About the author: Brien M. Posey, MCSE, is a five-time recipient of Microsoft's Most Valuable Professional (MVP) award for his work with Exchange Server, Windows Server, Internet Information Services (IIS), and File Systems and Storage. Brien has served as CIO for a nationwide chain of hospitals and was once responsible for the Department of Information Management at Fort Knox. As a freelance technical writer, Brien has written for Microsoft, TechTarget, CNET, ZDNet, MSD2D, Relevant Technologies and other technology companies. You can visit Brien's personal website at www.brienposey.com.
Do you have comments on this tip? Let us know.
Please let others know how useful this tip was via the rating scale below. Do you know a helpful Exchange Server, Microsoft Outlook or SharePoint tip, timesaver or workaround? Email the editors to talk about writing for SearchExchange.com.

Dig Deeper on Microsoft messaging and collaboration services