Evaluate
Weigh the pros and cons of technologies, products and projects you are considering.
What makes Microsoft Outlook 2007's Search feature special?
Discover how Microsoft Outlook 2007's Search feature takes advantage of Windows Vista's Desktop Search functionality. Still using Windows XP? Don't despair. You can still benefit from Outlook Search.
Like any version upgrade, Microsoft Outlook 2007 included features that either didn't exist in the previous version or have been improved. One such feature is Outlook 2007's new search function. Microsoft Outlook 2003 had built-in search capabilities, which also were good; but Outlook 2007's search feature is a lot better.
When Microsoft released Windows Vista, there was a lot of buzz about its new Desktop Search feature and its indexing capabilities. Outlook 2007 was designed to natively use Vista's Desktop Search feature.
If your organization is still using Windows XP, you're in luck. Microsoft now makes a downloadable version of Desktop Search for Windows XP called Windows Search.
Desktop Search
If you haven't used Desktop Search much, you may not realize its power. Just prior to capturing the image in Figure A, I did a search on the name Kimbers (the site editor for SearchExchange.com). Notice that Vista displays both documents and email messages in the search results window. This proves that Vista's built-in search engine indexes Exchange Server email (as long as Outlook is installed).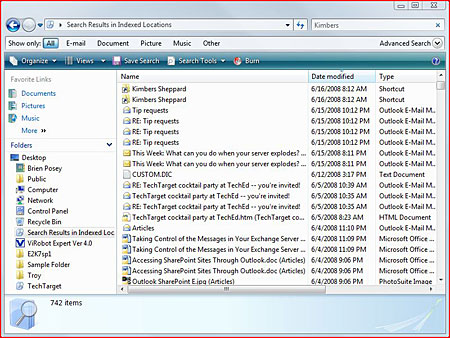 Figure A. Vista's Desktop Search feature indexes Exchange Server email and documents. (Click image for enlarged view.)

If you want to try this, you might have trouble finding Vista's Desktop Search option. In late 2007, Google didn't like that Microsoft embedded the Desktop Search feature into Windows Vista. Rather than risk another anti-trust judgment, Microsoft agreed to remove the Search command from Vista's Start menu in SP1.

To use Vista's Desktop Search feature, hold down the Windows key and press the F key. Doing so will display the Desktop Search window.

How does Outlook benefit from Vista's Desktop Search?

Vista's Desktop Search can index email messages, but how does Microsoft Outlook benefit from this?

For starters, try slowly typing a query into Outlook 2007's search box. As you type each letter, Outlook displays the current search results. Previous versions of Outlook waited until you entered your entire query before it would execute a search.

Because my mailbox is several gigabytes in size, I am constantly using Outlook's search box to locate specific email messages. Outlook's Search capabilities also support the same types of Boolean searches as Vista does. For example, let's enter the following text into the Outlook search box:

From: Kimbers with To: Brien and Subject: Article

This line of text directs Outlook to display every email that Kimbers sent me with the subject line containing the word Article. You can view the search results in Figure B. Note that I didn't need to include last names in the search criteria, and the search still worked.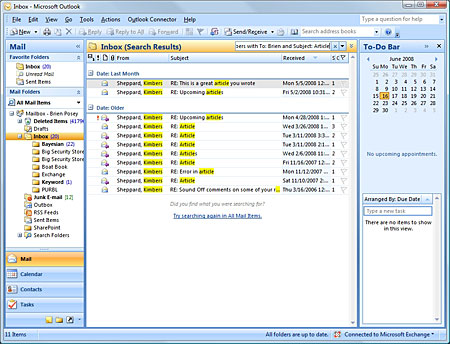 Figure B. You can enter Boolean expressions into Outlook's search box. (Click image for enlarged view.)
You'll also notice a couple of chevrons just to the right of the search box. If you click on these chevrons, Microsoft Outlook will display a more comprehensive set of search options, as shown in Figure C.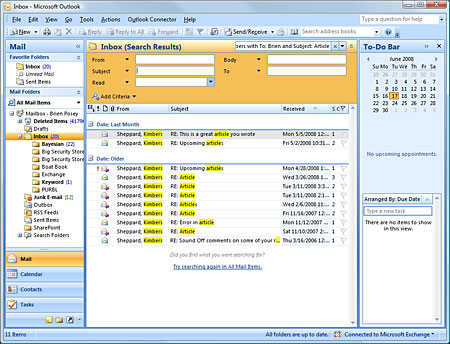 Figure C. Clicking on the chevrons causes Outlook to display a more comprehensive set of search options. (Click image for enlarged view.)
Once an initial search has been conducted, these search options can be used to perform a secondary search within the initial set of results. For example, if you look at Figure D, you can see that I entered the word Upcoming in the Subject field. Outlook then narrowed the results to display only those containing this word.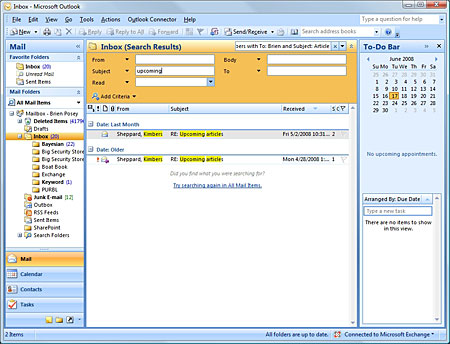 Figure D. Microsoft Outlook's search options allow you to perform a secondary search on your results. (Click image for enlarged view.)
About the author: Brien M. Posey, MCSE, has previously received Microsoft's MVP award for Exchange Server, Windows Server and Internet Information Server (IIS). Brien has served as CIO for a nationwide chain of hospitals and was once responsible for the Department of Information Management at Fort Knox. As a freelance technical writer, Brien has written for Microsoft, TechTarget, CNET, ZDNet, MSD2D, Relevant Technologies and other technology companies. You can visit Brien's personal website at www.brienposey.com.
Do you have comments on this tip? Let us know.
Please let others know how useful this tip was via the rating scale below. Do you know a helpful Exchange Server, Microsoft Outlook or SharePoint tip, timesaver or workaround? Email the editors to talk about writing for SearchExchange.com.