DXfoto.com - Fotolia
Evaluate
Weigh the pros and cons of technologies, products and projects you are considering.
When to use OneDrive for Business vs. SharePoint Online
With multiple options available from Microsoft for personal and corporate document storage and sharing, it's easy to get confused about which to use and when.
Microsoft's OneDrive for Business vs. SharePoint Online seems to be a confusing issue facing IT folks, and consequently...
Continue Reading This Article
Enjoy this article as well as all of our content, including E-Guides, news, tips and more.
end users.
OneDrive for Business relies on SharePoint Online to provide the services behind the scenes. This relationship causes similar feature capabilities between the two features of Office 365, which only adds to the confusion around choosing one versus the other. It's important to see a distinction between the two and proper use of each. The choice revolves around the proper use of OneDrive for Business and SharePoint Online with regard to document sharing and file services.
OneDrive for Business vs. SharePoint Online
Think of OneDrive for Business as a replacement for the shadow IT solution for file sharing that users currently have in play, such as Dropbox. Sharing documents with OneDrive for Business enables permission control, versioning and workflow control beyond what's available when workers send files via email. You have a secondary repository -- or even primary if it fits your business model -- in the cloud for work documents, and the user can access those files from a variety of devices. I've heard OneDrive for Business compared to a cloud-based version of the Windows My Documents folder. The mechanism under the hood that makes OneDrive for Business work is a SharePoint site. Users can share files to others, typically considered one-off sharing, through URL sharing. You can control access easily and/or remove it.
By contrast, SharePoint Online is filled with a variety of features that extend beyond OneDrive for Business, including document collaboration and sharing. Typically, a document library allows users to store documents of all types. Workers within your organization can access these documents to read, edit, print or take other actions.
When using SharePoint Online for file storage and collaboration versus OneDrive for Business, the audience for those files is typically bigger and the timeframe for their use is typically much longer. For example, the human resources department would place company policy documents on SharePoint Online. OneDrive for Business allows end users to share and collaborate on documents they manage and feel ownership over, whereas files uploaded to SharePoint Online belong to the team or the company. SharePoint Online provides better long-term file management for these multiuser documents.
The difference is right in the names: OneDrive for Business is a personal work file storage and sharing functionality for individuals. Treat it like My Documents in the cloud but with sharing features for collaboration. SharePoint Online -- the key word being "share" -- provides a variety of services through team sites with the ability to serve as somewhat of a modern file server with versioning, permissions and workflow features combined. The whole team, or the whole company, can access files.
Parsing the file-share options
This article covers the corporate file-sharing features offered through Office 365. OneDrive is a standalone solution that allows individuals to store personal documents in the cloud and share files with others, making it the "home edition" and not a concern to most enterprise IT organizations.
Managing OneDrive for Business and SharePoint Online
Administration works differently for OneDrive for Business vs. SharePoint Online.
Microsoft designed OneDrive for Business to be administered by the end user. Each user controls her own OneDrive (figure 1). Through the OneDrive interface, users can upload and open Microsoft Office documents. Users are able to create folders, and use those folders as the basis for organizing documents. OneDrive for Business also allows users to establish their own document-sharing permissions on a file-by-file basis, and to send email invitations to others with dedicated links for accessing shared files.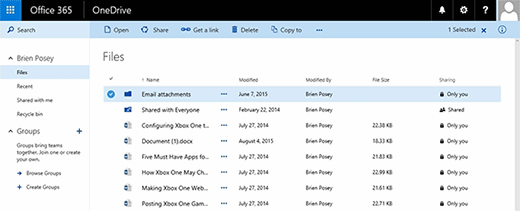 The other side to OneDrive for Business is document synchronization. By using the OneDrive for Business app, users can synchronize their OneDrive contents to a target device, such as their personal laptop. Any edits made to cloud-based documents will be synchronized to the device, and vice versa.
Although SharePoint Online offers many of the same capabilities as OneDrive for Business -- OneDrive for Business is based on SharePoint, after all -- SharePoint document libraries are only one small part of SharePoint Online's feature set (figure 2). Like OneDrive for Business, a SharePoint Online document library includes upload, search, share and sync capabilities. The primary difference is that a SharePoint Online document library is a shared environment that is typically owned by a department, workgroup or team, whereas each user has her own OneDrive for Business over which she has full control.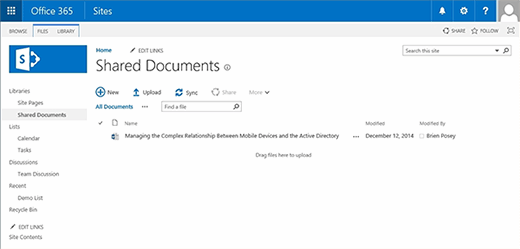 We've explained the differences but now let's applaud the similarities. Both OneDrive for Business and SharePoint Online reside in the cloud with Office 365, offer file storage and sharing capabilities, and are accessible via multiple devices for worker productivity regardless of location. Through both OneDrive for Business and SharePoint Online, workers can collaborate through Office tools such as Word, Excel, PowerPoint and OneNote and edit documents simultaneously with other users.
Next Steps
Curbing shadow IT with OneDrive for Business
Microsoft continues to pack features into SharePoint Online
Weighing the differences between SharePoint Online vs. on premises
Dig Deeper on Office 365 and Microsoft SaaS setup and management