Manage
Learn to apply best practices and optimize your operations.
Why it's easier than ever to deploy hybrid Exchange Server
Deploying a hybrid environment with Exchange 2013 is easier than it used to be, but it's still no piece of cake.
Establishing coexistence between on-premises Exchange Server and Office 365 is not easy. And even though Microsoft created a wizard to help with the process, creating a hybrid Exchange Server deployment is still a tall order.
So is it any easier in Exchange Server 2013? Let's take a look at what's involved in deploying a hybrid Exchange Server with on-premises Exchange and Office 365.
Exchange 2013 has a number of features that make it easier to set up a hybrid deployment, including creating a streamlined configuration process. In Exchange Server 2010, running the Hybrid Configuration Wizard was only the first step. After doing so, you had to use a separate wizard called the Manage Hybrid Configuration Wizard. Exchange Server 2013 combines those two wizards.
Microsoft also made the wizard less confusing; the Exchange Server 2010 SP2 wizard dealt with the Client Access server and Hub Transport server selections separately. This confused admins who combined the roles onto a single server. The new wizard only requires administrators to specify mailbox or Edge Transport servers. There are also a number of other improvements to the configuration wizard.
While it's important to consider the amount of work involved in installing a hybrid Exchange environment, it's far more important to consider the impact doing so will have on the long-term management of the organization.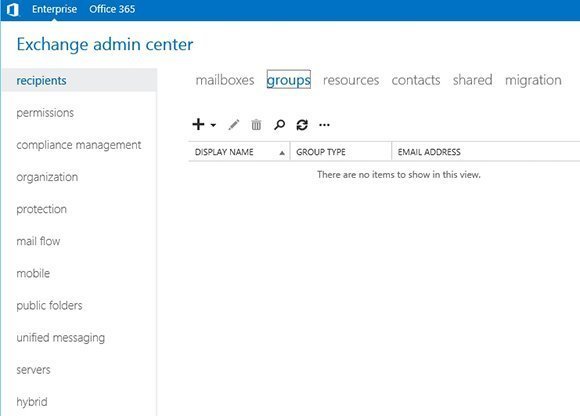 Figure 1
Microsoft succeeded in streamlining the management process. The Exchange Administration Center is used to manage both on-premises Exchange (Figure 1) and Office 365 (Figure 2).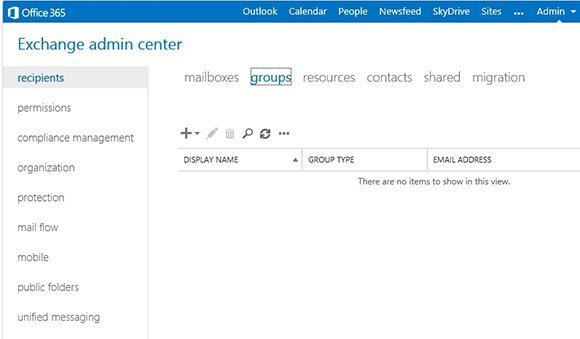 Figure 2
There are only a few differences between the two management consoles. The on-premises version of the console contains links in the upper-left portion for Enterprise and Office 365. The Office 365 version doesn't have the Enterprise link.
A more obvious difference is that the on-premises version of the console contains a Hybrid tab on the bottom left-hand side, whereas the Office 365 version doesn't. This Hybrid tab is the mechanism you use to launch the Hybrid Configuration Wizard and establish a hybrid Exchange Server deployment (Figure 3).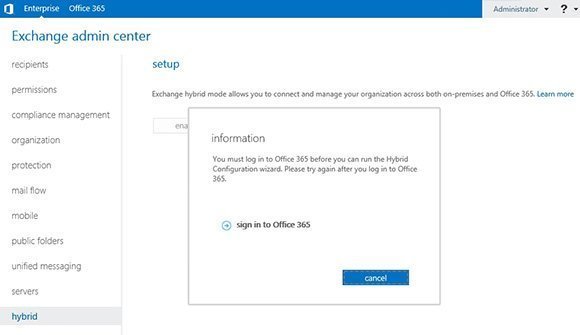 Figure 3
And while the wizard existed in Exchange 2010 SP2, the link to it was buried in the Exchange Management Console under Microsoft Exchange | Microsoft Exchange On Premises | Organization Configuration | New Hybrid Configuration. It's easier to find in Exchange Server 2013.
Creating the Hybrid Configuration Wizard in Exchange Server 2010 SP2 was a good first step in easing the configuration process, but there's a tremendous amount of prep work that had to be done before using it. And while the prep work doesn't go away in Exchange Server 2013, it has been lessened a bit. Now, it mostly consists of configuring AD FS-based identity federation and configuring directory synchronization so that on-premises objects can be synchronized to Office 365.
About the author:
Brien Posey is an eight-time Microsoft MVP for his work with Windows Server, IIS, Exchange Server and file system storage technologies. Brien has served as CIO for a nationwide chain of hospitals and healthcare facilities and was once responsible for IT operations at Fort Knox. He has also served as a network administrator for some of the nation's largest insurance companies.
Dig Deeper on Exchange Server setup and troubleshooting