kentoh - Fotolia
Get started
Bring yourself up to speed with our introductory content.
Wizard controls Exchange hybrid configuration -- wand not included
In a hybrid Exchange 2013 configuration, the magic is simple -- no manual configuration necessary. Let the wizard do the work and connect to the cloud.
The Hybrid Configuration Wizard allows admins to connect your on-premises Exchange deployment with Office 365, and extend your organization into the Microsoft cloud.
Connecting Exchange 2010 servers to the cloud was cumbersome with multiple steps that were refined with each service pack release. In Exchange Server 2013, configuring a hybrid deployment is a single process, in which the wizard configures most of the necessary components.
Here is what has changed for the better in Exchange hybrid configuration.
Even though Hybrid Configuration Wizard configured all the required components for the hybrid deployment in previous versions of Exchange, enabling the Mailbox Replication Service (MRS) Proxy on the Exchange Web Services virtual directory was a manual configuration task. With the release of Cumulative Update 5 for Exchange 2013, MRS Proxy is now configured automatically.
In Exchange 2013 hybrid deployments, the Hybrid Configuration Wizard prompts you to configure Open Authentication (OAuth), which doesn't require any manual intervention.
Click on the Configure button (figure 1) and the program prompts you to download and run two applications that configure OAuth.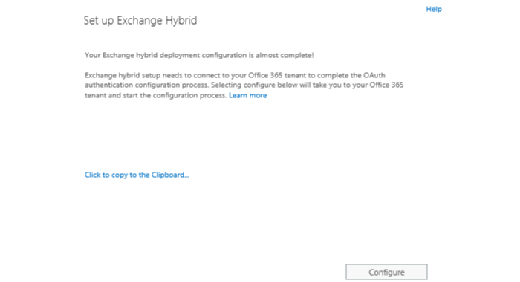 Configuring an Edge Transport Server in Exchange 2010 SP2 involves a lot of manual work to set up multiple hybrid transport parameters. An Edge Transport server is possible in Exchange 2010, but almost all of the work is done manually. In Exchange 2013, the wizard does most of the configuration behind the scenes.
Exchange 2013 Hybrid Configuration Wizard fully supports both Exchange 2010 and Exchange 2013 transport servers, and allows you to select one or more of the 2010 or 2013 Edge Transport servers. The Edge Transport also automates most configuration steps.
Troubleshooting the hybrid Exchange 2013 configuration steps is easier than it is with Exchange 2010. The log files now separate the tasks into clearly delineated sections for easier review, and clearly mention whether a particular task was performed in Exchange Online or on premises. Troubleshoot the configuration wizard through the logs, which have been given a facelift with more information displayed and sections categorized for easier reading.
Whenever you configure a hybrid deployment for an organization using Exchange 2013 CU 5 and later on-premises servers, there is a small tick box for the Office 365 customers in China. You can check the box that says "My Office 365 organization is hosted by 21Vianet." The Office 365 service is done through 21Vianet -- a Microsoft partner in China -- and the box configures the settings specifically to connect to the services hosted by 21Vianet.
Securing email between Exchange Online and on-premises Exchange is much simpler to set up in version 2013 -- it no longer depends on static IP addresses for connector selection. The Exchange Online Protection (EOP) service and the Hybrid Configuration Wizard use the certificate used for Transport Layer Security in the EOP connectors rather than static IP addresses. This eliminates the need for administrators to manage a list of static IP addresses.
When offered, always extend your organization into the cloud with the latest cumulative update of Exchange 2013 servers.
About the author:
Rajith Enchiparambil is a UC Architect who works on large Exchange and Office 365 projects for clients in the U.K. He specializes in Exchange, Office 365, Active Directory and a bit of Lync. He has been working in the IT industry for the last 13 years and has worked extensively with Microsoft Exchange since version 5.5. Enchiparambil has worked for consultant services such as HP, Siemens, AtoS, CapGemini and Computacenter. He regularly writes about Office 365 and Exchange in his personal blog, theucguy.net.
Dig Deeper on Exchange Server setup and troubleshooting