Get started
Bring yourself up to speed with our introductory content.
An intro to voice systems for Exchange administrators
Voicemail is the primary voice system that the Exchange Unified Messaging Server role replaces. In this excerpt from "Microsoft Exchange Server 2007: The Complete Reference," discover everything an Exchange administrator needs to know about essential voice system information from the PBX/Voicemail architecture to the many voice system terms.
Voice Primer for Exchange Administrators
Voice and email technologies not only differ in how they work, they differ in how they are administered. Perhaps the most difficult part of deploying a Unified Messaging solution is bridging the knowledge gap between the voice system administrators and the Exchange administrators.
When the voice system administrators in an organization do not understand Exchange and the Exchange administrators do not understand the voice systems, it does not necessarily help to bring the two together on a Unified Messaging project. One side or the other is going to have to give in and learn the other technology so there is common ground.
Because this chapter excerpt is intended for the Exchange 2007 administrator, the following will serve as a primer for voice communication systems. This primer only covers the information and terminology that is essential to know in order to implement a Unified Messaging server role. You should supplement this information with the documentation provided by your voice system's vendor. Each vendor will likely have proprietary technology that falls outside the scope of this excerpt.
Voicemail is the primary voice system that the Exchange Unified Messaging Server role replaces -- but call management still requires a Private Branch Exchange (PBX). Voicemail is commonly associated with PBXs, which are premise-based (business) phone systems. Voicemail was a feature created from necessity. Voicemail was conceived and demonstrated in the 1970s, many years before it became commercially viable. The first commercial solutions did not appear until the 1980s, when a product called VMX was successfully adopted by many big name companies. It was limited in its ability to work with only internal voice messages, and provisioning new users and making changes were very difficult.
A company called Octel really brought voicemail to the masses in the 1990s. Although legacy PBXs have the ability to forward calls to other extensions, they do not have the ability to prompt a caller to leave a voicemail or convert the caller's voice to a digital format. Prior to voicemail systems, calls had to be routed to phone extensions where dedicated operators resided. A number of companies filled this niche for many years by providing organizations with call-answering services. In fact, when voicemail systems began to rise in popularity, the telecom companies were prohibited by federal regulations from using voicemail systems in order to prevent them from putting the call-answering services out of business. When this restriction was eliminated in the mid 1980s, all the carriers began to offer voicemail solutions.
Voicemail systems were designed to mimic email systems. They provide storage and retrieval mechanisms for voice messages. The voicemail solutions digitize the messages left by callers and then replay the messages back to the intended recipients. Integrating a PBX with the corporate email system is a logical evolution for voicemail.
For a voice messaging system to work properly, it must be able to communicate with the PBX and send and receive signals to the PBX and signals to desktop sets (phones) via the PBX. Prior to Exchange Server 2007, email systems did not have native voicemail capabilities. Prior to Exchange 2007, leaders in the voice industry provided the only Unified Messaging solutions that could store voice messages on an Exchange server.
PBX/Voicemail architecture
A PBX allows a few inbound phone lines to be used by a large number of people within an organization by managing and logging each call. The PBX is also used by the voicemail solution in the process of storing and retrieving voicemail. Many organizations, and possibly yours, will need to connect Exchange 2007 Unified Messaging to a legacy PBX. Figure 9-1 shows how the legacy PBX and legacy voicemail systems interoperate.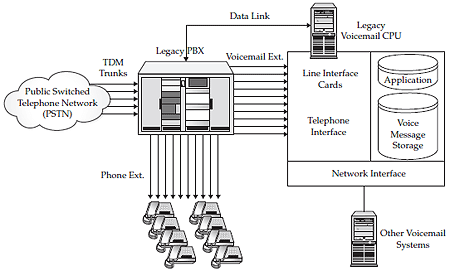 Figure 1 Legacy PBX and voicemail
The following walkthrough of the inbound voicemail process will help you understand how the legacy PBX and voicemail systems are integrated:
An inbound call from the PSTN comes across a TDM trunk.
The PBX routes the call to the specified extension.
When there is no answer after an administrative-defined number of rings, the call is forwarded to a voicemail extension.
PBX sends a command across the data link to the voicemail CPU, to prompt the inbound call with the target's voicemail message.
The voicemail CPU instructs the telephone interface to answer the call.
The CPU application plays the voicemail prompt and the application-specific prompts.
The CPU application listens for any keystrokes from the caller. The voice message is digitized from the incoming analog voice stream. Then, when the caller hangs up or specifies the end of the voice message, the CPU application stores the voice message.
When the call is complete, the voicemail system sends a command to the PBX via the data link to turn on the Message Waiting Indicator for that phone extension.
A similar process ensues when a person checks their email. The key to a sophisticated voicemail system is in the application's ease of use. Is it easy to navigate the voice prompts? Does the application provide a range of playback and storage options? The best systems do that -- and then some.
Voice System terminology
We have already used some voice system terminology that may seem like a foreign language to an Exchange administrator. Reviewing the following comprehensive list of voice system terms will help you during your deployment of Unified Messaging:
Public Switched Telephone Network (PSTN) - A term that represents the worldwide collection of publicly available phone networks run by private corporations and governments. One connotation of the term implies the circuit-switching (legacy) portion of the public network. However, today the PSTN is a combination of both circuit-switching and packet-switching technologies.
Private Branch Exchange (PBX) - Voice system that enables companies to manage incoming calls by sharing a small number of outside phone lines among many internal extensions.
Time-Division Multiplexing (TDM) - TDM is used to allow multiple connections to exist on the same circuit-switched network. The PSTN still contains many circuit-switched networks.
Trunk - A connection that consists of multiple individual TDM-based links, aggregated to increase the overall bandwidth.
VoIP trunking- A way of providing scalable long-haul phone connections using high-bandwidth WAN connections to interconnect PBXs in a corporation through VoIP gateways. This concept is used at the carrier level for the logon hauls between PSTNs. H.323, SIP, Media Gateway Control Protocol (MGCP), and Inter-Asterisk Exchange (IAX) are some of the supported trunking protocols.
Message Waiting Indicator (MWI) - PBXs that support voicemail systems that support MWI signaling requests to allow individual phone extensions to know that there is a message wafting for them on the voicemail system.
Interactive Voice Response (IVR) - IVR extends the functionality of a voicemail system by allowing the application to understand voice requests and dial tones (DTMF) from callers. Microsoft UM has a built-in IVR.
Quality of Service (QoS) - A protocol used on IP networks to set the priority of data packets used by bandwidth-sensitive applications such as VoIP.
Call Forward No Answer (CFNA) -A setting on a PBX designed to forward mail to a legacy voicemail system. It can be configured to forward calls to a VoIP gateway instead.
Voice over Internet Protocol (VoIP) - A general term used to describe various methods of digital voice communications across an IP network.
VoIP gateways - Network devices that connect local PSTNs that use TDM circuit-switching to an IP-based packet-switching backbone. These devices are required to connect Exchange 2007 Unified Messaging servers to legacy PBX systems.
Session Initiation Protocol (SIP) - SIP is used as a means for an IP phone to establish a connection to a VoIP gateway or Digital PBX (call manager). SIP is also used by the VoIP gateway to connect to the Exchange UM server.
Real-time Transport Protocol (RTP) - Protocol for creating and transmitting the data packets that contain audio and or video communications. RTP is used after SIP establishes a session.
Uniform Resource Identifier (URI) - Used by SIP to uniquely identify each client.
Digital Set Emulation (DSE) - A feature of some VoIP gateways that emulates digital phone sets, so the PBX views the gateway as different phone sets on the same hunt group and handles the connections and requests (transfer/receive call) as a phone set.
Hunt group - Also known as hunting, a hunt group is a method of forwarding calls from a single inbound number to a group of extensions. The three methods of hunting are circular, linear, and most-idle.
Pilot number - Phone number assigned to a hunt group for inbound calls.
T1 Channel Associated Signaling (CAS) - Used by some legacy PBXs to transmit control signaling data between the PBX and the voicemail system on the same channel as the data.
T1 Q Signaling (Q.SIG) - Q Signaling is an ISDN-based protocol. Used by some legacy PBXs to transmit data between the PBX and the voicemail system. Also used for PBX-to-PBX interoperability.
Integrated Services Digital Network (ISDN) - A dedicated WAN connection between an Internet or telecom provider and a subscriber. Can be used for voice or data.
Basic Rate Interface (BRI) - A method of provisioning a dedicated ISDN line for voice communications or data communications. This configuration consists of two B channels for voice or data and a D channel for signaling information. Used for small business and home users.
Primary Rate Interface (PRI) - A method of provisioning a dedicated T1 or E1 for voice or data communications. T1 PRI has a maximum capacity of 23 B channels for voice or data and one D channel for signaling. E1 PRI has a max of 30 B channels on ISDN circuits, for voice or data and one D channel for signaling. Used for large enterprises.
B channel - Bearer channel with a data rate of 64 kilobits per second (Kbps). Each B channel could classically bear the TDM digital form of one analog voice call. For data purposes, multiple B channels may be aggregated for greater combined data rates.
D channel - Delta channel for signaling changes, status updates, and command initiation associated with the B channels that are provisioned along with the D channel. For BRI, the D channel is 16 Kbps whereas for PRI the D channel is 64 Kbps (like a B channel).
T.38 - A standard for supporting fax communications. It specifies how to send an audio packet through a data network, similarly to G.711. T.38 describes the process of converting analog connections from the telephone company to the PBX into encoded voice between the PBX and VoIP gateway. Exchange UM supports T.38.
Simplified Message Desk Interface (SMDI) - A legacy method for a phone system to provide voice messaging systems with the information necessary to process incoming calls. It is usually communicated across a dedicated data link cable.
Audio codec - A computer program that compresses as well as decompresses digital audio data according to a given audio file format. Voicemail systems do not require the same frequency range or quality as music audio codec.
Speech compression - A specialized audio codec for voice files. Early speed compression codecs include G.711 A-Law and G.711 mu-Law (μ-Law) pulse-code modulation (PCM). The most widely used speed compression method today is Code Excited Linear Prediction (CELP). This can be seen in standards such as GSM and WMA. Decisions on which codecs are used affect the quality and performance of a voice messaging system.
Dual-tone Multifrequency (DTMF) - A standard that defines the sound frequencies generated when each key is pressed on a phone. This is also commonly referred to as touchtone inputs. DTMF is used by voicemail systems to allow callers to navigate Auto Attendant menus and subscribers to retrieve messages from the system.
Telephone user interface (TUI) - The voicemail interface available from a standard analog, digital, or cellular telephone.
Voice User Interface (VUI) - A voicemail system that can interpret voice commands has a Voice User Interface that parallels the telephone user interface. The VUI depends on the Automatic Speech Recognition (ASR) service to interpret speech input from a caller.
Automatic Speech Recognition (ASR) - A feature of Unified Messaging that allows an Outlook Voice Access user to move through the mailbox menus by using voice commands.
Text to Speech (TTS) - The component of the Unified Messaging architecture that reads email, voicemail, and calendar items, and plays the menu prompts for callers.


Microsoft Exchange Server 2007 Unified Messaging for administrators



Home: Introduction to Unified Messaging on Exchange 2007


Part 1: An intro to voice systems for Exchange administrators


Part 2: Unified Messaging features in Exchange Server 2007


Part 3: Defining Exchange Unified Messaging architecture


Part 4: Deploying Unified Messaging servers on Exchange Server 2007


Part 5: Comparing VoIP PBX solutions for Unified Messaging


Part 6: Integrating Unified Messaging servers with a VoIP solution


Part 7: Creating a Unified Messaging Dial Plan


Part 8: Configuring a Unified Messaging IP gateway


Part 9: Mailbox policy configuration for Unified Messaging


Part 10: Creating and assigning a Unified Messaging hunt group


Part 11: Dialing rules and restrictions for Unified Messaging users


Part 12: Assigning Unified Messaging dialing rules to a mailbox policy


Part 13: Executing Unified Messaging grammar generation


Part 14: Enabling Unified Messaging mailboxes and users

This chapter excerpt from Microsoft Exchange Server 2007: The Complete Reference, by Richard Luckett, William Lefkovics and Bharat Suneja, is printed with permission from McGraw-Hill Osborne Media, Copyright 2008.

Click here for the chapter download or purchase the book here.
Dig Deeper on Microsoft messaging and collaboration services