Manage
Learn to apply best practices and optimize your operations.
Configure Performance Monitor alerts for Exchange Server 2007
Using System Center Operations Manager to monitor your Exchange Server 2007 performance can be pricey. Learn how to generate alerts from Performance Monitor when counter threshold values have been exceeded in an Exchange 2007 environment.
Microsoft recommends using System Center Operations Manager to monitor Exchange servers, but this can be expensive and out of reach for small businesses. Fortunately, it's possible to monitor Exchange Servers manually using Performance Monitor counters.
Microsoft System Center Operations Manager (SCOM) examines Performance Monitor counters to ensure that they don't exceed certain threshold values. If you know which counters to monitor and what the threshold values should be, you can eliminate the need for separate monitoring software.
Keep in mind that the techniques described in this tip are not substitutes for using System Center Operations Manager. If SCOM fits into your budget, I recommend using it as it's a more comprehensive solution.
The monitoring process also affects the server's performance to a degree. If there is a noticeable affect on performance after starting, you may want to monitor fewer counters.
There are several Performance Monitor counters associated with Exchange Server 2007. In many instances, Microsoft documents counter value thresholds. If a counter exceeds the recommended threshold value, this may indicate that either a performance problem exists or there is a problem with the affected server's functionality.
Setting up performance alerts
It isn't practical to have an administrator manually monitor counter values all day. Microsoft allows you to create an alert when a counter exceeds a threshold value. The trick is deciding how you want to be alerted. Your options include:
Adding an entry in the Application event log
Sending a network message
Starting a performance data log
Running a script
Note: Although there is no specific option for generating an email alert, you can write a script to have the system send you an email message alert.
Creating an alert is easy and involves just a few steps.
Open the Performance Monitor.
Navigate through the console tree to: Performance Logs and Alerts -> Alerts.
Right-click on the Alerts container and choose New Alert Settings from the menu.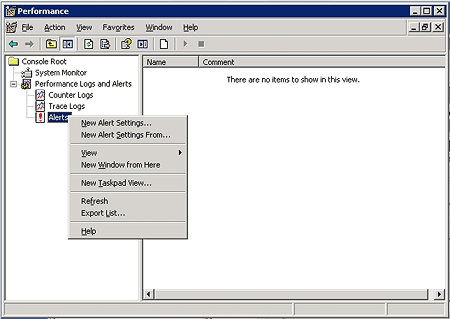 Figure 1. Right-click on the Alerts container and choose New Alert Settings.
You will be prompted to enter a name for the new alert. I recommend using a descriptive name, since you will create more than one alert.
Click OK and you will be taken to the properties sheet for the alert that you are creating.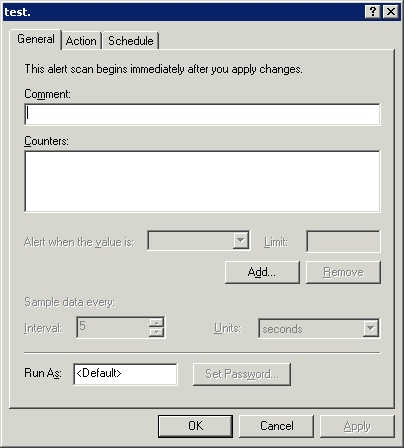 Figure 2. You must populate the properties sheet to create an alert.
Enter a description of the alert. Although you're not given a lot of character space, providing an accurate description is critical. A heavily monitored server may have dozens of alerts.
Microsoft has been known to change acceptable threshold counter value recommendations. When this happens, you must be able to find the alert that needs to be modified. Properly describing the alert can help.
About the author: Brien M. Posey, MCSE, is a five-time recipient of Microsoft's Most Valuable Professional (MVP) award for his work with Exchange Server, Windows Server, Internet Information Services (IIS), and File Systems and Storage. Brien has served as CIO for a nationwide chain of hospitals and was once responsible for the Department of Information Management at Fort Knox. As a freelance technical writer, Brien has written for Microsoft, TechTarget, CNET, ZDNet, MSD2D, Relevant Technologies and other technology companies. You can visit Brien's personal website at www.brienposey.com.
Do you have comments on this tip? Let us know.
Please let others know how useful this tip was via the rating scale below. Do you know a helpful Exchange Server, Microsoft Outlook or SharePoint tip, timesaver or workaround? Email the editors to talk about writing for SearchExchange.com.
Dig Deeper on Exchange Server setup and troubleshooting