Manage
Learn to apply best practices and optimize your operations.
Control how mobile users access files with WebReady Document Viewing
Install the WebReady Documents Viewing feature in Exchange Server 2007 to manage the files and attachments that Outlook Web Access (OWA) users can access.
The ability to view WebReady documents is a new feature in Exchange Server 2007. The idea behind this feature is that, as an administrator, you don't know specifically which device your mobile clients are using to check their email – personal laptop, PDA, cell phone or public computer. This can present a problem. Often, users must access file attachments, but they may not always have access to an application that is used to open a specific attachment.
For example, a user may check his email on a Web-enabled cell phone. Exchange Server 2007 lets mobile users display certain types of documents in a Web browser window, even if their device doesn't have the associated application installed.
To configure WebReady Document Viewing:
Open the Exchange Management Console and navigate through the console tree to: Server Configuration -> Client Access.
Select the Client Access Server that you want to configure from the details pane.
Right click on the listing for OWA (Default Website) found in the work pane.
Select Properties from the menu to display the OWA (Default Website) Properties sheet.
Access to attachments is configured separately for public and private computers, so you must select either the Public Computer File Access or the Private Computer File Access tab.
To enable WebReady Document Viewing, select the Enable WebReady Document Viewing checkbox (Figure 20). Located under this checkbox is another box that you can use to force mobile users to use WebReady Document Viewing when a converter is available. If you choose this option, users won't be able to use the application that created a document to view the document, unless WebReady converter is unavailable.


Figure 20. Select the WebReady Document View checkbox to enable this feature. (Click on image for enlarged view.)
Exchange Server 2007 currently supports WebReady viewing of Microsoft Office 2003 documents (Word, Excel and PowerPoint). You can also force WebReady viewing of PDF, RTF and HTML documents. Currently, there are no converters for Microsoft Office 2007 documents, but these converters were included in Exchange Server 2007 SP1.
One problem with WebReady viewing is that sensitive information from documents can be left behind in a machine's browser cache. Fortunately, this function isn't an all-or-nothing proposition. For example, you may know that users in your company sometimes receive confidential PDF documents from the legal department. In such a situation, you may not be concerned if your users open a Word document or Excel spreadsheet on a public computer using WebReady Document Viewing, but you don't want them to open PDF files.
To limit the types of files that can be viewed through a Web browser, click the Supported button to reveal the WebReady Document Viewing Settings dialog box, shown in Figure 21. You can enable WebReady Document Viewing for all supported document types, or just specific document types. This screen is also useful if you want to see which converters are currently installed.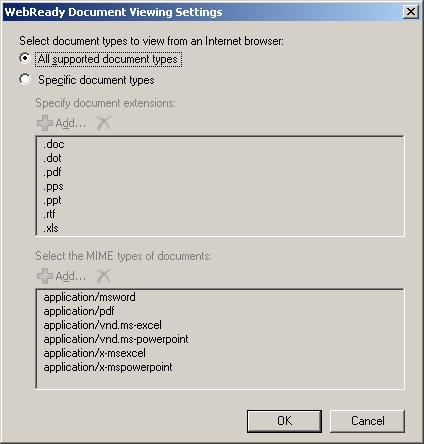 Figure 21. WebReady Document Viewing lets you control which types of documents to view. (Click on image for enlarged view.)

Accessing files from remote servers

Exchange Server 2007 allows you to access files from remote file servers. For example, suppose that you're using a laptop at the office to check email. If you open a message from a coworker that contains a link to a document located on one of your file servers, the document opens once you click on the link. When working remotely, you would use OWA and click on the link to open the same message. But because you're not in the office, the document won't open.

When logging into OWA in Exchange Server 2007, you provide a set of authentication credentials -- the same credentials that you would use to log onto your computer at the office.

Microsoft designed the latest version of OWA to act as a proxy on your behalf. If you clicked on a link to a document stored on a remote file server, OWA uses your credentials to retrieve the document. This occurs even though the file server isn't accessible beyond your network perimeter because your back-end Exchange servers reside on the same network as the file servers.

Allowing access to your file servers through OWA does raise some security concerns. You can disable OWA's access to file servers and Windows SharePoint Services (WSS), which is enabled by default. The properties sheet contains a Remote File Servers tab, which lets you limit the servers that remote users can access using OWA (Figure 22).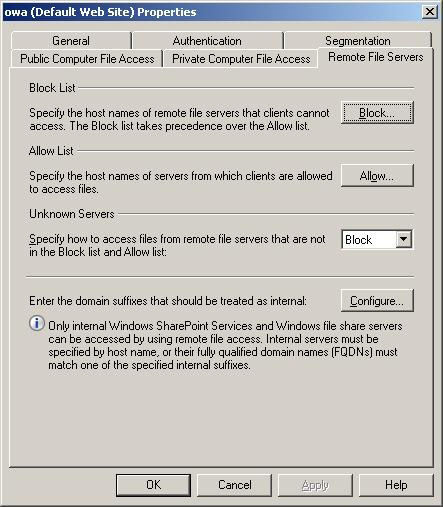 Figure 22. Prevent mobile users from accessing specific servers using OWA. (Click on image for enlarged view.)
Settings created using the Allow and Block lists only affect access to these servers via OWA; they don't prevent users from remotely accessing servers in other ways.
The Unknown Servers dropdown list allows you to set the default behavior for OWA access to remote file servers.
The action for unknown servers is set to Block by default. This means that you must specifically add a server to the Allow list, or access to the server through OWA will be blocked.
The Configure button lets you specify internal domain names. Mobile users are only allowed to access files from internal servers. Therefore, if a specified server's fully-qualified domain name doesn't match a specified domain name, then users won't be allowed to access files on that server. Keep in mind: The list of internal domains is empty by default, so you must populate the list if you want to provide users with access to file servers.


TUTORIAL: Customizing Outlook Web Access in Exchange Server 2007



Home: Introduction


Part 1: Modifying the look of OWA in Exchange Server 2007


Part 2: Using cascading style sheets to change a color in OWA


Part 3: How to handle file attachment access in OWA


Part 4: Control how users access files with WebReady Document Viewing


Part 5: Enable user-level segmentation to control OWA components

ABOUT THE AUTHOR: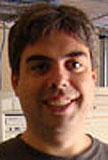 Brien M. Posey, MCSE
Brien M. Posey, MCSE, is a Microsoft Most Valuable Professional for his work with Exchange Server, and has previously received Microsoft's MVP award for Windows Server and Internet Information Server (IIS). Brien has served as CIO for a nationwide chain of hospitals and was once responsible for the Department of Information Management at Fort Knox. As a freelance technical writer, Brien has written for Microsoft, TechTarget, CNET, ZDNet, MSD2D, Relevant Technologies and other technology companies. You can visit Brien's personal Web site at http://www.brienposey.com.