Get started
Bring yourself up to speed with our introductory content.
Creating a Unified Messaging Dial Plan
Unified Messaging (UM) Dial Plans store the information necessary to work with the telephony system in Active Directory (AD). In this excerpt from "Microsoft Exchange Server 2007: The Complete Reference," discover how to create an UM Dial Plan in the Exchange Management Console or with a cmdlet in the Exchange Management Shell.
Dial Plans

A UM dial plan defines a link from the telephone extension number of a user to the corresponding UM-enabled mailbox. Regions around the world have different access numbers and extension patterns.

Dial plans allow you to specify unique dialing rules for different locations in your organization. UM dial plans store the configuration information necessary to communicate with the telephony system in Active Directory. Each UM dial plan has an associated UM mailbox policy.

SP1: The New Dial Plan Wizard is enhanced in SP1. This allows you to configure the URI type and VoIP security level.

Creating a Dial Plan

Use the following steps to create a new Dial Plan:
Open the Exchange Management Console with an administrator account that has the Exchange Organization Administrator role.
Expand "Organization Configuration" and select "Unified Messaging."
Select "New UM Dial Plan" in the "Actions" pane.
Type the name of the dial plan in the "Name" field, as shown below.
Enter a value that matches the number of digits in your users' extensions in the field "Number of digits in extension numbers." The default is 5.
Select the option in the URI Type drop-down list that is recommended by your IP gateway or IP PBX vendor. The options are:

Telephone Extension (Default)
E.164
SIP URI

Choose a security method from the VoIP security drop-down list. The options are:

SIP secured
Unsecured (default)
Secured

Click "New."
Click "Finish."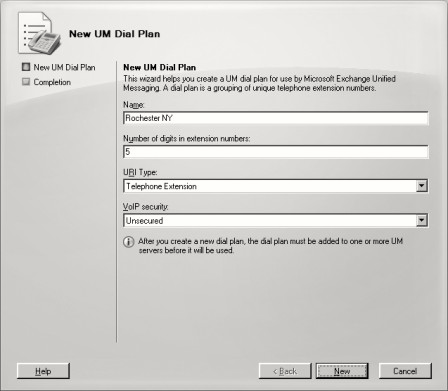 As an alternative to the EMC, you can also use the New-UMDialplan cmdlet in the EMS, like in this example:
[PS]C:>New-UMDialplan -Name "Rochester NY" -NumberofDigits 5
If you do not choose a URI type or a VoIP security option, the default values will be used.


Microsoft Exchange Server 2007 Unified Messaging for administrators



Home: Introduction to Unified Messaging on Exchange 2007


Part 1: An intro to voice systems for Exchange administrators


Part 2: Unified Messaging features in Exchange Server 2007


Part 3: Defining Exchange Unified Messaging architecture


Part 4: Deploying Unified Messaging servers on Exchange Server 2007


Part 5: Comparing VoIP PBX solutions for Unified Messaging


Part 6: Integrating Unified Messaging servers with a VoIP solution


Part 7: Creating a Unified Messaging Dial Plan


Part 8: Configuring a Unified Messaging IP gateway


Part 9: Mailbox policy configuration for Unified Messaging


Part 10: Creating and assigning a Unified Messaging hunt group


Part 11: Dialing rules and restrictions for Unified Messaging users


Part 12: Assigning Unified Messaging dialing rules to a mailbox policy


Part 13: Executing Unified Messaging grammar generation


Part 14: Enabling Unified Messaging mailboxes and users

This chapter excerpt from Microsoft Exchange Server 2007: The Complete Reference, by Richard Luckett, William Lefkovics and Bharat Suneja, is printed with permission from McGraw-Hill Osborne Media, Copyright 2008.

Click here for the chapter download or purchase the book here.
Dig Deeper on Microsoft messaging and collaboration services