Get started
Bring yourself up to speed with our introductory content.
Dialing rules and restrictions for Unified Messaging users
Unified Messaging-enabled users are able to call only users configured with the same UM dial plan. In this excerpt from "Microsoft Exchange Server 2007: The Complete Reference," find out how to set up outdialing and dialing rule entries for both in-country and international calls.
Unified Messaging dialing rules and outdialing

The default settings on the Unified Messaging server do not allow UM-enabled users to dial outbound calls to any phone numbers that are not defined as part of the organization. In fact, users are limited to making calls only to UM-enabled users configured to use the same UM dial plan.

Outdialing is a term used to describe the call-handling process that occurs when a UM-enabled user makes a call to an external phone number. Outdialing requires the following configurations:
Dialing group rules
Dialing rule entries
Dialing restrictions
To enable outdialing for UM-enabled users, you must perform the following tasks:
Configure the UM IP gateway to allow outgoing calls
Create dialing rule groups/entries
Configure dialing restrictions on the UM mailbox policy
As a Unified Messaging administrator, you will need to create appropriate dialing rules and properties for each location in your organization if you are going to allow outdialing. When you create a dialing rule entry, you will simultaneously be populating one of the two types of dialing rule groups: in-country/region rule groups or international rule groups. A dialing rule entry is used to define the telephone numbers and number masks for in-country/region and international calls that can be made by UM-enabled users who are associated with a UM mailbox policy.
Each dialing rule determines the types of calls that users within a dialing rule group can make. However, you must correctly configure the dial rule entry with a valid number mask and a dial number. After you create a dialing rule group and define the appropriate dialing rule entries on the Dialing Group Rules tab, you must add the appropriate dialing rule groups from the UM dial plan to a UM mailbox policy on the Dialing Restrictions tab.
Creating a Dialing Rule Entry
Use the following steps to create a new Dialing Rule Entry:
Open the EMC with an administrator account that has the Exchange Organization Administrator role.
Expand the "Organization Configuration" and click "Unified Messaging."
Select the "UM Dial Plans" tab and then select a UM dial plan to edit.
Click "Properties" in the "Actions" pane.
Select the "Dialing Rule Groups" tab, then click the "Add" button under In-Country/Region Rule Groups or International Rule Groups.
Provide the following information, below.

Name: Select the name of an existing dialing rule group, or create a dialing rule group and type the name of the dialing rule group.
Number mask: A number mask is used to limit the outgoing telephone numbers it will dial for a user. An example of a valid number mask is 91585xxxxxxx. This example will limit the user to just calls made to the 585 area code in the U.S.
Dialed number: Your IP gateway vendor will expect to see numbers in a specific format. Use the Dialed number field to define in which format the number should be, especially if it is different from the numbers obtained by the Unified Messaging server. An example of a valid dialed number is 9xxxxxxx.
Comment: Type a description of the dialing rule entry.

Click OK to save your changes.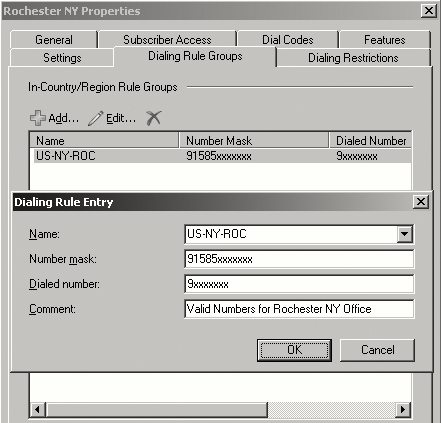 As an alternative to the EMC, you can also use the Set-UMDialPlan cmdlet in the EMS, like in the following examples.
For an in-country/region rule group:
[PS]C:>Set-UMDialPlan -Identity "Rochester NY" -ConfiguredInCountryOrRegionGroups US-NY-ROC, 91585xxxxxxx, 9xxxxxxx, "Valid Numbers for Rochester NY Office"
For an international rule group:
[PS]C:>Set-UMDialPlan -Identity "Rochester NY" -ConfiguredInternationalGroups "International, 901144*, 901144*, International Calls"
If you have complex dialing rules and a large number of dialing plans to configure, you may want to create a .csv file with the Name, NumberMask, DialedNumber, Comment headings and use the following cmdlet to import the file:
[PS]C:>Set-UMDialPlan "Rochester NY" –ConfiguredInCountryOrRegionGroups $(IMPORT-CSV C:CustomDialingRulesInCountryRegion.csv)


Microsoft Exchange Server 2007 Unified Messaging for administrators



Home: Introduction to Unified Messaging on Exchange 2007


Part 1: An intro to voice systems for Exchange administrators


Part 2: Unified Messaging features in Exchange Server 2007


Part 3: Defining Exchange Unified Messaging architecture


Part 4: Deploying Unified Messaging servers on Exchange Server 2007


Part 5: Comparing VoIP PBX solutions for Unified Messaging


Part 6: Integrating Unified Messaging servers with a VoIP solution


Part 7: Creating a Unified Messaging Dial Plan


Part 8: Configuring a Unified Messaging IP gateway


Part 9: Mailbox policy configuration for Unified Messaging


Part 10: Creating and assigning a Unified Messaging hunt group


Part 11: Dialing rules and restrictions for Unified Messaging users


Part 12: Assigning Unified Messaging dialing rules to a mailbox policy


Part 13: Executing Unified Messaging grammar generation


Part 14: Enabling Unified Messaging mailboxes and users

This chapter excerpt from Microsoft Exchange Server 2007: The Complete Reference, by Richard Luckett, William Lefkovics and Bharat Suneja, is printed with permission from McGraw-Hill Osborne Media, Copyright 2008.

Click here for the chapter download or purchase the book here.
Dig Deeper on Microsoft messaging and collaboration services