Get started
Bring yourself up to speed with our introductory content.
Enabling Unified Messaging mailboxes and users
When Unified Messaging is deployed in an Exchange 2007 environment, the Exchange Recipient Administrator can configure UM mailbox-enabled users and begin to allow email, voicemail and faxes to be delivered to their Inboxes. In this excerpt from "Microsoft Exchange Server 2007: The Complete Reference," get step-by-step instructions on how to enable these users and their mailboxes.
Unified Messaging users
Exchange 2007 Recipient Administrators have the ability to mailbox-enable user objects that exist in Active Directory. When a Unified Messaging server role is deployed into an Exchange 2007 organization, the Exchange Recipient Administrator role also has the ability to enable Unified Messaging for existing mailbox-enabled users.
After the users' mailboxes are enabled for UM, email, voicemail, and fax messages can be delivered to their inboxes. A wide variety of clients can take advantage of the unified mailbox, including Outlook 2007, Outlook Web Access, Windows Mobile with Exchange ActiveSync, and telephones.
Once you become more familiar with Unified Messaging concepts and the Exchange Management Shell, you can administer UM users exclusively from the command line with the following four cmdlets:
Enable-UMMailbox
Disable-UMMailbox
Get-UMMailbox
Set-UMMailbox
It is probably best to start administering UM-enabled users with the Exchange Management Console to become more familiar with them.
Unified Messaging-Enabling Users
An Active Directory user object is arguably the most significant object in the directory. Exchange 2007 greatly extends the definition of what a user object is. With the release of Service Pack 1 for Exchange -- which includes additional enhancements for Unified Messaging -- user objects will now be able to support integration with not only Unified Messaging but also Office Communications Server.
Organizations that choose to integrate Exchange 2007, Unified Messaging, and Office Communications Server as a VoIP solution will take full advantage of the latest enhancement to the user object in Active Directory made by Service Pack 1. There is an administrative gotcha when you configure a new UM-enabled user with a SIP or E.164 address -- you will no longer be able to change the user address with the Set-UMmailbox cmdlet. You can configure the new Unified Messaging proxy address (EUM) with the EMC on the Email Addresses tab on the user's Mailbox Properties page.
SP1: When you enable a user for Unified Messaging, SP1 provides the ability to add a SIP or E.164 address along with the required phone extension number.
UM-Enabling a user's mailbox using the EMC
Use the following steps to UM-Enable a user's mailbox:
Open the EMC with an administrator account that has at least the Exchange Recipients Administrator role.
Expand "Recipient Configuration."
Select the user mailbox to enable for Unified Messaging.
Click "Enable Unified Messaging" in the "Actions" pane.
Click the "Browse" button, select a UM mailbox policy for this user, and then click "OK."
Configure the following PIN settings for the user, as shown next:

Automatically generate PIN to access Outlook Voice Access (default)
Manually specify PIN
Require user to reset PIN at first telephone logon

Click "Next."

Configure the options on the Extension Configuration page, as shown in the picture below.

Automatically generated mailbox extension only available if the Business field on the Address and Phone tab in the user's properties are populated.
A manually entered the mailbox extension. If you have a dial plan that is configured to use E.164 or SIP as the URI type, you must manually enter a mailbox extension for the user.
An automatically generated SIP resource identifier. This option will be available if the user you are enabling for Unified Messaging is associated with either a SIP URI or E.164 dial plan.
A manually entered SIP resource identifier. This option will be available if the user you are enabling for Unified Messaging is associated with either a SIP URI or E.164 dial plan.

Click "Next."
Click "Enable."
Click "Finish."
Summary
As more established communication solutions (voice and fax) find a new life on IP networks, a new means of storing and facilitating access to the information is required. The Unified Messaging server role provides that capability natively in your Exchange 2007 organization. The new Unified Messaging server role in Exchange Server 2007 extends the functionality of your Exchange messaging infrastructure, allowing it to transmit and store more than just traditional email. Voice and fax technologies are traditionally analog technologies, whereas email has always been a digital technology.
Because of the vast difference between the analog world and the digital world, the ability to merge the technologies has only come about in the last decade. Voicemail is the primary voice system that the Exchange Unified Messaging server role replaces. Call management still requires a PBX. Voicemail is commonly associated with the Private Branch Exchanges (PBXs), which are premise-based (business) phone systems.
Exchange 2007 Unified Messaging is more than a substitute for an existing voicemail system. Besides the basic voicemail functionality that can be expected of any voicemail system, there are unique features that make Exchange's UM server attractive.

Microsoft Exchange Server 2007 Unified Messaging for administrators



Home: Introduction to Unified Messaging on Exchange 2007


Part 1: An intro to voice systems for Exchange administrators


Part 2: Unified Messaging features in Exchange Server 2007


Part 3: Defining Exchange Unified Messaging architecture


Part 4: Deploying Unified Messaging servers on Exchange Server 2007


Part 5: Comparing VoIP PBX solutions for Unified Messaging


Part 6: Integrating Unified Messaging servers with a VoIP solution


Part 7: Creating a Unified Messaging Dial Plan


Part 8: Configuring a Unified Messaging IP gateway


Part 9: Mailbox policy configuration for Unified Messaging


Part 10: Creating and assigning a Unified Messaging hunt group


Part 11: Dialing rules and restrictions for Unified Messaging users


Part 12: Assigning Unified Messaging dialing rules to a mailbox policy


Part 13: Executing Unified Messaging grammar generation


Part 14: Enabling Unified Messaging mailboxes and users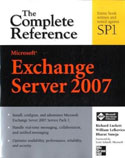 This chapter excerpt from Microsoft Exchange Server 2007: The Complete Reference, by Richard Luckett, William Lefkovics and Bharat Suneja, is printed with permission from McGraw-Hill Osborne Media, Copyright 2008.
Click here for the chapter download or purchase the book here.
Dig Deeper on Microsoft messaging and collaboration services