Fix Outlook 2007 and SharePoint synchronization breaks
The .pst file that is created when synchronizing Outlook and SharePoint is linked to a user's profile. However, synchronization can break if roaming profiles are being used. There are a couple of settings you can enable to work around this limitation.
When you synchronize Outlook 2007 and Windows SharePoint Services (WSS) 3.0 or Microsoft Office SharePoint Server (MOSS) 2007, Outlook creates a .pst file named SharePoint Lists.pst. The .pst file is linked to the user's profile and cannot be used within a secondary profile.
This usually won't cause any issues since a user's profile is utilized whether he's working online or offline. However, synchronization can break if roaming profiles are used.
If a user is running Windows XP, the .pst file is located in the \Documents and Settings\%username%\Local Settings\Application Data\Microsoft\Outlook folder. If a user is running Vista, the .pst file is located in the \Users\%username%\AppData\Local\Microsoft\Outlook folder. In either case, the .pst file is part of the machine's local settings. This presents a problem if roaming profiles are in use because local settings are omitted when a user's profile is downloaded to a computer during logon.
When a user logs onto a computer, his roaming profile is downloaded from the network as part of the logon process. The amount of time it takes the logon process to complete increases as the profile grows. This is due to excessively large roaming profiles.
SharePoint-related .pst files can become rather large. Therefore, you probably don't want to copy these files between a network server and a desktop machine each time a user logs onto or off of the network.
The SharePoint .pst file becomes part of the local profile onto any computer in which a user establishes SharePoint synchronization. If a user logs onto another computer, that system becomes aware of the .pst file. However, the .pst file does not exist on that machine -- it wasn't part of the roaming profile. This causes an error when the user opens Outlook.
Unfortunately, making the .pst file part of the roaming profile isn't really an option. One solution involves modifying the registry entry: HKCU\Software\Microsoft\Office\12.0\Outlook\Options\WSS\Disable. Although setting the value of this registry key to 0 makes the message go away, it goes away because this modification breaks SharePoint and Outlook synchronization.
I don't recommend using this modification. If you do try it, back up each workstation. Making a mistake while modifying the registry can have catastrophic consequences.
A better solution is to control the synchronization process at the Group Policy level. To do so, download and install the Office 2007 administrative templates.
Control Outlook and SharePoint via Group Policy settings
There are two Group Policy settings that can be used to control Microsoft Outlook and SharePoint synchronization, both of which are located at: User Configuration\Administrative Templates\Microsoft Office Outlook 2007\Tools -> Account Settings SharePoint Lists.
Here you'll find two important settings. The first is the Do Not Allow SharePoint-Outlook Integration setting, which is shown in Figure 1. Enabling this setting has the same effect as setting the registry key. It removes the error message by completely preventing Outlook and SharePoint integration.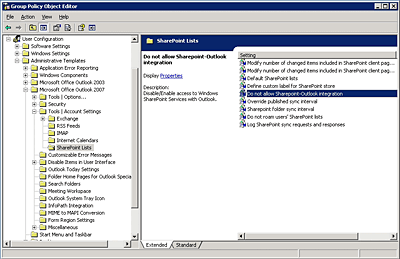 Figure 1. It's best to control SharePoint synchronization at the Group Policy level.
The Do Not Roam Users' SharePoint Lists setting can be more useful. Enabling this setting eliminates the error message that users receive within Outlook while using an alternate computer. However, it does not disable SharePoint synchronization on the user's primary computer.
About the author: Brien M. Posey, MCSE, is a five-time recipient of Microsoft's Most Valuable Professional (MVP) award for his work with Exchange Server, Windows Server, Internet Information Services (IIS), and File Systems and Storage. Brien has served as CIO for a nationwide chain of hospitals and was once responsible for the Department of Information Management at Fort Knox. As a freelance technical writer, Brien has written for Microsoft, TechTarget, CNET, ZDNet, MSD2D, Relevant Technologies and other technology companies. You can visit Brien's personal website at www.brienposey.com.
Do you have comments on this tip? Let us know.
Do you know a helpful Exchange Server, Microsoft Outlook or SharePoint tip, timesaver or workaround? Email the editors to talk about writing for SearchExchange.com.
Dig Deeper on Exchange Server setup and troubleshooting