Manage
Learn to apply best practices and optimize your operations.
How to access and customize Microsoft Outlook 2007 data files
Microsoft Outlook 2007 contains different data files that reside in various locations. In this tip you'll get the information you need to access your Windows profile plus you'll get some steps to customize Outlook 2007.
Microsoft Outlook 2007 contains different data files that reside in various locations. In this tip from Exchange Server expert Brien Posey, you'll learn about some of Outlook's data files, how to access your Windows profile and a few ways to customize Outlook.
---
A recent article I wrote about configuring Microsoft Outlook 2007 auto fill's capabilities got me thinking about other types of data that Outlook stores throughout various locations. Although some data is more useful than others, it's important to look at the range of available Microsoft Outlook data files.
The Windows profile
Outlook 2007 is designed to retain a number of user-specific settings, most of which reside within the user's Windows profile directory. The profile directory's location varies, depending on the version of Windows that you are using, and whether or not you are using roaming profiles. In Microsoft Windows Vista, most Outlook-specific files are stored in the \Users\user name\Application Data\Microsoft\Outlook folder (Figure 1).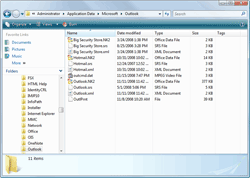 Figure 1: This is the Outlook folder in my profile.
There are several things to keep in mind about the profile directory. First, the Windows profile is different from the Outlook profile. The Windows profile maintains all of a user's Windows and application settings. A single user can have multiple Outlook profiles within their user profile. For example, I have a profile for my Exchange Server mailbox and another profile for my Hotmail mailbox.
Note: The Application Data folder is protected and inaccessible by default. To access this folder:
Log on as an administrator and open Windows Explorer.
Choose the Folder and Search Options command from the Options menu. Windows will display the Folder Options properties sheet.
I recommend that you deselect the Hide Extensions for Known File Types and Hide Protected Operating System Files check boxes.
Select the Show Hidden Files and Folders option.
Click OK.
The necessary folders should now be visible, but you won't have access to them. To gain access, right-click on the Application Data folder, and choose the Properties command from the menu.
When the Application Data properties sheet appears, go to the Security tab, and click Advanced, then Edit. Select the access control entry that denies access to the folder, and click Remove. Click OK three times and you should have access to the Application Data folder.
Microsoft Outlook 2007 customizations
Outlook allows users to customize its look, feel and overall behavior. These customizations are stored in the user's profile directory.
The first item many users customize is Outlook's print settings. The customized print settings are stored in the OutlPrnt file, which is located in the \Users\user name\Application Data\Microsoft\Outlook folder.
Outlook also allows for customizations to various menus and toolbars. These customizations are stored within the same folder as the print settings in a file named outcmd.dat.
As mentioned, some of Outlook's data files are Outlook profile-specific. In such a case, I can't tell you the exact filename that is used, because it is based on the profile name. However, I do know that the default profile is always called Outlook.
One example of this is a file used for customized navigation bars. In default profile, the file containing these customizations is named Outlook.xml. For other Outlook profiles, the profile name replaces the Outlook portion of the file name. For example, if I have a profile named Hotmail, I would also have a customization file named Hotmail.xml.
Figure 1 showed that there are some files with an .SRS extension. These files are profile-specific and are used to control the user's Send and Receive options. These options control Outlook's behavior when checking for new mail or to transmit mail that has been queued.
About the author: Brien M. Posey, MCSE, is a five-time recipient of Microsoft's Most Valuable Professional (MVP) award for his work with Exchange Server, Windows Server, Internet Information Services (IIS), and File Systems and Storage. Brien has served as CIO for a nationwide chain of hospitals and was once responsible for the Department of Information Management at Fort Knox. As a freelance technical writer, Brien has written for Microsoft, TechTarget, CNET, ZDNet, MSD2D, Relevant Technologies and other technology companies. You can visit Brien's personal website at www.brienposey.com.
Do you have comments on this tip? Let us know.
Please let others know how useful this tip was via the rating scale below. Do you know a helpful Exchange Server, Microsoft Outlook or SharePoint tip, timesaver or workaround? Email the editors to talk about writing for SearchExchange.com.