Manage
Learn to apply best practices and optimize your operations.
How to connect an iPhone to OWA
Discover how easy it is to connect an iPhone to OWA on Exchange Server 2007 and Exchange 2010. You'll also learn how to retire your Windows Mobile device in favor of an iPhone
Microsoft has made several improvements to Outlook Web App in Exchange Server 2010. So let's see how connecting...
Continue Reading This Article
Enjoy this article as well as all of our content, including E-Guides, news, tips and more.
an iPhone to OWA 2010 compares to connecting the device to OWA on Exchange 2007.
Connect an iPhone to OWA 2007
When I entered my OWA URL into the iPhone Safari browser, I found the sign-on screen to be too small to read and enter my authentication credentials. However, you can double tap the screen or press two fingers onto the screen and move them in opposite directions to zoom in on the browser.
Once you do this, you'll notice two things.
Exchange won't let you establish a complete OWA session. You can only use OWA Lite, which is the default browser setting.

The sign-on process is a bit confusing. The username must be entered in domain\username format. However, the backslash key is hidden. To access it, you must press the key labeled .?123, then press #+=.
Once you get through the iPhone sign-on process, OWA works the same as it does from a PC or Windows-based smart phone.
Connect an iPhone to OWA 2010
When I tried to connect an iPhone to OWA 2010, I experienced the same login issues. One difference is that Exchange 2010 doesn't limit iPhone users to OWA Lite; I was able to sign into a full OWA session. I was also able to access the Exchange Control Panel.
In my opinion, the iPhone works equally well in OWA on both Exchange 2007 and Exchange 2010. But if mobile users only need access to email, calendars and contacts, then ActiveSync might be a better choice. In ActiveSync, iPhone displays Exchange information within applications that are specifically formatted for the iPhone interface, making it easier to see and use messages, calendar items and contacts.
Additionally, advanced iPhone users may want to migrate to Exchange 2010 for a full Outlook experience similar to that of a Windows Mobile device.
Transitioning from your Windows Mobile device to iPhone
If you want to transition from a Windows Mobile device to an iPhone, you'll need to log into OWA first. After that, click on the Options button and then on the Mobile Devices tab (Figure 1). In this example, I used OWA 2007.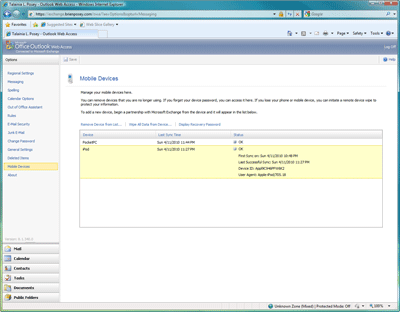 Figure 1. Here's an example of how you can manage mobile devices through OWA.
OWA displays a Pocket PC, which is a Windows Mobile 6.5 device. It also shows that I'm using an iPod, which normally would be an iPhone. To remove the Windows Mobile device, select the Pocket PC and click Remove Device From List.
About the author:
Brien M. Posey, MCSE, is a 10-time recipient of Microsoft's Most Valuable Professional (MVP) award for his work with Exchange Server, Windows Server, Internet Information Services (IIS), and File Systems and Storage. Brien has served as CIO for a nationwide chain of hospitals and was once responsible for the Department of Information Management at Fort Knox. As a freelance technical writer, Brien has written for Microsoft, TechTarget, CNET, ZDNet, MSD2D, Relevant Technologies and other technology companies. You can visit Brien's personal website at www.brienposey.com.
Do you have comments on this tip? Let us know.