Manage
Learn to apply best practices and optimize your operations.
How to install Forefront Security for Exchange Server
By installing Forefront Security for Exchange Server, you can take advantage of its antivirus features. Using multiple virus scanning engines will better protect you from new virus signatures.
You may wonder what the benefits are to using Forefront Security for Exchange Server. In a nutshell, Forefront Security for Exchange Server adds another layer of antivirus and antispam protection. Exchange 2007 has built-in antispam capabilities that are enabled by default on edge transport servers. Forefront's administrative console supplements this by exposing Exchange's spam-filtering capabilities.
ForeFront allows you to use up to five different antivirus scanning engines from five different manufacturers. This is important since you never know which vendor will be first to develop a signature for a new virus. Using multiple scanning engines increases your chances of having a signature for any virus that may infiltrate your Exchange system.
Installing Forefront Security for Exchange
The procedure to install Forefront Security for Exchange Server is simple. Run the Setup.exe file, which is located on your installation media, to launch Forefront's installation wizard.
At the Welcome screen, click Next and Windows will display the license agreement screen. After accepting the license, you'll be prompted to enter your name and company name.
Click Next to advance to the Installation Location screen. This screen asks if you want to perform a local or a remote installation. The local installation method installs Forefront onto the server you're currently using.
You can use the remote installation option to install Forefront to a remote Exchange Server. To do so, provide the server's name and the credentials you use to attach to the remote server's C$ share.
When you select the local Installation option, click Next and you'll see a screen that asks which type of installation you'd like to perform: a Client-only Installation or a Full Installation (Figure 1). For the sake of demonstration, choose Full Installation and click Next.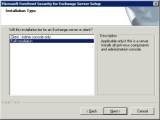 Figure 1. Choose Microsoft Forefront's Full Installation option.
The following screen asks if you'd like to use Microsoft Update to keep Microsoft Forefront Security for Exchange Server up to date. I recommend choosing this option.
Click Next and you'll be taken to the screen shown in Figure 2. Here, the wizards asks if you want Forefront to handle messages that are delivered from quarantine. Microsoft recommends choosing the Secure Mode option. When Secure Mode is used, any message delivered from quarantine is rescanned for viruses. Each message is also scanned to see if it matches the message filters you've put in place.
The Compatibility Mode option checks messages delivered from quarantine for viruses, but does not filter them. Instead, Forefront Security adds a tag to the message's subject line, letting the recipient know that the message had been quarantined.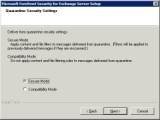 Figure 2. Choose either Secure Mode or Compatibility Mode for quarantined messages.
Next, the wizard gives you the option to choose which engines you'd like to use. MS Forefront allows you to use up to five different scanning engines. The Microsoft Antimalware engine is always selected by default and four additional scanning engines are also selected at random (Figure 3). Although you must choose an engine now, you have the option to change it later.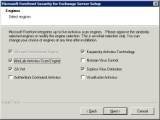 Figure 3. Choose the scanning engines that you'd like to use.
Click Next and a message displays explaining that Forefront schedules each scanning engine to check for updated signatures on an hourly basis -- beginning five minutes after the installation process completes.
Click Next to continue the installation process and a prompt will ask if you will plan to use a proxy server when you download antivirus signature updates. If you're going to do so, select the Use Proxy Server check box and enter your proxy server's name or IP address as well as its designated port number. Otherwise, just click Next.
You now have the choice to use Microsoft Update to keep the antispam definitions up to date. I recommend that you enable this option, then click Next to continue.
The next step is to select the folder where you'd like to install Forefront Security for Exchange Server. Accept the default option and click Next. The wizard will then ask which program folder you want to use for Forefront's Start menu shortcuts. Click Next once more to accept the default configurations.
At this point, you'll see a summary of the installation options that you've chosen. Review these options and click Next to begin the installation process if they are all correct. During this process, Forefront will restart the MSExchange Transport service. When the installation process completes, click Finish.
About the author: Brien M. Posey, MCSE, is a five-time recipient of Microsoft's Most Valuable Professional (MVP) award for his work with Exchange Server, Windows Server, Internet Information Services (IIS), and File Systems and Storage. Brien has served as CIO for a nationwide chain of hospitals and was once responsible for the Department of Information Management at Fort Knox. As a freelance technical writer, Brien has written for Microsoft, TechTarget, CNET, ZDNet, MSD2D, Relevant Technologies and other technology companies. You can visit Brien's personal website at www.brienposey.com.
Do you have comments on this tip? Let us know.
Please let others know how useful this tip was via the rating scale below. Do you know a helpful Exchange Server, Microsoft Outlook or SharePoint tip, timesaver or workaround? Email the editors to talk about writing for SearchExchange.com.