How to use the IIS Diagnostics Toolkit's WFetch 1.4 utility
Learn how to use the IIS Diagnostics Toolkit's WFetch 1.4 utility to troubleshoot connectivity issues between IIS and Web clients.
When you are troubleshooting connectivity issues between Internet Information Services (IIS) and Web clients, you may want to view data that is not displayed in the Web browser. WFetch is a GUI designed to help administrators resolve problems related to browser interaction with a Microsoft IIS Web server. WFetch allows a client to reproduce a problem with a lightweight, HTTP-friendly test environment.
Note: WFetch does not log the TCP handshake data used to establish and close TCP sessions.
Key features
Multiple HTTP verbs (GET, HEAD, PUT, DELETE, TRACE, POST, OPTIONS)

Configurable host name

Configurable TCP port

HTTP 1.0 and HTTP 1.1 support

Multiple authentication types (Anonymous, Basic, NTLM, Kerberos, Digest, Negotiate)

Client-certificate support

Multiple connection types (HTTP, HTTPS, PCT 1.0, SSL 2.0, SSL 3.0, TLS 3.1)

Proxy support

Advanced requests that are entered manually or read from a file

On-screen and file-based logging
To use the WFetch utility:
Select the VERB you wish to use.

In the Host box, type the name of a Web site (for example, www.microsoft.com).

In the Path box, select the path of the file, folder, or application on the Web site that you used in step 1 (for example, /default.asp).

Add any additional options based on the test that is being performed

Click Go.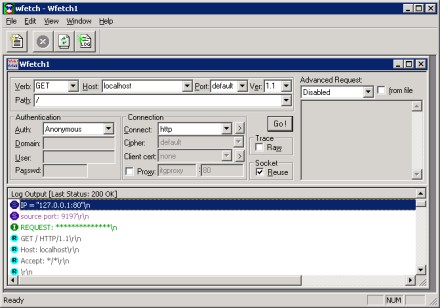 For additional instructions, see Microsoft Knowledge Base article 284285, "How to: Use WFetch.exe to troubleshoot HTTP connections.


Inside the IIS Diagnostics Toolkit



Introduction


How to install the Microsoft IIS Diagnostics Toolkit


How to use SSL Diagnostics 1.0


How to use Authentication and Access Control Diagnostics (AuthDiag) 1.0


How to use Exchange Server SMTP Diagnostics 1.0


How to use Log Parser 2.2


How to use WFetch 1.4


How to use Trace Diagnostics


How to use Debug Diagnostics 1.0

About the author: Tim Fenner (MCSE, MCSA: Messaging, Network+ and A+) is a senior systems administrator who oversees a Microsoft Windows, Exchange and Office environment. He is also an independent consultant who specializes in the design, implementation and management of Windows networks.
Dig Deeper on Windows Server troubleshooting