Evaluate
Weigh the pros and cons of technologies, products and projects you are considering.
IT managers eye new Windows Server 2008 features
Learn about the new Windows Server 2008 features and functionalities that can help make administrative tasks in Windows shops easier and more secure.
Microsoft touts a long list of new Windows Server 2008 features and functionality said to make administrative tasks...
Continue Reading This Article
Enjoy this article as well as all of our content, including E-Guides, news, tips and more.
in Windows shops easier and more secure. New additions like Server Manager and Server core as well as upgrades in Active Directory and Terminal Services are some of the changes in the new OS that could have the biggest impact for IT managers.
Here are the Windows Server 2008 features our readers are most interested in: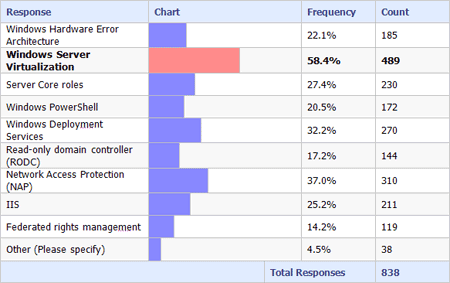 Source: SearchWinIT.com 2007 Purchasing Intentions Survey, October 2007
| | |
| --- | --- |
| Active Directory in Windows Server 2008 | |
Active Directory improvements in Microsoft Windows Server 2008 are big news for the AD community. One significant feature is the read-only domain controller, which beefs up security in the AD environment by providing a read-only copy of the Active Directory database so no one can make changes to it.
This new domain controller technology includes a number of features aimed at improving overall security of Active Directory at branch locations.
Active Directory enhancements don't stop there. Server Core was developed as a response to customer requests to provide a lean server operating system that would permit specific server functions to run without all the overhead of the GUI. Server Core also permits better security at remote sites. Some have questioned, however, whether the Server Core installation is as easy to manage as Microsoft says it is.
In addition to Server Core and the read-only domain controller, Windows Server 2008's Group Policy Management Console enables searching and filtering on comments within settings with Group Policy Object Editor.
| | |
| --- | --- |
| Terminal Services in Windows Server 2008 | |
Previously, native Terminal Services could present only a desktop view of the terminal server. But in Windows Server 2008, the capabilities of Terminal Services are far ahead of those in Windows Server 2003.
For example, Terminal Services Web Access is much more than a Web page. It adds a level of dynamics not capable with static pages.
Taking this capability one step further is the integration of Terminal Services Web Access with Terminal Services Gateway.
| | |
| --- | --- |
| New Windows Server 2008 features | |
Windows shops will have plenty of new offerings to test-drive in Windows Server 2008. Here are a few:
Want even more information on Windows Server 2008? Check out our Special Report: Windows Server 2008 ready to make its debut to get the answers you need on Microsoft's new operating system.
Dig Deeper on Windows Server Monitoring and Administration