Manage
Learn to apply best practices and optimize your operations.
Issue #10: Exchange Server monitoring -- or lack thereof
Best Practices Guide: The 10 most common Exchange Server issues and how to avoid them -- part 10 of 10.
Many small organizations, and even some mid-sized companies, do not have the necessary processes and systems in place to monitor the Exchange Server/Active Directory/Windows infrastructure.
For smaller organizations, this represents a proportionately large investment compared to the cost of procurement and operations of Exchange Server and Active Directory. Quite often, the return on investment (ROI) for monitoring is neither apparent nor convincing enough for management. Only when an outage or disruption of normal operations happens does management typically take notice.
Smaller organizations generally do not have the resources to set up sophisticated monitoring systems. The cost of acquisition and the human resources required to set up and fine tune such systems make them less than ideal for deployment in such organizations.
If resource constraints do exist, administrators should investigate inexpensive monitoring tools that meet the basic requirements, including shareware, freeware and open-source monitoring tools like Big Brother.
Some enterprise-monitoring tool vendors sell "lite" or "Small Business" versions of such tools, which are specifically targeted at smaller organizations. These cost much less than their enterprise siblings and are generally simpler and easier to set up and operate.
Another alternative, for those with some programming or scripting skills, is to build a homegrown monitoring solution to monitor and alert on specific parameters. Administrators working on acquiring proficiency in scripting specifically for monitoring often see added benefits in their ability to automate routine systems administration tasks.
Another option that is often overlooked is the built-in set of monitoring tools within Exchange Server and the Windows operating system. Exchange servers can monitor different services and parameters and send alerts. Monitoring can be configured in Exchange System Manager from Exchange <server name> Properties -> Monitoring.
Together, these provide the very basic or essential features required to monitor Exchange Server, albeit not with the desired features and sophistication that third-party monitoring tools or even homegrown solutions can provide.
Regardless of how basic or sophisticated your monitoring solution, and whether it is an off-the-shelf, homegrown or built-in solution, here are some of the basic components and parameters of Exchange Server that should be monitored:
Essential Exchange (and Windows) services state
Store state: mounted, dismounted
Growth of stores and log files
Disk utilization
Disk performance
Domain controller/global calalog availability
DNS availability, health and performance
SMTP connectivity, performance and health
Mail queue growth
Physical and virtual memory utilization
CPU utilization
For more details on the different system and network parameters that should be monitored, consider using the following:
Sending alerts: Monitoring tools send alerts when certain conditions or thresholds are met. One consideration for setting up alerts is the ability to send them out even if Exchange Server/SMTP is unavailable. If using SMTP to send alerts, this can be accomplished by using a non-Exchange SMTP host to send alerts. Mechanisms to send SMS messages to mobile phones without relying on SMTP are also found in many monitoring tools.
Fine-tuning canned baselines: When deploying a monitoring tool that ships with preset thresholds, consider the relevance of these thresholds to your environment. Thresholds should be chosen and set carefully based on baselines taken from your environment over a period of time. For instance, on a beefier server where the CPU utilization normally never goes beyond 20% to 25%, a preset threshold of 70% will be ineffective when the system experiences unusual CPU activity at a sustained utilization in the range of 50% to 60% -- or anything lower than the threshold.


BEST PRACTICES GUIDE: THE 10 MOST COMMON EXCHANGE SERVER ISSUES



Home: Introduction


Issue #1: Exchange Server storage sizing and location


Issue #2: SMTP virtual server and connector configuration


Issue #3: Exchange recipient policies and Recipient Update Service


Issue #4: Exchange Server messaging hygiene


Issue #5: Exchange Server and DNS


Issue #6: Front-end/back-end Exchange Server topology issues


Issue #7: Exchange Server information stores and mailbox sizes


Issue #8: Moving or removing Exchange servers


Issue #9: Exchange Server backups and disaster recovery


Issue #10: Exchange Server monitoring -- or lack thereof

ABOUT THE AUTHOR: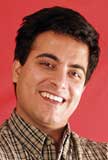 Bharat Suneja, Microsoft Exchange MVP
Bharat Suneja is a Microsoft Certified Trainer (MCT), Exchange MVP, and Principal Exchange Architect for Zenprise, Inc., maker of real-time troubleshooting and diagnostics software for Exchange. Bharat Suneja has over 10 years of experience in IT, architecting and managing Exchange Server and Active Directory environments, ranging from small and mid-sized businesses and e-commerce companies to large ISPs and ASPs. An active writer and contributing editor for international IT publications such as PC Quest, Bharat was also a technical reviewer for Exchange Server 2003 24 Seven by Jim McBee. Visit Bharat Suneja's blog at www.exchangepedia.com/blog.
Dig Deeper on Exchange Server setup and troubleshooting