Manage
Learn to apply best practices and optimize your operations.
Issue #7: Exchange Server information stores and mailbox sizes
Best Practices Guide: The 10 most common Exchange Server issues and how to avoid them -- part 7 of 10.
Information stores in Exchange 2000 and Exchange 2003 (prior to Exchange Server 2003 Service Pack 2) have a limit of 16 GB.
How store size is calculated: The store size is the sum of both the Exchange Server database (.EDB) and the Exchange Server streaming (.STM) files.
When you reach the limit: When the 16 GB limit is reached, it is possible to temporarily increase the limit by 1 GB. This allows the administrator to mount the Exchange Server information store and perform the necessary maintenance operations, like having users delete large items. This is done by inserting the *** registry key.
Higher store size limit with Exchange 2003 SP2: Exchange Server 2003 Service Pack 2 raises the maximum size of stores on Standard Edition to as high as 75 GB. However, the default size is only slightly higher at 18 GB. The increase from 18 GB to any size up to 75 GB requires the creation of a specific registry value.
Reference: Microsoft Knowledge Base article 828070, Exchange Server 2003 mailbox store does not mount when the mailbox store database reaches the 16 GB limit.
Enterprise Editions and unlimited store sizes: Enterprise Editions of Exchange 2000 and Exchange 2003 do not have any limit on information store size. Additionally, as many as 20 stores -- any mix of public or private (mailbox) stores -- can be created in four storage groups.
Mailbox quotas: It is recommended to implement mailbox quotas to control growth of stores. Controlling store growth is desirable even if you have Exchange Server Enterprise Edition running on mailbox servers and have a fairly large amount of storage space. The primary consideration is Exchange Server backup and recovery times.
Another important consideration of implementing mailbox quotas is the potential risk of a high amount of large messages being delivered to mailboxes. This significantly increasing the size of stores and the number of transaction logs. Once the store or transaction log volumes fill up, the store dismounts, which causes an outage -- a denial of service attack!
Setting up mailbox quotas helps you defend such attacks. Once a mailbox reaches its quota, no more inbound email will be delivered to that mailbox. Setting up message size limits goes hand in hand with mailbox quotas for fighting such attacks. (If necessary, individual users can be exempted from mailbox quotas on the store.)
Larger mailboxes and Microsoft Outlook performance: If not subjected to mailbox quotas, Exchange Server mailboxes can grow to any size. Mailboxes as large as a few GB are not rare, but do not result in performance problems or impact users' Microsoft Outlook experience. What does impact the user experience and causes higher RPC latency is a large number of items in frequently accessed folders like Inbox.
Reference: Microsoft Knowledge Base article 905803, Microsoft Outlook users experience poor performance when they work with a folder that contains many items on a server that is running Exchange Server 2003 or Exchange 2000 Server.


BEST PRACTICES GUIDE: THE 10 MOST COMMON EXCHANGE SERVER ISSUES



Home: Introduction


Issue #1: Exchange Server storage sizing and location


Issue #2: SMTP virtual server and connector configuration


Issue #3: Exchange recipient policies and Recipient Update Service


Issue #4: Exchange Server messaging hygiene


Issue #5: Exchange Server and DNS


Issue #6: Front-end/back-end Exchange Server topology issues


Issue #7: Exchange Server information stores and mailbox sizes


Issue #8: Moving or removing Exchange servers


Issue #9: Exchange Server backups and disaster recovery


Issue #10: Exchange Server monitoring -- or lack thereof

ABOUT THE AUTHOR: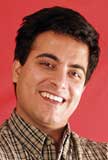 Bharat Suneja, Microsoft Exchange MVP
Bharat Suneja is a Microsoft Certified Trainer (MCT), Exchange MVP, and Principal Exchange Architect for Zenprise, Inc., maker of real-time troubleshooting and diagnostics software for Exchange. Bharat Suneja has over 10 years of experience in IT, architecting and managing Exchange Server and Active Directory environments, ranging from small and mid-sized businesses and e-commerce companies to large ISPs and ASPs. An active writer and contributing editor for international IT publications such as PC Quest, Bharat was also a technical reviewer for Exchange Server 2003 24 Seven by Jim McBee. Visit Bharat Suneja's blog at www.exchangepedia.com/blog.
Dig Deeper on Exchange Server setup and troubleshooting