Manage
Learn to apply best practices and optimize your operations.
Issue #9: Exchange Server backups and disaster recovery
Best Practices Guide: The 10 most common Exchange Server issues and how to avoid them -- part 9 of 10.
Like all critical applications, it is important to perform regular Exchange Server backups and to have a disaster recovery plan.
All the stores in an Exchange Server storage group share transaction logs. These are flushed when a successful backup of the message stores completes. Therefore, Exchange Server storage groups need to be backed up together.
Exchange Server online backups: It is not required to take Exchange Server stores offline or shut down any Exchange services to back up Exchange Server. Using Exchange-aware backup software, you can perform online backups without taking stores offline or impacting users.
Exchange Server store sizing and disaster recovery: Large stores result in longer Exchange Server backup and recovery times. Exchange Server stores should be sized so that they meet expectations set by service-level agreements (SLAs). Consider the backup media used and its sustained transfer rate.
In case of a complete system outage, it is also important to factor in the time it may take to reinstall the operating system, reinstall Exchange Server, and apply the necessary service packs and patches before you can restore the Exchange Server databases.
If using Exchange Server Enterprise Edition, you can take advantage of multiple storage groups and message stores to spread mailboxes in a manner that results in smaller stores. These smaller stores can be restored faster and outage of an individual store will impact fewer users.
Exchange Server brick-level backups: Brick-level backups use a MAPI connection to the Exchange Server store, just like a Microsoft Outlook client, to back up individual mailboxes. The backup time for brick-level backs is much longer.
SearchExchange.com offers a plethora of information on Exchange Server backup and recovery. Here are some recommended resources:


BEST PRACTICES GUIDE: THE 10 MOST COMMON EXCHANGE SERVER ISSUES



Home: Introduction


Issue #1: Exchange Server storage sizing and location


Issue #2: SMTP virtual server and connector configuration


Issue #3: Exchange recipient policies and Recipient Update Service


Issue #4: Exchange Server messaging hygiene


Issue #5: Exchange Server and DNS


Issue #6: Front-end/back-end Exchange Server topology issues


Issue #7: Exchange Server information stores and mailbox sizes


Issue #8: Moving or removing Exchange servers


Issue #9: Exchange Server backups and disaster recovery


Issue #10: Exchange Server monitoring -- or lack thereof

ABOUT THE AUTHOR: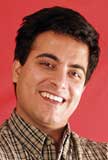 Bharat Suneja, Microsoft Exchange MVP
Bharat Suneja is a Microsoft Certified Trainer (MCT), Exchange MVP, and Principal Exchange Architect for Zenprise, Inc., maker of real-time troubleshooting and diagnostics software for Exchange. Bharat Suneja has over 10 years of experience in IT, architecting and managing Exchange Server and Active Directory environments, ranging from small and mid-sized businesses and e-commerce companies to large ISPs and ASPs. An active writer and contributing editor for international IT publications such as PC Quest, Bharat was also a technical reviewer for Exchange Server 2003 24 Seven by Jim McBee. Visit Bharat Suneja's blog at www.exchangepedia.com/blog.
Dig Deeper on Exchange Server setup and troubleshooting