Get started
Bring yourself up to speed with our introductory content.
Mailbox policy configuration for Unified Messaging
In this excerpt from "Microsoft Exchange Server 2007: The Complete Reference," discover how to create a mailbox policy, along with the best settings and configurations on a Unified Messaging server in Exchange Server 2007.
Unified Messaging mailbox policy

Configuring each and every mailbox with common settings, such as PIN lengths and dialing restrictions for the various locations, would be tedious and could lead to inconsistent or even invalid configurations. The UM mailbox policy object allows you to apply settings to groups of UM-enabled mailboxes in a consistent way.

A default mailbox policy is created when you create a new UM dial plan. You can choose to leave the default settings, customize the default policy, or create a new policy to link to the UM Dial Plan. You will need to configure the UM mailboxes to use the custom UM mailbox policy.

Creating a new UM mailbox policy

Use the following steps to create a new UM mailbox policy:
Open the EMC with an administrator account that has the Exchange Organization Administrator role.
Expand "Organization Configuration" and click "Unified Messaging."
Select the "UM Mailbox Policies" tab in the "Work" pane.
Select "New UM Mailbox Policy" in the "Actions" pane.
Type the name of the UM mailbox policy in the "Name" field, as shown below.
Click "Browse," then select a UM dial plan to associate with the mailbox policy, and click "OK."
Click "New."
Click "Finish."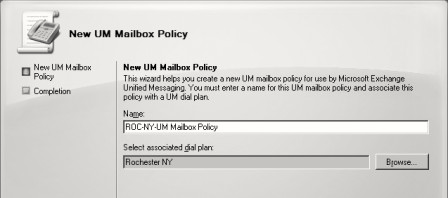 As an alternative to the EMC, you can also use the New-UMMailboxPolicy cmdlet in the EMS, like in this example:
[PS]C:>New-UMMailboxPolicy -Name "ROC-NY-UM Mailbox Policy" -UMDialPlan "Rochester NY"


Microsoft Exchange Server 2007 Unified Messaging for administrators



Home: Introduction to Unified Messaging on Exchange 2007


Part 1: An intro to voice systems for Exchange administrators


Part 2: Unified Messaging features in Exchange Server 2007


Part 3: Defining Exchange Unified Messaging architecture


Part 4: Deploying Unified Messaging servers on Exchange Server 2007


Part 5: Comparing VoIP PBX solutions for Unified Messaging


Part 6: Integrating Unified Messaging servers with a VoIP solution


Part 7: Creating a Unified Messaging Dial Plan


Part 8: Configuring a Unified Messaging IP gateway


Part 9: Mailbox policy configuration for Unified Messaging


Part 10: Creating and assigning a Unified Messaging hunt group


Part 11: Dialing rules and restrictions for Unified Messaging users


Part 12: Assigning Unified Messaging dialing rules to a mailbox policy


Part 13: Executing Unified Messaging grammar generation


Part 14: Enabling Unified Messaging mailboxes and users

This chapter excerpt from Microsoft Exchange Server 2007: The Complete Reference, by Richard Luckett, William Lefkovics and Bharat Suneja, is printed with permission from McGraw-Hill Osborne Media, Copyright 2008.

Click here for the chapter download or purchase the book here.
Dig Deeper on Microsoft messaging and collaboration services