Manage
Learn to apply best practices and optimize your operations.
Meeting Workspaces in Microsoft Office SharePoint Server 2007
One Microsoft Office SharePoint Server (MOSS) 2007 feature is its ability to create Meeting Workspaces. In this tip, learn what Meeting Workspaces are and how you can use them to effectively plan and schedule meetings in your Exchange Server 2007 organization.
When planning meetings, Microsoft Exchange Server and Outlook allow organizers to compare attendees' calendars and send out meeting invitations. Exchange 2007 also allows users to reserve conference rooms when sending out meeting invitations. Microsoft Office SharePoint Server 2007 lets you go one step further. MOSS 2007 can augment Outlook's meeting planning capabilities by creating meeting workspaces.
What is a Meeting Workspace?
A Meeting Workspace serves as a way to prepare for a meeting and a way to report the meeting's outcome once it's done. For example, suppose that you wanted to hold a meeting to discuss your organization's latest press release. You would probably want to make sure that everyone attending the meeting had a copy of the press release. Instead of manually distributing hard copies of the release in the meeting, you could include it in the Meeting Workspace. This way, all meeting attendees have access to the press release ahead of time.
Note: A Meeting Workspace isn't a forum for holding a meeting. The actual meeting will take place in person, over the phone or through an online collaboration forum such as Microsoft LiveMeeting. The Meeting Workspace does not take the place of the meeting's venue.
The anatomy of a Meeting Workspace
What a Meeting Workspace looks like varies, depending on which template is used to create it. Figure 1 shows a basic Meeting Workspace that is made of four elements: Objectives, Agenda, Attendees and a Document library.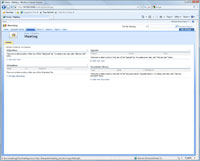 Figure 1. This is what a basic Meeting Workspace in MOSS 2007 looks like.
The Objectives section is a SharePoint list that you can use to convey the meeting's goals to attendees. The Agenda section is used to help you to reach those goals. The Attendees list displays who will participate at the meeting and the Document library allows you to assemble documents related to the meeting. Actual sections included in a Meeting Workspace vary depending on which template is used to create it.
About the author: Brien M. Posey, MCSE, is a five-time recipient of Microsoft's Most Valuable Professional (MVP) award for his work with Exchange Server, Windows Server, Internet Information Services (IIS), and File Systems and Storage. Brien has served as CIO for a nationwide chain of hospitals and was once responsible for the Department of Information Management at Fort Knox. As a freelance technical writer, Brien has written for Microsoft, TechTarget, CNET, ZDNet, MSD2D, Relevant Technologies and other technology companies. You can visit Brien's personal website at www.brienposey.com.
Do you have comments on this tip? Let us know.
Please let others know how useful this tip was via the rating scale below. Do you know a helpful Exchange Server, Microsoft Outlook or SharePoint tip, timesaver or workaround? Email the editors to talk about writing for SearchExchange.com.
Dig Deeper on SharePoint administration and troubleshooting