Manage
Learn to apply best practices and optimize your operations.
OWA 2007 configuration tricks to boost performance
Outlook Web Access 2007's default configurations work well for most, but what about users with a slow Internet connection? You can configure Gzip compression and enable WebReady Document Viewing to improve OWA performance.
If users are accessing Outlook Web Access 2007 over a slow Internet connection or when downloading file attachments, default OWA configurations may not be enough. Using Gzip compression and tweaking the file attachment options can help enhance OWA performance.
---
Gzip compression is an OWA 2007 option that compresses Web content at the server level before its sent to end users. There are a few things you should know about Gzip.
First, Gzip is enabled by default, but the default compression level is set to Low. Additionally, Gzip can negatively affect your client access server's performance since the server must compress Web content. If you change the Gzip compression level, you'll have to restart IIS before the change takes effect.
Which compression level to use depends on where your biggest performance bottleneck is. If your Internet connection (or your remote user's Internet connection) is the bottleneck, you can improve the end-user experience by setting the Gzip compression level to High.
To do so, open the Exchange Management Shell and enter: Set-OwaVirtualDirectory -Identity "owa (Default Web Site)" -GzipLevel High
However, if there is enough Internet bandwidth, but your client access server is suffering from excessive CPU use you may be able to improve performance by disabling Gzip. To do so, enter: Set-OwaVirtualDirectory -Identity "owa (Default Web Site)" -GzipLevel Off
Reminder: You must restart IIS before your changes will take effect. OWA will be temporarily unavailable during this time. Perform the restart by either rebooting the client access server or by opening a command prompt window and entering: IISRESET /NOFORCE
Configuring file attachments to improve OWA performance
OWA give you several options to control how users open file attachments. One option is to enable WebReady Document Viewing, which allows common file types to be viewed in HTML format. This is great for users who commonly use public kiosks to check email, since they can open Microsoft Office documents without having Office installed.
To enable WebReady Document Viewing, open the Exchange Management Console and navigate to Server Configuration -> Client Access. Next, select the Outlook Web Access tab from the console's lower middle pane.
Right-click on the listing for the client access server and select the Properties command. Windows will display the OWA (Default website) Properties sheet. Select Enable WebReady Document Viewing as shown in Figure 1.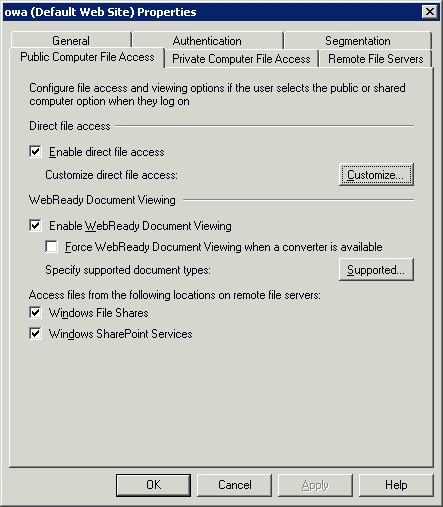 Figure 1. Select the Enable WebReady Document Viewing check box.
You can also force the use of WebReady Document Viewing if a converter is available. To view the list of available file types, click on the Supported button.
WebReady Document Viewing is not your only option to control file attachments. In Figure 1, you'll notice an option to enable direct file access. This allows users to open file attachments through OWA. There is however, a customize button that you can use to control which types of attachments you allow users to open.
If you look at Figure 2, the Direct File Access Settings dialog box is displayed when you click Customize. This dialog box allows you to specify which attachment types to allow and which types to block.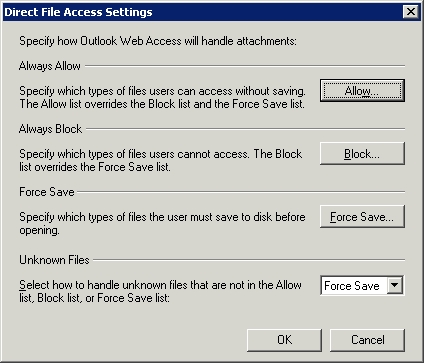 Figure 2. You can control which types of file attachments users are allowed to open through OWA.
There is also a Force Save option, which allows users to apply designated file types, but they can't open them directly. Instead, they'll have to save the files to the hard drive first. By default, any file types that aren't explicitly listed on the Allow or Block lists must be saved before opening.
About the author: Brien M. Posey, MCSE, is a five-time recipient of Microsoft's Most Valuable Professional award for his work with Exchange Server, Windows Server, Internet Information Services (IIS), and File Systems and Storage. Brien has served as CIO for a nationwide chain of hospitals and was once responsible for the Department of Information Management at Fort Knox. As a freelance technical writer, Brien has written for Microsoft, TechTarget, CNET, ZDNet, MSD2D, Relevant Technologies and other technology companies. You can visit Brien's personal website at www.brienposey.com.
Do you have comments on this tip? Let us know.
Please let others know how useful this tip was via the rating scale below. Do you know a helpful Exchange Server, Microsoft Outlook or SharePoint tip, timesaver or workaround? Email the editors to talk about writing for SearchExchange.com.
Dig Deeper on Exchange Server setup and troubleshooting