Manage
Learn to apply best practices and optimize your operations.
Part 1: An overview of Exchange Server 2007 message classifications
Discover the default Exchange 2007 message classifications and how to retrieve a list of all the existing custom and default message classifications currently on your mail server.
Rather than give you a list of default message classifications available in Exchange Server 2007, I want to show you how to determine the available classifications on your own. This is important because Exchange 2007 allows you to create custom message classifications. The command that I am about to show you can be used to display both default and custom message classifications.
To display the available message classifications, open the Exchange Management Shell and enter the following command:
Get-MessageClassification | Select DisplayName,SenderDescription
If you were to simply use the Get-MessageClassification command, Exchange Server 2007 would show you the display name of each available message classification, but it would not give you any sort of description. Using the Select command along with the DisplayName and SenderDescription attributes ensures that you will see the message classification's name as well as its description, as shown in Figure 1.
Figure 1: Display available classifications.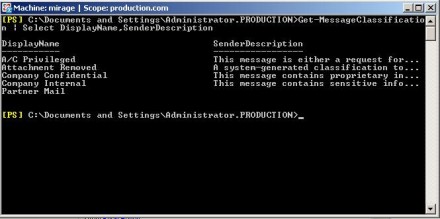 Here is a quick breakdown of the default message classifications and their intended use:
| | |
| --- | --- |
| A/C Privileged | Used in requests for legal advice to an attorney, or in responses from an attorney. |
| Attachment Removed | A system generated classification indicating that an attachment has been stripped from a message. |
| Company Confidential | The message contains confidential information. |
| Company Internal | The message should not be sent to anyone outside of the company. |
| Partner Mail | The message contains information intended for business partners. |


TUTORIAL: HOW TO SET UP EXCHANGE 2007 MESSAGE CLASSIFICATIONS



Home: Introduction


Part 1: An overview of Exchange 2007 message classifications


Part 2: Displaying message classifications in Outlook 2007


Part 3: Creating custom message classifications in Exchange 2007


Part 4: Applying message classifications with Exchange 2007 transport rules

ABOUT THE AUTHOR: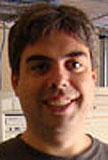 Brien M. Posey, MCSE
Brien M. Posey, MCSE, is a Microsoft Most Valuable Professional for his work with Exchange Server, and has previously received Microsoft's MVP award for Windows Server and Internet Information Server (IIS). Brien has served as CIO for a nationwide chain of hospitals and was once responsible for the Department of Information Management at Fort Knox. As a freelance technical writer, Brien has written for Microsoft, TechTarget, CNET, ZDNet, MSD2D, Relevant Technologies and other technology companies. You can visit Brien's personal Web site at http://www.brienposey.com.