Manage
Learn to apply best practices and optimize your operations.
Part 2: Exchange Server contact recipients
Tutorial: Managing Exchange Server 2003 recipient objects -- part 2 of 4.
An Exchange Server contact recipient object is very similar to a mail-enabled recipient object in that it points to an external email address. Contact recipient objects and mail-enabled recipient objects have totally different purposes though.
An Exchange Server contact recipient object also points to an external email address, but its purpose is not to provide an email address from your domain to an external recipient. Instead, its goal is to make it easier for your users to send messages to that external person.
For example, let's say that your company outsources printing to a local print shop, and your employees regularly email documents there. If you create a contact recipient object for the print shop, its email address will be added to your Exchange Server Global Address List (GAL). This will save your users the time and effort of having to manually type in the print shop's email address every time they want to send email.
When you create a contact recipient, you do not have to create a user account. However, you do have to create an Active Directory object to link to the external email address.
To create an Exchange Server contact recipient:
Open the Active Directory Users and Computers (ADUC) console.

Right click on the Users folder and select New -> Contact to view the New Object -- Contact dialog box.

Enter a first name, last name, full name, and display name and click Next.

This screen asks if you want to create an Exchange Server email address. Make sure that the "Create an Exchange Email Address" checkbox is selected and click the Modify button.

You will now be asked what type of address you want to enter. Select the SMTP address option and click OK.

Enter the recipients email address and click OK one more time.

Click Next, followed by Finish, to create the new contact recipient object.
The newly created contact will reside in the Users folder (or whatever folder you created it in) of the ADUC console. You can tell it apart from a normal user because the contact's icon looks like a business card rather than a person.
Now that you have created the new contact, it should appear on the Exchange Server Global Address List. When you view the GAL through Microsoft Outlook, you will be able to tell that the entry uses an external mailbox, because Microsoft Outlook will display a globe icon next to the contact.


TUTORIAL: MANAGING EXCHANGE SERVER 2003 RECIPIENT OBJECTS



Home: Introduction


Part 1: Exchange Server mailbox-enabled and mail-enabled recipients


Part 2: Exchange Server contact recipients


Part 3: Exchange Server group recipients


Part 4: Exchange Server public folder recipients

ABOUT THE AUTHOR: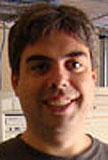 Brien M. Posey, MCSE
Brien M. Posey, MCSE, is a Microsoft Most Valuable Professional for his work with Exchange Server, and has previously received Microsoft's MVP award for Windows Server and Internet Information Server (IIS). Brien has served as CIO for a nationwide chain of hospitals and was once responsible for the Department of Information Management at Fort Knox. As a freelance technical writer, Brien has written for Microsoft, TechTarget, CNET, ZDNet, MSD2D, Relevant Technologies and other technology companies. You can visit Brien's personal Web site at http://www.brienposey.com.