Part 3: Configuring Direct Push on Windows Mobile devices
Get step-by-step instructions on how to configure Microsoft Exchange Direct Push technology on Windows Mobile 5.0 and Windows Mobile 6.0 handheld devices.
Once you've configured Direct Push technology on your Exchange 2003 SP2 server and selected your security settings, it's time to configure Direct Push on your mobile devices.
These instructions assume that your handheld mobile devices are running either Windows Mobile 5.0 with the Messaging and Security Feature Pack (MSFP) or Windows Mobile 6.0.
If your mobile devices are running Windows Mobile 5.0, you must determine whether MSFP is installed before continuing. To do so, check the mobile device's version number by clicking its Start button -> Settings -> About to view the device's version information, as shown in Figure C.
Figure C: Verify a Windows Mobile 5.0 device's version information.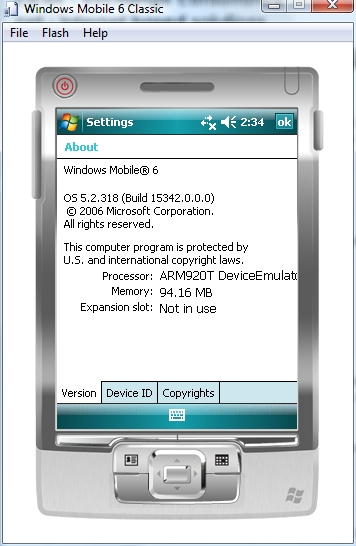 The emulator shown in Figure C is running Windows Mobile 6.0. But if it were running Windows Mobile 5.0, you would look at the build number to tell whether or not MSFP was installed. If the last three digits of the build number are 2.0.0 or higher, then the mobile device has MSFP installed. If MSFP is not installed, you will have to contact the device's manufacturer for an update before continuing with the configuration instructions below.
Configuring Direct Push on a Windows Mobile device
Begin the Direct Push configuration process by going to your mobile device's Start menu -> Programs -> ActiveSync to view the message displayed in Figure D.

Figure D: The ActiveSync screen.


Click the Set up Your Device to Sync With It link, and you will be taken to the screen shown in Figure E. Where the screen asks for the server's address, enter the URL of your OWA server, minus the HTTP or HTTPS prefix.

Figure E: You must enter your OWA server's URL.


On this screen, there is also a checkbox that tells the mobile device that the Exchange server requires an HTTPS connection. If you decide to use HTTPS, make sure your SSL certificate is valid and that it matches the domain name specified within the URL you are entering. Direct Push will not work otherwise.

After entering the necessary URL and HTTPS information, tap the Next button.

As shown in Figure F, this screen simply asks for the user's authentication credentials. Make sure you must select the Save Password checkbox here. If this checkbox is not selected, the mobile device will not have any way to authenticate with the Exchange Server. (When your users change their domain passwords, they will have to manually change the stored password on their mobile device to match. Passwords are not automatically synchronized.)

Figure F: You must allow the device to store the user's password.


Don't worry about clicking the Advanced button right now. The advanced configuration options simply allow you to configure event logging and to choose the connection that you want to use if multiple connections exist.

Click Next to determine what types of data you want to synchronize, as shown in Figure G. You can enable or disable the synchronization of contacts, calendar, email and tasks by selecting or deselecting the corresponding checkboxes.

Figure G: Choose the types of data that you want to synchronize.


Instead of clicking Finish to complete the configuration process, now select the Email option and then click the Settings button to choose how much email is synchronized with the mobile device. You can also set message size limits here and control whether or not attachments will be downloaded, as shown in Figure H.

Figure H: You can limit the amount of email that is stored on the device.


Click on the Advanced button on this screen to set options for encrypting or signing outbound email. In order to use these settings though, you must have a certificate that can be used with the mobile device.

Click Finish and the mobile device will begin its initial synchronization. During this process, you may be prompted to enter a password for the mobile device.

When the synchronization process completes, there is one last thing that you need to do to make ActiveSync work properly. On the ActiveSync screen, click the Menu button (found in the lower, right corner of the screen) and choose the Schedule option, as shown in Figure I. By default, the mobile device is scheduled to synchronize every 10 minutes during peak times and every four hours during off-peak times. In order for Direct Push to behave properly, both of these settings must be changed to As Items Arrive.

Figure I: Configure mobile devices to synchronize data as items arrive.



TUTORIAL: MICROSOFT EXCHANGE DIRECT PUSH TECHNOLOGY



Home: Introduction


Part 1: How Microsoft Exchange Direct Push technology works


Part 2: Configuring Direct Push technology on Exchange Server 2003 SP2


Part 3: Configuring Direct Push technology on Windows Mobile devices

ABOUT THE AUTHOR: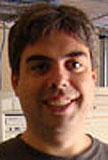 Brien M. Posey, MCSE
Brien M. Posey, MCSE, is a Microsoft Most Valuable Professional for his work with Exchange Server, and has previously received Microsoft's MVP award for Windows Server and Internet Information Server (IIS). Brien has served as CIO for a nationwide chain of hospitals and was once responsible for the Department of Information Management at Fort Knox. As a freelance technical writer, Brien has written for Microsoft, TechTarget, CNET, ZDNet, MSD2D, Relevant Technologies and other technology companies. You can visit Brien's personal Web site at http://www.brienposey.com.