Manage
Learn to apply best practices and optimize your operations.
Part 3: Creating custom message classifications in Exchange 2007
Learn how to create custom message classifications in Exchange Server 2007.
As discussed in Part 1, there are four default message classifications available in Exchange Server 2007. These classifications certainly have their purpose, but they don't really cover all the bases. Fortunately, it is possible to create custom message classifications that you can then export to Microsoft Outlook 2007.
The case for custom message classifications
There are several potential situations in which it would be desirable to use a message classification, but for which no default message classification exists. Here are three different Exchange 2007 message classifications that I recommend creating:
Recipient Confidential: There is no default message classification that will suggest to a recipient that they should not forward an email message to anyone. I'll show you how to create a Recipient Confidential message classification that can be used to convey that an email message should be treated with utmost secrecy. (However, if a message is really sensitive enough to warrant using the Recipient Confidential classification, you may want to think twice about sending it at all.)

Department Confidential: In many companies, it is common to exchange information within a department that should not be shared with the rest of the company. A Department Confidential message classification informs recipients that it is all right to forward an email message to other employees in the department, but not to anyone outside of the department.

Public Disclosure: Employees in your company can use the Public Disclosure message classification as a way of conveying that a message has been reviewed by the company's legal department and has been approved for disclosure to the outside world.
Using the Exchange Management Shell to create a new message classification
Custom message classifications must be created using the Exchange Management Shell. You can access the Exchange Management Shell from your server's All Programs -> Microsoft Exchange Server 2007 menu.
The command for creating a new message classification is New-MessageClassification. There are three pieces of information that you must supply to this command in order to make it work:
The name of the classification. This is the name that Exchange Server 2007 uses internally -- not the name the end users see. Use any name you want, but I recommend keeping it short. For example, if you are creating the Department Confidential classification, you might just call the classification "Department."

The display name. This is the name that users actually see when they choose a message classification from the Permissions dropdown list. For example, if you wanted to create a display name for the Department Confidential classification, you would probably want to use "Department Confidential" as the actual display name as well.

A sender description: Users choose their message classification at the time that they are composing their email to send. Upon selecting a message classification, a user will see a banner that displays a summary of what the classification is used for, as shown in Figure 6. The sender description is simply the text that the sender sees when they select a message classification.
Figure 6: The sender description is displayed to the sender.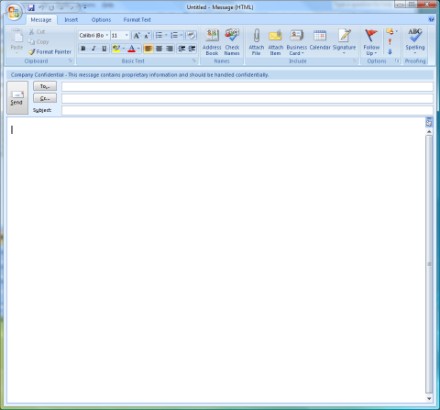 Creating a custom message classification
To create a custom message classification in Exchange Server 2007, enter the following command syntax into the Exchange Management Shell:

New-MessageClassification

When you enter the New-MessageClassification command, the Exchange Management Shell will prompt you to enter a name for the message classification you are creating. Enter a display name and press Enter to create the new custom message classification, as shown in Figure 7.

Figure 7: Simply fill in the blanks.


Now, just repeat the process for the two remaining message classifications.

When you're done, you can use the following command to verify that the new message classifications were created correctly:

Get-MessageClassification | select DisplayName,SenderDescription

Figure 8 shows what the output from this command should look like. Notice that the message classifications you created are mixed in with the default message classifications.

Figure 8: Verify that your message classifications were created correctly.

Importing custom message classifications to Outlook 2007
Now that you have created some custom message classifications, you have to redo the export process you learned in Part 2. If you have already exported the default classifications to Microsoft Outlook, then follow the instructions in that section to export the custom classifications. If you have not performed the export process at all yet, you can export them all at once:
Open the Exchange Management Shell and navigate to the \Program Files\Microsoft\Exchange Server\Scripts folder. This folder contains all of the built-in scripts that are included with Exchange Server 2007. You can get to this location by entering the following command:

CD "c:\Program Files\Microsoft\Exchange Server\Scripts\"

Now, execute the following command to dump all of the message classifications to a file named c: \classification.xml.

Get-MessageClassification | Export-OutlookClassification.ps1 > C: \classification.xml

Now that you have exported the message classifications, it is time to import them into Microsoft Outlook.

Copy the XML file that you just created to the root directory of the workstation on which you want to enable message classifications.
Close Microsoft Outlook 2007 if it is open and then reopen it.
The custom message classifications should now be available to you. If the classifications are not available, work through the steps in Part 2 again – it contains instructions for creating some required registry keys.
Although the newly created message classifications are available on the workstation, Outlook 2007 disables message classifications by default. This means that in order for the message classifications to be effective, you will have to enable them for each user.
The registry keys that you created in Part 2 apply to the user who is logged on at the time that the import process is performed. This means that if multiple users have profiles on the computer in question, you will need to create a separate set of registry keys for each user. You can however use the same message classification XML file for every user on the PC.


TUTORIAL: HOW TO SET UP EXCHANGE 2007 MESSAGE CLASSIFICATIONS



Home: Introduction


Part 1: An overview of Exchange 2007 message classifications


Part 2: Displaying message classifications in Outlook 2007


Part 3: Creating custom message classifications in Exchange 2007


Part 4: Applying message classifications with Exchange 2007 transport rules

ABOUT THE AUTHOR: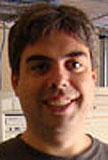 Brien M. Posey, MCSE
Brien M. Posey, MCSE, is a Microsoft Most Valuable Professional for his work with Exchange Server, and has previously received Microsoft's MVP award for Windows Server and Internet Information Server (IIS). Brien has served as CIO for a nationwide chain of hospitals and was once responsible for the Department of Information Management at Fort Knox. As a freelance technical writer, Brien has written for Microsoft, TechTarget, CNET, ZDNet, MSD2D, Relevant Technologies and other technology companies. You can visit Brien's personal Web site at http://www.brienposey.com.