Manage
Learn to apply best practices and optimize your operations.
Part 5: The Exchange 2007 Unified Message Server role
Tutorial: A primer on Exchange 2007 server roles -- part 5 of 6.
One of the most obvious new features in Exchange 2007 is the addition of Unified Messaging capabilities through the new Unified Messaging Server Role. Exchange 2007 Unified Messaging combines email, voicemail and fax into the Exchange Server databases, and makes this data available to mailbox users via both telephone and computer.
Through Internet Protocol (IP) or Voice-over-IP (VoIP) gateways connecting your Exchange 2007 infrastructure to one or more Private Branch Exchanges (PBXes), Microsoft Exchange can now answer incoming telephone calls, play a personal greeting, record a voicemail message, and forward this to the person's Inbox for replay from within Microsoft Outlook or Outlook Web Access. Fax messages can also be received and, likewise, forwarded to individual mailboxes for viewing.
In addition to accessing their emails, voicemails and faxes from a computer or similar device, subscribers to Exchange 2007 Unified Messaging can dial into their Exchange server via telephone to reach the Outlook Voice Access (OVA) system. This permits them to use either voice commands or the telephone keypad to navigate through their mailboxes.
Users can:
Listen to their voicemails
Have their emails automatically read to them via a text-to-speech interface
Forward or reply to messages
Process calendar information
Accept or reply to meeting requests
Indicate that they will be a few minutes late for a meeting and send an apology to all meeting attendees
Access or dial contacts
Set voicemail Out of Office (OOF) messages
Reconfigure the settings on the mailbox
Finally, Exchange 2007 Unified Messaging includes an Auto Attendant that permits administrators to define voice menus for external parties dialing into the company. These voice menus provide all of the functionality that companies include in their main voice menus, namely menu navigation via voice or keypad prompts (i.e., "press 1 for English, 2 for French" or "say yes to continue in English", etc.), permit callers to access the phone directory and place a call to a particular user in the directory, input an extension to call, or simply call the operator.
As you'd expect, all voicemails and faxes are transmitted from the Unified Messaging Server role through one or more Hub Transport Server roles until it reaches the destination mailbox. Once there, users of Microsoft Outlook 2007 are able to either listen to the voicemail recordings via Windows Media Player on their computer, or simply choose to replay the voicemails on their telephone for easy listening.
Down-level clients and OWA clients simply get voicemails as *.wma or *.wav attachments. Recipients using Exchange ActiveSync (EAS) with mobile devices get the *.wma files and can listen to these on their device.


TUTORIAL: A PRIMER ON EXCHANGE 2007 SERVER ROLES



Home: Introduction


Part 1: The Exchange 2007 Client Access Server (CAS) role


Part 2: The Exchange 2007 Hub Transport Server role


Part 3: The Exchange 2007 Mailbox Server role


Part 4: The Exchange 2007 Edge Transport Server role


Part 5: The Exchange 2007 Unified Messaging Server role


Part 6: Server role Installation caveats and supporting information

ABOUT THE AUTHOR: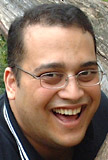 David Sengupta, Microsoft Exchange MVP
David Sengupta (mailman@quest.com), based in Ottawa, Canada, is a Group Product Manager in Quest Software's Infrastructure Management group and a Microsoft Exchange MVP. He has contributed to Exchange Server books, magazines, and white papers; is a regular Exchange Server columnist and speaker; and speaks at Microsoft Exchange events, Tech-Ed and IT Forum conferences. .
Dig Deeper on Microsoft messaging and collaboration services