Step 2: Fine-tune your Exchange Server architecture design model in System Center Capacity Planner
Learn how to fine-tune your Exchange Server architecture design model with Capacity Planner so it accurately reflects your topology and user activity.
After creating a network model using the System Center Capacity Planner tool, you can fine-tune this model so that it more closely reflects the true design of your network.
Loading your model
When you load Capacity Planner, open your recently created model. Click on Edit an Existing Model with the Model Editor found on the Welcome screen. Capacity Planner will load your model into the Model Editor, as shown in Figure 7.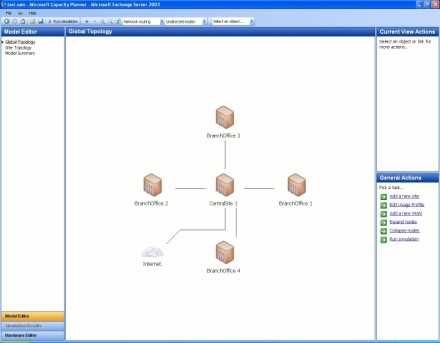 Figure 7. In the lower left portion of the screen, you can see that the Model Editor has been selected.
Adjusting site-link speeds and bandwidth settings
When you created your network model, System Center Capacity Planner prompted you to enter the average amount of bandwidth available between central sites, and the average amount of bandwidth available between central and branch sites. The problem with this is that, in most cases, averages don't accurately reflect the network's true capabilities. For example, you may have one WAN link that is much faster or slower than the other WAN links. Average values also do not take into account differences in available uplink and downlink performance.
As you can imagine, variations in the average and actual available bandwidth can cause your model to behave differently than your network actually will. I recommend adjusting your site links:
The top-left portion of the screen lets you choose between Global Topology, Site Topology and Model Summary. Because our first objective is to ensure that site-link speeds accurately reflect their real-life counterparts, check that the Global Topology option is selected. This will show you a high-level diagram of your network's sites and the connectors between them.

To adjust the site-link speed, double click on the link in the graphical depiction of the network to view a screen similar to that in Figure 8.


Figure 8. Enter uplink and downlink bandwidths for each individual link.

The System Center Capacity Planner interface now contains an editor that can be used to configure uplink and downlink bandwidths. You also can specify what percentage of use is acceptable for the link, and how much connection latency should be expected. When you set the appropriate values, click OK to close the Editor. You can then move to another link.

Located above the editor portion of the screen is a title bar that tells you exactly which connector you are editing. Pay attention to this title bar -- it's easy to get confused and apply values to the wrong connector by mistake.

Once you have corrected your site-link speeds, adjust the available bandwidth within each site by double clicking on a site to see an expanded view, as shown in Figure 9. You will also notice that the Site Topology option is selected, instead of the Global Topology option. You can return to the Global Topology view at any time by double clicking on it.


Figure 9. The Site Topology section of the model editor lets you view network diagrams of individual sites.

Although the diagram gives you a view of an individual site within your network, it isn't detailed enough to use. To obtain more detail, double click on the External Networks and Sites icon. This will expand the site diagram to show individual servers within the site (Figure 10).


Figure 10. The External Networks and Sites screen shows a greater level of detail within each site.

There are two tasks that you will want to complete at this level of the Model Editor:

Adjust the speed of the network links within the site: To do this, double click on the communications links and edit the links as you did at the Global Topology level.

Adjust the site's client profile: When you initially created the model, the wizard asked you for the number of users in each site, and their average activity levels. The problem with this is that it allows all sites to be treated equally. Therefore, it is very important to adjust the number of users and the anticipated activity level on a per-site basis.

You can adjust the client profile for a site by double clicking on the user icon in the network diagram. You then will see an editor similar to the previous one, but this one contains questions related to the way that users connect to the site, as shown in Figure 11. Using the Model Editor, specify the client type (Outlook 2003 in Cached Exchange Mode, Outlook 2003 in Online Mode, or OWA), the connection speed and the user count.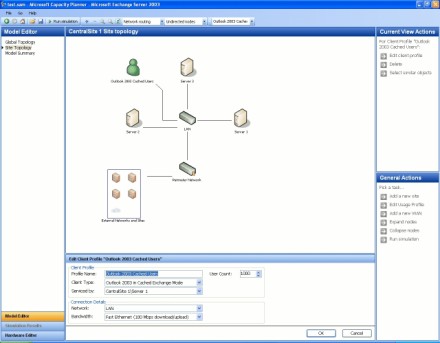 Figure 11. You can use the Model Editor to configure the number of users within a site, and the speed at which those users communicate with Exchange Server.
Adding a client profile
The one problem with this particular part of the editor is that it assumes that all users in the site attach to Exchange Server in the same manner. For example, the user icon represents 1,000 users who all connect to an Exchange server within the site as Outlook 2003 cached users. But it's unrealistic to expect all users in a site to connect to the same server, using the same connection method. Adding a client profile can alleviate this. If you click on an empty area of the Site Topology diagram, you can add another client profile. This option is available through the Current View Actions menu in the upper-right corner of the screen.
The Add a Client Profile option lets you simulate groups of users with different configurations. For example, you may have 1,000 users connected to an Exchange server in the site, but 100 of whom utilize OWA. You could edit the existing client profile to reflect 900 users, rather than 100. You could then create a second client profile that represents 100 users who connect to a server in the site using OWA.
This method also works well if a site contains multiple mailbox servers. You could create multiple client profiles to notify System Center Capacity Planner how many mailboxes exist on each server within the site. Figure 12 gives an example of what a site topology diagram containing multiple client profiles might look like.

Figure 12. Capacity Planner lets you create multiple client profiles within a site to simulate users with different needs.

Setting user activity levels

The next step is to adjust the anticipated level of user activity for the site. When you initially used the Model Wizard to create your network model, the wizard asked for the typical level of mail-server use: low, medium or high. You also manually entered statistics for average mailbox size, average number of messages sent and received daily and average message size. These values were then applied to all simulated users in the entire model Exchange organization.

This creates a few problems. First, different users have different levels of activity, depending on their skills and the nature of their jobs. Second, users do more with Microsoft Outlook than just sending and receiving email messages, including maintaining a Contacts folder and using the calendar. Fortunately, Capacity Planner lets you simulate all of these activities, except public folder access.

To edit a usage profile:
Select an empty area of the network diagram and click the Edit Usage Profile link found in the General Actions section. You can edit different aspects of the usage profile. You also can control basics such as how many email messages simulated users send and receive daily, as well as things like how often simulated users browse their Contact folder or open an appointment on their calendar.

To control which usage profile is applied to a client profile, right click on the client profile and select General Actions -> Edit Usage Profiles. You can also set the usage profile at the site level by going to the Global Topology screen, right clicking on a site and selecting Edit Site Information.


HOW TO DESIGN AN EXCHANGE SERVER ARCHITECTURE MODEL



Home: Introduction


Step 1: Design an Exchange Server architecture model


Step 2: Fine-tune your Exchange Server architecture design model


Step 3: Customize your Exchange Server hardware configurations

ABOUT THE AUTHOR: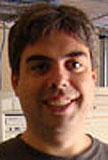 Brien M. Posey, MCSE
Brien M. Posey, MCSE, is a Microsoft Most Valuable Professional for his work with Exchange Server, and has previously received Microsoft's MVP award for Windows Server and Internet Information Server (IIS). Brien has served as CIO for a nationwide chain of hospitals and was once responsible for the Department of Information Management at Fort Knox. As a freelance technical writer, Brien has written for Microsoft, TechTarget, CNET, ZDNet, MSD2D, Relevant Technologies and other technology companies. You can visit Brien's personal Web site at http://www.brienposey.com.
Dig Deeper on Exchange Server setup and troubleshooting