Manage
Learn to apply best practices and optimize your operations.
Troubleshoot Windows Mobile device emulator synchronization errors
Although it's simple to connect the Windows Mobile device emulator to Microsoft Exchange Server, the synchronization process can be tricky. Learn a few handy synchronization troubleshooting techniques to set up Exchange ActiveSync (EAS) on the Windows Mobile device emulator. You can avoid common synchronization snafus such as the Attention Required error and Exchange Server permissions problems.
Although it's relatively simple to connect the Windows Mobile emulator to Microsoft Exchange Server, there are a number of issues that can cause the synchronization process to fail. If you receive errors when synchronizing the mobile device emulator with Exchange Server, consult these handy troubleshooting techniques.
---
Before beginning the synchronization troubleshooting process, make sure that the mobile device emulator has basic...
Continue Reading This Article
Enjoy this article as well as all of our content, including E-Guides, news, tips and more.
network connectivity. On the device, open Internet Explorer (IE) and try to access your favorite website.
The Exchange Server organization must also be correctly configured and functional. It is particularly important to make sure that your client access server (CAS) is working properly. To do so, open IE (either on the emulated device or on the PC), and go to Outlook Web Access (OWA) and log on. If you aren't in the habit of using OWA, the default URL is HTTPS://server_name/OWA.
Finally, you need to know your username, password, domain name, and the name and IP address of your client access server.
Attention Required error
The Attention Required error (Figure 3A) is a big, bold error message that is non-specific. However, you can click on the words Attention Required to get more information on the problem (Figure 3B).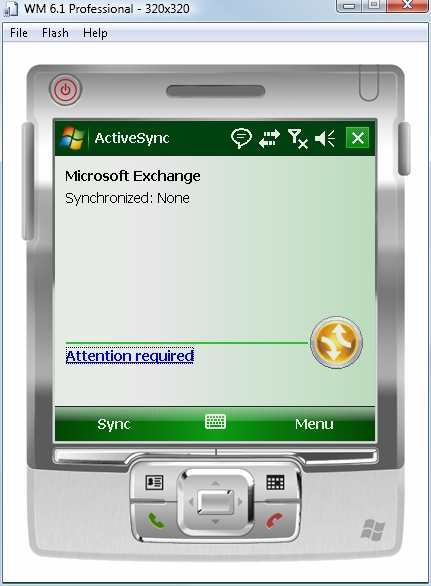 Figure 3A. The Attention Required link indicates that synchronization failed between the mobile device emulator and Exchange Server.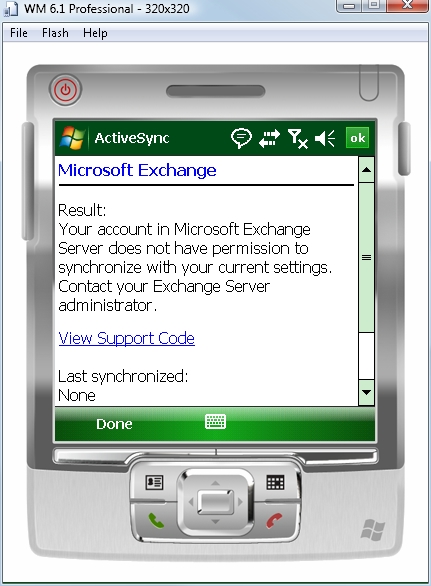 Figure 3B. Clicking on the Attention Required link provides more information about the Exchange Server synchronization error.
When you click on the Attention Required link, you should see a screen that provides additional information on the nature of the problem. In this particular case, the information provided is self-explanatory, but sometimes there won't be much explanation. However, there is a link that you can click to view a support code (Figure 3B). The support code is an eight-digit hexadecimal number, which can be used to search the Microsoft Knowledgebase for additional information.
Exchange Server permissions problems
Take a look at Figure 3B again. Notice that the error message states that Microsoft Exchange doesn't have permissions to synchronize. This is one of the most common synchronization problems, but it's also one of the easiest to fix.
To troubleshoot Exchange Server synchronization permissions:
Open the Exchange Management Console (EMC) and navigate to Recipient Configuration -> Mailbox.
Right-click on the mailbox that you are trying to synchronize, and choose Properties from the menu. The console will display the mailbox's properties sheet. Go to the Mailbox Features tab, and enable Exchange ActiveSync (EAS) as shown in Figure 3C.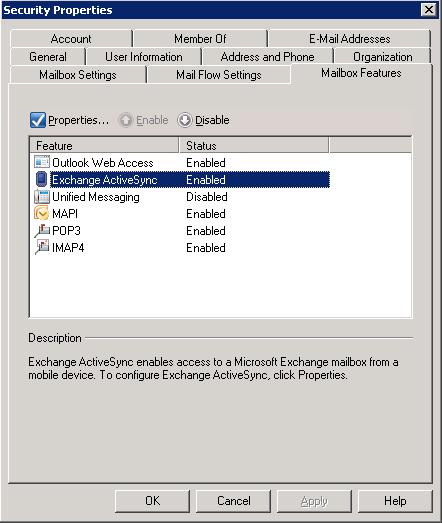 Figure 3C. Exchange ActiveSync must be enabled to synchronize the mailbox.
If Exchange ActiveSync is already enabled, then there is one other reason for this synchronization problem. The client access server may be configured to require SSL encryption (as it should be), but the mobile device emulator is not set to use SSL encryption. In this case, you will receive this same error message.
If you are only using CAS in a lab environment, and it is not externally accessible, then it is safe to disable SSL. Otherwise, SSL should always remain enabled. To find out whether or not SSL is enabled:
Open IIS Manager and go to your server -> Web Sites -> Default Web Site.
Right-click on the Default Web Site and select Properties. Windows will display the default website's properties sheet.
Go to the Directory Security tab, and then click the Edit button found in the Secure Communications section. The resulting dialog box contains a checkbox that allows you to enable or to disable SSL.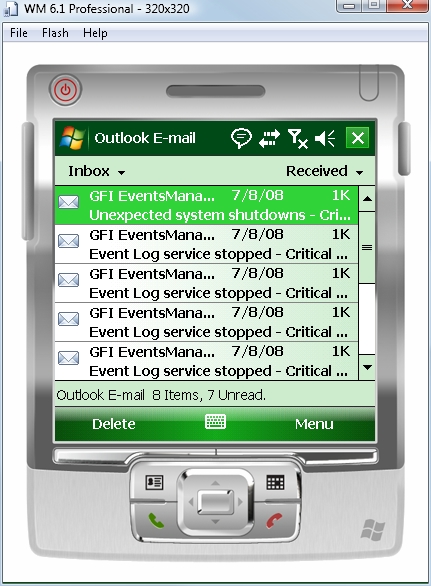 Figure 3D. The Windows Mobile Device emulator works with Exchange ActiveSync.
About the author: Brien M. Posey, MCSE, is a five-time recipient of Microsoft's Most Valuable Professional award for his work with Exchange Server, Windows Server, Internet Information Server (IIS), and File Systems and Storage. Brien has served as CIO for a nationwide chain of hospitals and was once responsible for the Department of Information Management at Fort Knox. As a freelance technical writer, Brien has written for Microsoft, TechTarget, CNET, ZDNet, MSD2D, Relevant Technologies and other technology companies. You can visit Brien's personal website at www.brienposey.com.
Do you have comments on this tip? Let us know.
Please let others know how useful this tip was via the rating scale below. Do you know a helpful Exchange Server, Microsoft Outlook or SharePoint tip, timesaver or workaround? Email the editors to talk about writing for SearchExchange.com.