Troubleshooting Microsoft Outlook Web Access logon issues
Are you experiencing problems logging into Microsoft Outlook Web Access (OWA)? Although OWA isn't the most complicated application, its numerous deployment options can cause problems. In this tip, Exchange Server expert Brien Posey explains different troubleshoot methods you can use to alleviate your OWA logon headaches.
OWA logon problems are often the toughest Exchange Server-related problems to diagnose because of the different ways that Outlook Web Access is deployed. Even though OWA is not that complicated, you may experience frequent log-on problems. In this tip, Microsoft Exchange expert Brien Posey explains techniques you can use to troubleshoot OWA logon issues
---
I've found that the best way to start troubleshooting an OWA logon process is to perform initial diagnostic testing to determine exactly when the problem occurs. First, I recommend that you try to sign into OWA from a computer that resides within the perimeter network. If the computers within your perimeter network can sign into OWA, but users cannot log into OWA from beyond your network, it's a good indication that Exchange and OWA are functioning as intended. The problem is likely due to a security mechanism that's blocking OWA traffic before it can reach your OWA server.
This is a good first step, but don't assume that because you can sign into OWA from inside the network but not from outside the network, that OWA traffic is being blocked. There may be other issues that you must investigate before you delve deeper into the troubleshooting process.
If the problem only seems to affect computers residing outside of the network perimeter then I would use a laptop with a solid configuration to test OWA connectivity. Try logging into OWA from inside the network perimeter. If that works, take the laptop beyond the network perimeter and try to log in over the Internet. If you're still unable to log in from beyond the network perimeter, you can eliminate the workstation's configuration as a potential cause of the problem.
Next, I recommend taking some steps to determine whether or not user accounts could be causing the problem. It's important to remember that users may be distributed across multiple domains. There is always the possibility that your problem may be related to a specific domain.
In larger organizations, user mailboxes are typically distributed across multiple mailbox servers, or at least across multiple mailbox stores. You may find that the problem only affects users whose mailboxes reside on Exchange 2003 servers, while Exchange 2007 users are fine. To properly troubleshoot the OWA log-on problem, you must determine whether the OWA logon problem affects a single user, a subset of the users or all users.
You should also consider whether or not anything in your environment has recently changed. If so, there is a good chance that this change may correspond with when your OWA problems began. If Exchange is running on Windows Server 2008, look at the Reliability and Performance Monitor. This tracks long-term system stability and shows recent server changes (Figure 1).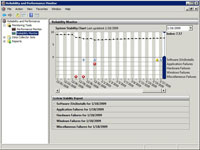 Figure 1: The Reliability and Performance Monitor in Windows Server 2008 can help determine if your server has undergone any recent changes..
About the author: Brien M. Posey, MCSE, is a five-time recipient of Microsoft's Most Valuable Professional (MVP) award for his work with Exchange Server, Windows Server, Internet Information Services (IIS), and File Systems and Storage. Brien has served as CIO for a nationwide chain of hospitals and was once responsible for the Department of Information Management at Fort Knox. As a freelance technical writer, Brien has written for Microsoft, TechTarget, CNET, ZDNet, MSD2D, Relevant Technologies and other technology companies. You can visit Brien's personal website at www.brienposey.com.
Do you have comments on this tip? Let us know.
Please let others know how useful this tip was via the rating scale below. Do you know a helpful Exchange Server, Microsoft Outlook or SharePoint tip, timesaver or workaround? Email the editors to talk about writing for SearchExchange.com.