Manage
Learn to apply best practices and optimize your operations.
Troubleshooting Microsoft's DPM 2007 agent deployment process
Data Protection Manager 2007 agent deployment problems are common in Exchange Server 2007. Read about common factors that contribute to agent deployment failures and what you can do to combat them. You'll also learn how to create a DPM protection group.
Are you having trouble deploying a Data Protection Manager 2007 agent to your Exchange server? Microsoft Exchange Server expert Brien Posey explains common DPM agent deployment pitfalls and outlines how to create a DPM protection group.
---
One common problem that Exchange administrators experience with Microsoft DPM 2007 Manager involves agent deployment failures. There are several factors that can cause a DPM 2007 agent install to fail, most of which are fairly simple to resolve. The first thing I recommend doing to avoid a failure is: Check your server clocks. The agent deployment process will not work unless the clock on the DPM 2007 server is set to the same time as the clock on the computer onto which you're deploying the agent.
DPM agent deployment failure can also crop up when the DPM 2007 server cannot communicate with the server that you're trying to deploy the agent on. Usually, if the two servers can ping one another, the deployment will work.
A DPM 2007 server needs to be able to communicate through several different firewall ports. If you are using Windows Firewall, these ports are automatically opened as a part of the configuration process. The table below shows a list of ports the DPM 2007 uses.
Port
Function
TCP port 135
The DCOM protocol uses this port to issue commands to the agent.
TCP port 3148
TCP port 3149
DPM uses port 3148 to communicate with the agent coordinator; port 3149 communicates directly with the agent.
UDP port 53
DNS host-name resolution
TCP port 88
UDP port 88
Kerberos uses this port to authenticate the connection to the agent.
TCP port 389
UDP port 389
Makes LDAP calls to Active Directory
UDP port 137
UDP port 138
TCP port 139
Used for NetBIOS communications with other network servers
Table 1. Windows Firewall ports and their uses.
Sometimes the cause of agent deployment failure is simpler. I recently had to troubleshoot an agent deployment failure for a client. I was getting frustrated because everything appeared to be configured correctly. In the end, the problem happened because the DNS host record for the DPM server was incorrect. The host record contained an incorrect IP address, so the server that the agent was being installed on could not communicate with the DPM server.
If all else fails, open the Service Control Manager and look through the list of services running on the server. Also, be sure that all of the services that are set to start automatically are running.
Creating a DPM 2007 protection group
The next step in the DPM configuration process is creating a protection group. Begin by selecting Data Protection Manager's Protection tab. Then click the Create Protection Group link found in the Actions pane. Windows will launch the Create New Protection Group Wizard.
Click Next to bypass the wizard's Welcome screen and you'll be taken to a screen showing a list of all servers that contain a DPM 2007 agent. Select the check boxes corresponding to the objects that you want to protect.
If you look at Figure 1, you'll see that you have the option to back up shares, volumes, system state and Exchange storage groups. Depending on how your network is configured, you may have other options as well. DPM 2007 is designed to be application aware for many Microsoft products.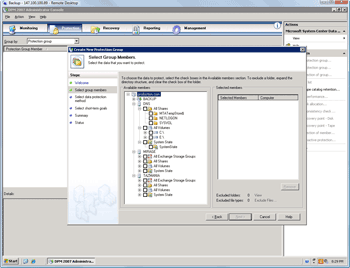 Figure 1: Choose the objects that you want to protect. (Click for enlarged view.)
You may receive a message informing you that the object you've selected cannot be protected because the required software is missing. If you receive this message, install hotfix 940349 onto the server that you want to protect. There may be other software prerequisites, depending on the type of data that you're trying to protect.
After you install the hotfix, go back into the DPM 2007 Administration Console and select the Management tab, then the Agents sub tab. Finally, click the Refresh Information link, found in the Actions pane so that DPM 2007 can acknowledge the prerequisite software.
About the author: Brien M. Posey, MCSE, is a five-time recipient of Microsoft's Most Valuable Professional award for his work with Exchange Server, Windows Server, Internet Information Services (IIS), and File Systems and Storage. Brien has served as CIO for a nationwide chain of hospitals and was once responsible for the Department of Information Management at Fort Knox. As a freelance technical writer, Brien has written for Microsoft, TechTarget, CNET, ZDNet, MSD2D, Relevant Technologies and other technology companies. You can visit Brien's personal website at www.brienposey.com.
Do you have comments on this tip? Let us know.
Please let others know how useful this tip was via the rating scale below. Do you know a helpful Exchange Server, Microsoft Outlook or SharePoint tip, timesaver or workaround? Email the editors to talk about writing for SearchExchange.com.
Dig Deeper on Exchange Server setup and troubleshooting