Get started
Bring yourself up to speed with our introductory content.
Unified Messaging features in Exchange Server 2007
In this excerpt from "Microsoft Exchange Server 2007: The Complete Reference," learn about the features offered in the Unified Messaging server role, including Outlook Voice Access (OVA), Outlook Calendar Access, the Auto Attendant and more.
Exchange Unified Messaging Features
Exchange 2007 Unified Messaging is more than a substitute for an existing voicemail system. Besides the basic voicemail functionality that can be expected of any voicemail system, the following unique features make Exchange's UM Server attractive:
Outlook Voice Access
Outlook Calendar Access
Directory and Personal Contacts Access
Outlook and OWA Voicemail Form
Auto Attendant
Outlook Voice Access

A phone system is recognizable to most people by the phones used to place calls. Today this includes analog phones, digital phones, cellular phones, satellite phones, and VoIP phones. The keypad interface we are familiar with using to place calls, accept calls, and check for messages is called the telephone user interface (TUI).

Exchange 2007 Unified Messaging extends the phone user interface to include voice commands and voice menus. This additional interface is called the voice user interface (VUI). Microsoft refers to both interfaces from the Exchange 2007 UM server as simply Outlook Voice Access (OVA). It makes sense then that the primary Unified Messaging client will still be phones.

The only command that cannot be entered by voice is the subscriber's PIN. Currently OVA only supports the English language for voice commands. But it can be customized to support phonetic version of users' names that do not sound like they are spelled. A text-to-speech engine is built into the UM server to allow email message to be read from a users mailbox. The text-to-speech feature is available for languages other than English, including Portuguese (Brazilian), Dutch, French, German, Italian, Japanese, Korean, Mandarin Chinese, Spanish, and Swedish. This feature is smart enough to know which one to use based on the content of an email.

Outlook Voice Access allows a phone to be a Unified Messaging client. A UM-enabled user can call into their company's UM server and access the following:
Voicemail
Email
Calendar
Contacts
Meeting requests
Out-of-office messages settings
Security settings
Personalization settings
To secure access to voicemail, Exchange associates a personal identification number (PIN) with each subscriber. Although this is an attribute on the user object, it is not the same as the user's password. Users can change their PINs on their own without administrative assistance.
Outlook Calendar Access
UM phone users can connect to their calendars and listen to their upcoming schedule. Appointments can be added, modified, or cancelled by phone. Responses can be made to meeting requests. In fact, it is also possible for a subscriber to notify other participants of a meeting that they are running late by sending an "I'll be late" message from their phone. This has been one of the more popular demonstrations that Microsoft is using to bring awareness to Unified Messaging at technical conferences and sales events.
Directory and Personal Contacts Access
Because UM is integrated with Active Directory and Exchange, UM clients have additional contact lookup capabilities. The Global Address List, which contains all Exchange recipients in Active Directory, and Outlook contacts, which are stored in each user's mailbox, are fully accessible to the UM clients. Using a keypad on a phone or a voice command, users can search for a contact. Once a contact has been found, the user can use the contact's phone number to send a voicemail, place a call to one of their listed numbers, or just listen to their contact information, such as the business address.
Outlook and OWA Voicemail Form
Although Unified Messaging has transformed what a phone can be, it has also transformed what an email client can be. In fact, the line has been so blurred between the two that it no longer matters if you use a phone or a computer for any form of messaging. It is simply a matter of preference and convenience. Unified Messaging extends the functionality of the email client by adding a new form specifically for voicemail messages in a user's mailbox. The new form provides a number of options for reviewing voicemails from Outlook and Outlook Web Access (OWA). Because voicemails contain audio, the voicemail form contains controls similar to a media player, allowing users to perform the following tasks:
Play a voicemail on speakers/headphones
Stop a voicemail
Pause a voicemail
Play voicemail on a telephone
Add and edit notes
The voicemail form is only compatible with Outlook 2007 and Outlook Web Access 2007, as shown in Figure 2 from one of Microsoft's Virtual Hard Drives (VHD).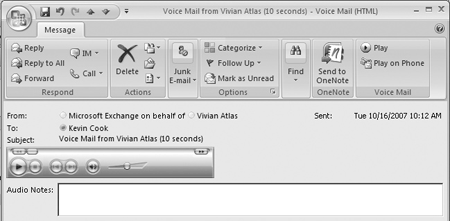 Figure 2 Outlook 2007 voicemail form
To obtain the Exchange Server 2007 SP1 VHD go to http://www.microsoft.com/downloads/details.aspx?FamilyID=43621a8f-12fb-4e7c-bb38-lcbb6ef272c5&DisplayLang=en. If an incompatible client receives a voicemail, it will appear as an attachment to an email. The attachment can be played back with Windows Media Player or another audio player.
Auto Attendant
Today's global economy opens opportunities for businesses to serve customers around the globe. Both small and large businesses alike are dependent on having a phone system that can respond to calls on a 24/7 basis in order to maintain good customer relationships and participate in the global marketplace. The Auto Attendant in the Exchange Unified Messaging Server allows an organization to do the following:
Create customized menus
Define custom greetings
Add holiday schedules
Provide help with searching the voice directory
Provide help with connecting to a user's extension
Provide help with searching the directory for a specific user
Define an operator extension
Each of these are voice prompts stored as WAV files that take the place of a dedicated person answering inbound phone calls. The Auto Attendant can respond to input from a caller. The input could be in the form of DTMF from a keypad or speech inputs from the caller. The best part is, the Auto Attendant never has to go home.


Microsoft Exchange Server 2007 Unified Messaging for administrators



Home: Introduction to Unified Messaging on Exchange 2007


Part 1: An intro to voice systems for Exchange administrators


Part 2: Unified Messaging features in Exchange Server 2007


Part 3: Defining Exchange Unified Messaging architecture


Part 4: Deploying Unified Messaging servers on Exchange Server 2007


Part 5: Comparing VoIP PBX solutions for Unified Messaging


Part 6: Integrating Unified Messaging servers with a VoIP solution


Part 7: Creating a Unified Messaging Dial Plan


Part 8: Configuring a Unified Messaging IP gateway


Part 9: Mailbox policy configuration for Unified Messaging


Part 10: Creating and assigning a Unified Messaging hunt group


Part 11: Dialing rules and restrictions for Unified Messaging users


Part 12: Assigning Unified Messaging dialing rules to a mailbox policy


Part 13: Executing Unified Messaging grammar generation


Part 14: Enabling Unified Messaging mailboxes and users

This chapter excerpt from Microsoft Exchange Server 2007: The Complete Reference, by Richard Luckett, William Lefkovics and Bharat Suneja, is printed with permission from McGraw-Hill Osborne Media, Copyright 2008.

Click here for the chapter download or purchase the book here.
Dig Deeper on Microsoft messaging and collaboration services