Use the free Windows Mobile emulator to test mobility on Exchange
Learn how the free Windows Mobile emulator can test mobile device connections to Exchange Server before spending money on infrastructure and hardware.
Do you want mobile messaging capabilities in your Exchange Server organization, but are concerned about the costs...
Continue Reading This Article
Enjoy this article as well as all of our content, including E-Guides, news, tips and more.
of deploying the necessary infrastructure? Microsoft's Windows Mobile 6.1 emulator is one solution. It's possible to set up a mobile messaging deployment, and then use a mobile device emulator to validate that mobile messaging is working. Because the emulator is free, you can use it to test various deployment scenarios before you spend a penny on additional hardware.
The Windows Mobile emulator
First, download the Windows Mobile 6.1 emulator from the Microsoft website. Previous versions of the emulator were difficult and time-consuming to install, but the Windows Mobile 6.1 emulator is easy.
Before installing the emulator, you must install the Visual C++ 2005 SP1 Redistributable Package. The installation procedure for this is also simple.
Connecting the emulator to the network
One of the first questions that Exchange administrators ask about the mobile device emulator is: How is it possible to mimic mobile communications through an emulator without a cell link? Unfortunately, this is one aspect of mobile communications that the Windows Mobile emulator simply cannot simulate. You can, however, configure the mobile device simulator to connect to your existing TCP/IP network connection, and use that connection in place of a cell link.
More on Exchange mobile device management:
Is it time to upgrade users to Windows Mobile 6?

Exchange Server Mobile Device Management Tutorial
To connect a Windows Mobile device to a network, you must first choose which mobile device emulator image you're going to use. The mobile device simulator software development kit (SDK) provides you with several different emulators. The primary difference between them is the screen resolution.
You can launch the emulator by choosing All Programs -> Windows Mobile 6 SDK -> Standalone Emulator Images -> US English from the Windows start menu. You can find several emulator images located within the Standalone Emulator Images folder. Launch the emulator image that has a screen resolution that meets your needs.
Once the emulator is installed, choose File -> Configure from the emulator's menu. Windows will launch the Emulator Properties sheet, shown in Figure A. Select the properties sheet's Network tab and then select the Enable NE2000 PCMCIA network adapter and bind to checkbox. Choose your computer's physical network adapter from the dropdown list and click OK.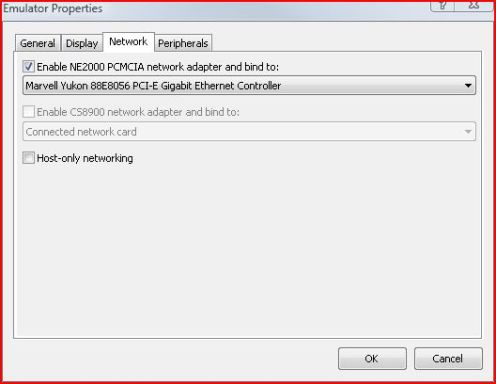 Figure A. You must enable a virtual NIC and bind it to a physical NIC.
Now that you've enabled network connectivity, you must test it. The easiest way is to launch Internet Explorer (IE) and see if you have Internet connectivity on the mobile device emulator. If you aren't familiar with Windows Mobile, you can access Internet Explorer by clicking on the Windows logo, and then clicking on the Internet Explorer link. You should be able to access websites through the mobile device emulator, as shown in Figure B.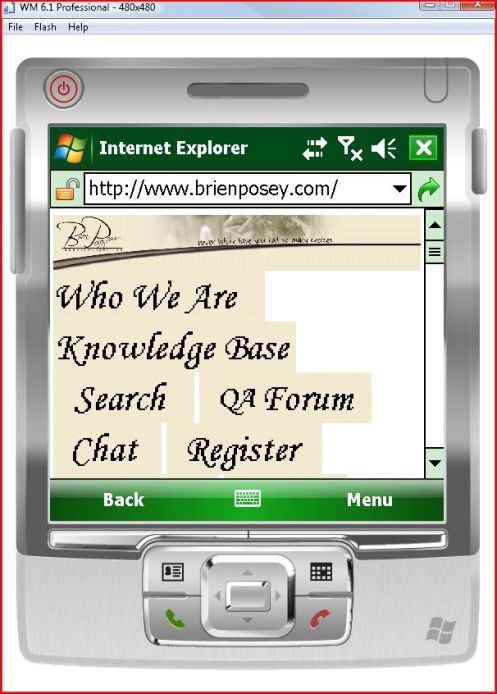 Figure B. Access the Internet through the mobile device emulator.
What if something goes wrong?
Normally, you should be able to connect the Windows Mobile emulator to the Internet easily -- assuming you have a DHCP server on your network. In some situations, though, you may need to configure a static IP address. To do so:
Click the Windows logo and choose Settings from the emulator's start menu. This opens the Windows Mobile Control Panel.
Go to the Connections tab and double-click on the network card's icon.
Double-click the NE2000 Compatible Ethernet Driver, and you will be taken to a screen that lets you configure a static IP address, as shown in Figure C.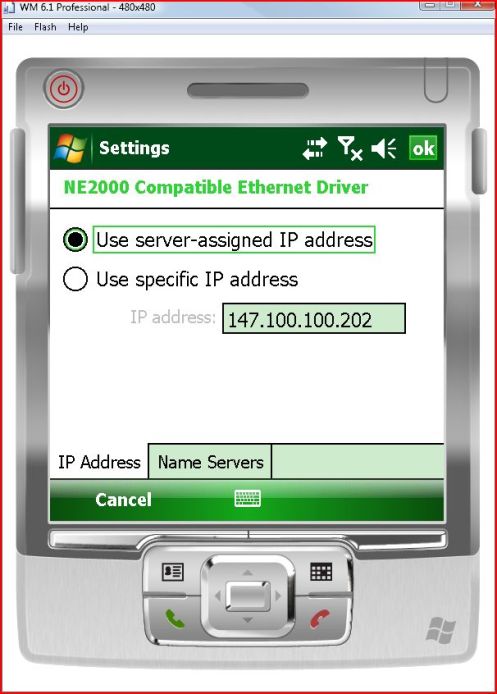 Figure C. You can configure the Windows Mobile emulator to use a static IP address, if necessary.
If you're still unable to connect to the Internet, then look at the very top of the emulator screen to see if there is an icon that looks like an antenna. If so, double-click on this icon and you can choose between connecting the mobile device to the Internet or to a Work profile. Select the alternate profile from the one that is currently being used. The device should then connect to the Internet.
Do you have comments on this tip? Let us know.
Please let others know how useful this tip was via the rating scale below. Do you know a helpful Exchange Server, Microsoft Outlook or SharePoint tip, timesaver or workaround? Email the editors to talk about writing for SearchExchange.com.
About the author: Brien M. Posey, MCSE, has previously received Microsoft's MVP award for Exchange Server, Windows Server and Internet Information Server (IIS). Brien has served as CIO for a nationwide chain of hospitals and was once responsible for the Department of Information Management at Fort Knox. As a freelance technical writer, Brien has written for Microsoft, TechTarget, CNET, ZDNet, MSD2D, Relevant Technologies and other technology companies. You can visit Brien's personal website at www.brienposey.com.